The upcoming AMD Radeon RX 5600 XT photos have leaked out from Videocardz. The RX 5600 XT is based on a Navi variant that has 2304 cores and 6GB of GDDR6 memory. The graphics card is expected to be launched at CES 2020 in just a few days.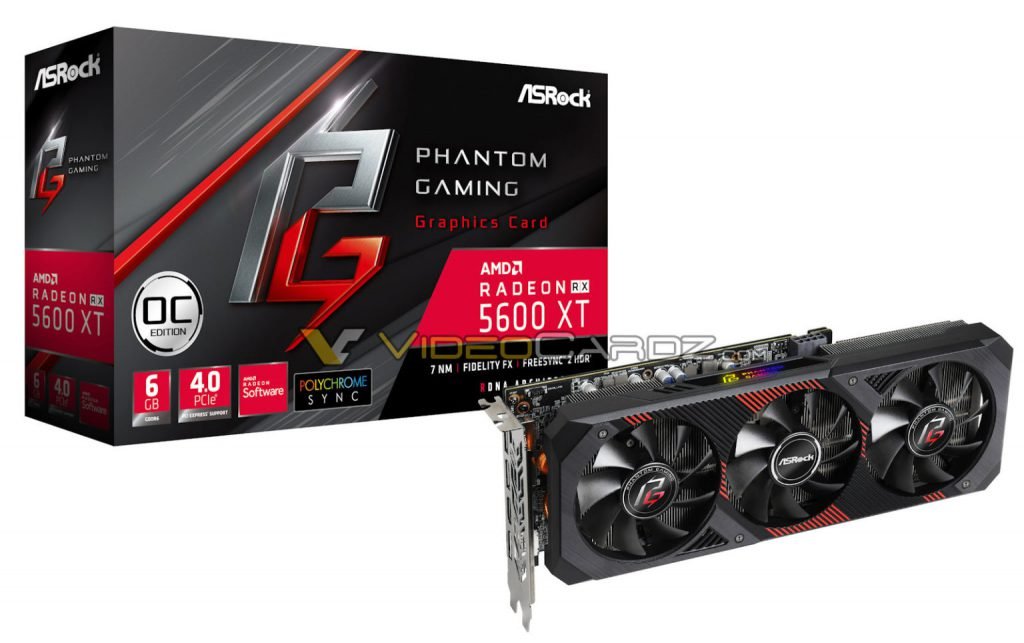 Featuring PCIe 4.0 and built on the 7nm process, the RX 5600 XT Phantom Gaming D3 from ASRock is a factory-overclocked graphics card with three fans. This model features 2304 Stream Processors, 6GB GDDR6 memory across 192-bit interface and game clock of 1560 MHz with boost of up to 1620 MHz. At the given core count, this puts it at a peak compute of 7.46 TFLOPS.
The Phantom Gaming D3 is equipped with three DisplayPort 1.2a connectors and one HDMI 2.0b. There is only one 8-pin power connector, so this is a distinctive feature compared to RX 5700 Phantom (which has two connectors). The PCB is much shorter for RX 5600 XT, but the card itself is 29cm in length. Check the chart below for full specs.

Clock: GPU / Memory
Boost Clock: Up to 1620 MHz / 12.0 Gbps
Game Clock: 1460 MHz / 12.0 Gbps
Base Clock: 1235 MHz / 12.0 Gbps
Key Specifications:
Radeon RX 5600 XT Graphics
2nd Gen 7nm GPU
Up to 1620 MHz Boost Clock
6GB GDDR6, Up to 12.0 Gbps Speed
1 x 8-pin Connectors
3 x DisplayPort / 1 x HDMI
240.6 x 126.5 x 53.0 mm
Key Features:
Long Life Dual Fan Design
Metal Backplate
0dB Silent Cooling
AMD Eyefinity Technology
Radeon FreeSync 2 HDR
8K Resolution Support
The RX 5600 XT is going to be AMD's first 6GB card in the Navi family and will deliver roughly 75% of the performance of an RX 5700XT (at the same clock rates).
The RX 5500 XT has not been selling well considering its priced a bit too high for its intended target market and the RX 5600 XT could help fulfill some of these gaps. Based on 7nm, these cards can clock pretty high and provide quite a decent core count to TFLOP ratio. It is expected that the GPUs will launch in the third calendar week of 2020 (which puts this around January 14-2). AIBs like ASUS and Gigabyte are expected to launch with these cards first and we have already seen a listing of GB cards popup on the interwebs.