Huawei launched the new MateBook D 16, a high-performance lightweight laptop with a 16-inch display.
The Compact 16-inch high performance laptop new member of the Huawei Smart Office family not only carries MateBook series' signature elements in aesthetics, innovation, and smart experience, but brings numerous advancements, including a 16-inch eye comfort HUAWEI FullView Display, sleek metallic body, the high-performance 12th Gen Intel Core H-Series Processor, as well as futuristic Super Device experiences.
Led by extensive consumer research, Huawei has found that the desire for 16-inch lightweight laptops is on the rise. With a global move towards remote working and studying, there is an increased demand for large-screen, high-performance, lightweight laptops. The new HUAWEI MateBook D 16 is set to meet and even exceed these demands.
The Compact 16-inch high performance laptop HUAWEI MateBook D 16 is available on Huawei's official website and across select retailers in the UAE, priced at 3299 AED alongside a range of accessories, including the HUAWEI Classic Backpack and Slim Keyboard.
16-inch FullView Display
The HUAWEI MateBook D 16 allows users to enjoy extended periods of screen time with protection and perfection. It features a beautiful and immersive 16-inch FullView display with a screen-to-body ratio of 90% and novel 16:10 aspect ratio.
Compared to a traditional 16:9 aspect ratio, the HUAWEI MateBook D 16 brings a wider view with its 16:10 aspect ratio, allowing users to be more productive when working with web pages, charts, data and written documents, as well as an excellent entertainment experience.
With the HUAWEI MateBook D 16, heavy laptop users can be confident that their eyes are protected thanks to the TÜV Rheinland Low Blue Light (Hardware Solution) certification. This accurately reproduces the colours of the images without leading to a yellow cast, while also protecting the user's eyes. In addition, the display also adopts DC dimming to help users alleviate eye fatigue.
The laptop also supports 100% sRGB colour gamut, the display is capable of displaying richer details and more vivid colours for greater visual enjoyment, bringing a more immersive viewing experience to users.
What is more? Users can be productive on the move with the HUAWEI MateBook D 16's high portability thanks to its light metallic body of weighing similar as a 15.6-inch laptop at just 1.7kg.
Hardware
The HUAWEI MateBook D 16 is powered by the 12th Gen Intel Core™ H- Series Processor that runs on up to -i7-12700H, a TDP of up to 40W, dual channel RAM and a high-speed solid-state drive, which handles multi-tasking and complex usage scenarios flawlessly and efficiently, such as data analysis, code compilation, opening multiple webpages, charts, or PowerPoints.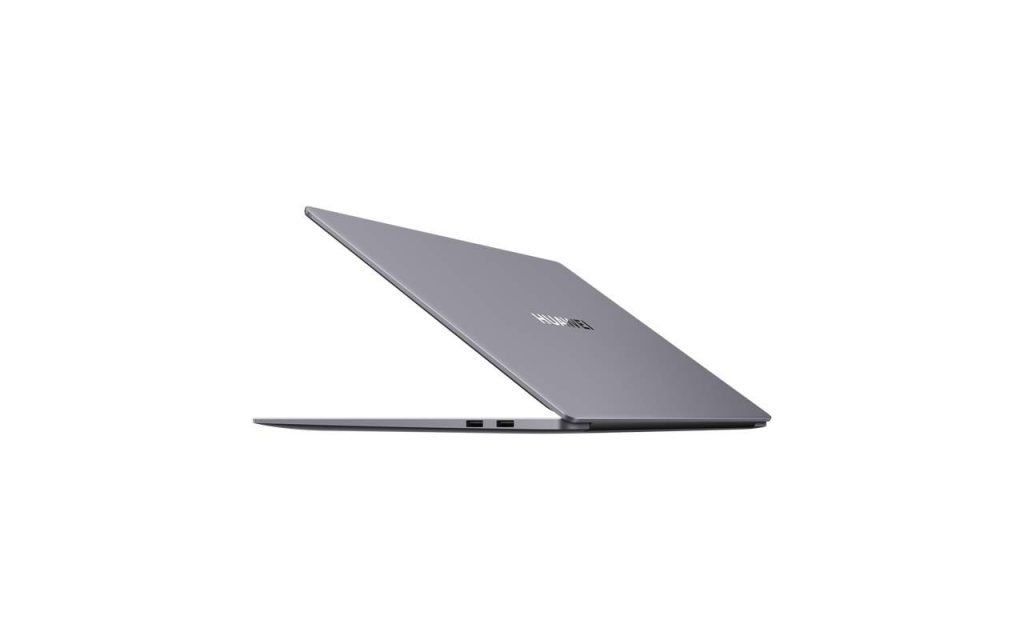 Smart experience
The HUAWEI MateBook D 16 takes multi-device collaboration to a whole new level, thanks to Super Device bringing super productivity with a cohesive multi-device experience. It lets you effortlessly connect to other Huawei devices nearby, and collaborate between them all.
Simply place your Huawei earphones, mice, keyboards, speakers and printers close to the HUAWEI MateBook D 16, and the laptop will automatically discover them and provide a prompt for quick and easy pairing.
In addition, with smartphones like the newly launched HUAWEI P50 and tablets like the 12.6-inch HUAWEI MatePad Pro, it is even more useful. Once you have wirelessly connected your phone, you will see its UI (User Interface) appear on your laptop screen, so you can operate it as if your smartphone and laptop are one device.
You can access and edit your files, use and manage up to three phone app windows simultaneously, take video or audio calls from your phone through your MateBook, and even use your mouse and keyboard to control your smartphone.
Your tablet can be transformed into a drawing pad or second screen, with documents, images and more seamlessly shared between the two. In Mirror Mode, the laptop screen is projected onto the tablet, with both devices showing the same content: the tablet can benefit from the laptop's incredible performance; while the laptop can access the tablet's stylus, making drawing even easier.
With Extend Mode, the laptop display is extended to the tablet, allowing the tablet to serve as an external monitor so you can scroll and browse easily between the two – perfect for making notes during a class or meeting. Finally, Collaborate Mode lets you share content between the devices via a simple drag and drop, so anything left on one can easily be transferred to the other.
The HUAWEI MateBook D 16 can also connect to a HUAWEI MateView monitor, so you can see your work on an even larger screen. The laptop also supports multi-device file management and AI search; the former enables users to easily search across their connected devices, bringing a collaborative experience between laptops and other connected devices, while the latter supports quick search of files and images on the PC, the Internet, and other interconnected devices for greater flexibility.
Smart conference calls
As hybrid office working is gradually becoming the norm, people are in need for an immersive, safe, and efficient meeting experience in complex environments. In view to this, the HUAWEI MateBook D 16 is dedicated to building a meeting space anytime, anywhere with its Smart Conference solution that features AI Sound and AI Camera. The crystal clear 1080P AI Camera makes video conferencing a delight, thanks to the picture quality and smart AI features.
During a video call, the AI Camera's FollowCam adjusts the screen in real time to keep the speaker in the centre of the shot; so even if they are moving around, you never get distracted from what they are saying. The Eye Contact function uses AI to intelligently adjust to the user's line of vision.
One of the frustrating things about video calls can be having to tidy a messy room, or being distracted by people moving behind you in a busy café. Virtual background lets you keep your privacy and your concentration, thanks to built-in static and dynamic backgrounds such as offices, coffee shops or outdoor scenery. You can also choose an image to have as your background, or use the AI background blur to distort what is happening behind you.
The HUAWEI MateBook D 16 features a quad-mic setup that is placed along the edges of the laptop, supporting sound pick-up from sources up to five metres away from the device. The AI noise reduction algorithms can also reduce your background noise on a call; while Personal Voice Enhancement helps you focus on the speaker.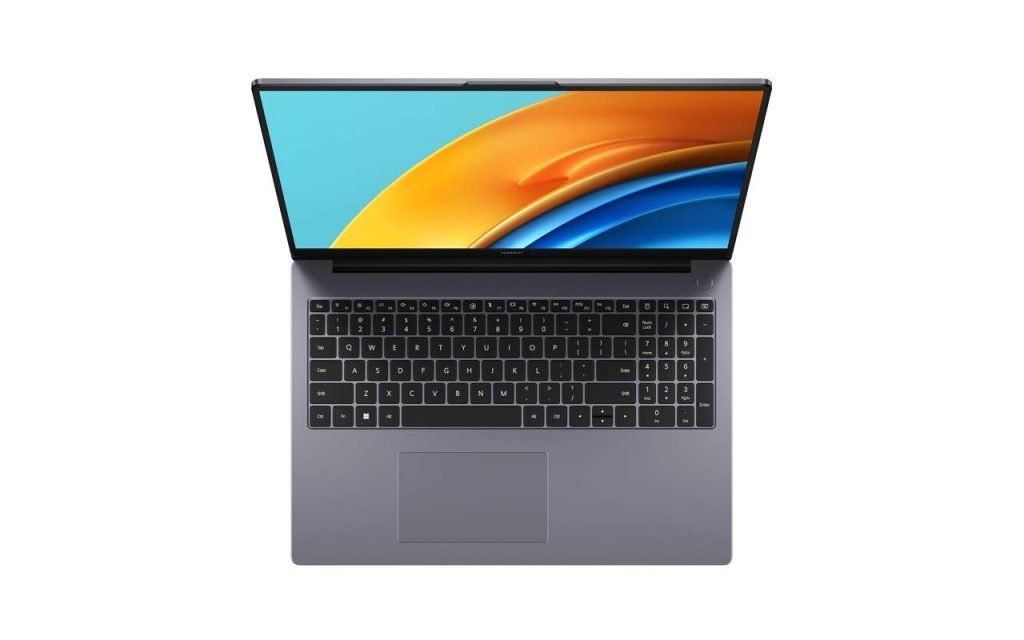 HUAWEI Metaline Antenna technology
The powerful performance is not only driven by the HUAWEI MateBook D 16's processing power. This laptop is a networking beast, too, thanks to the innovative HUAWEI Metaline Antenna technology, which allows users to enjoy stable wireless networks.
The HUAWEI Metaline Antenna is a brand-new antenna structure that, compared with average antennas, has 56% better signal conversion efficiency. In the same network environment, it offers 2dB and 2.6dB better upload and download signals, respectively.
Even under weak Wi-Fi signals, the downloading speed is increased by 55%, while the lag in gaming and video conference are decreased by 57% and 67%, respectively.
Keyboard & Keypad
In addition, unusually for a lightweight laptop, the HUAWEI MateBook D 16 has 1.5mm key travel and soft landing design – inspired by space probes – to make all-day typing easy. The new individual numeric keypad enables users to work with charts, data, and documents more efficiently, while the physical shortcut keys allow direct access of frequently used functions for higher productivity.
Productivity
Looking at the HUAWEI MateBook D 16's large screen, lightweight portability, powerful performance, smart video conferencing features, and seamless Super Device connectivity, it is easy to see why this laptop is the perfect productivity device for the hybrid office era. It also features the 2nd generation of 65W Pocket Charger and more ports for flexible connections, so you can stay powered up connected wherever you are.
Price and Availability
The new HUAWEI MateBook D 16 in Silver color is available for pre-orders and across select retailers in the UAE starting at a price of 3299AED alongside a range of accessories, including the HUAWEI Classic Backpack and Slim Keyboard.