Huawei announced six new products on September 10 at their Seamless AI Life Global Launch event, that are aimed at providing users a seamless experience with the 1+8+N ecosystem. The newly announced products include MateBook X, MateBook 14, FreeBuds Pro, FreeLace Pro, WATCH GT 2 Pro and WATCH FIT.
MateBook X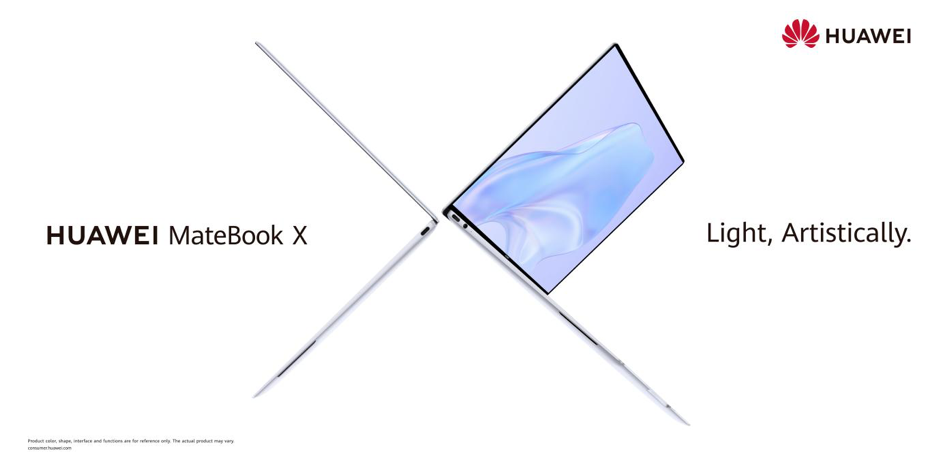 The MateBook X is Huawei's latest flagship laptop, measuring just 13.6mm at its thickest part and is smaller than an A4-sized paper. It is the first-ever Huawei notebook to feature the 3K Infinite FullView Display, and comes in combination with a borderless design that offers an immersive viewing experience and spectacular image quality.
The display is multitouch-enabled, and even supports gestures to boot. The MateBook is extremely versatile, thanks to the improved multi-screen collaboration and integration of Huawei Share tag to the enhanced touchpad. Speaking of which, the touchpad is twenty-six percent larger than the previous generation and features HUAWEI Free Touch to offer full haptic feedback.
The MateBook is Powered by a 10th Generation Intel processor and the first Huawei notebook to offer WiFi 6 for delivering the performances required for daily tasks and faster transfer speeds.
MateBook 14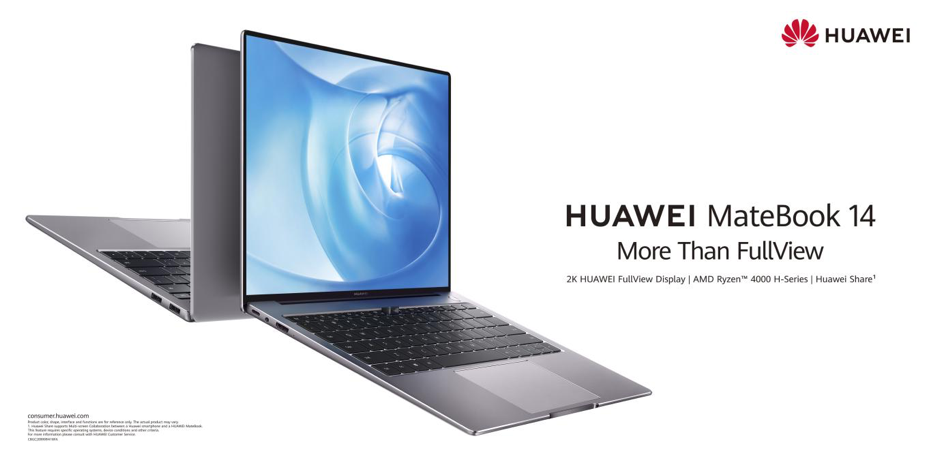 The MateBook 14 features a highly portable, powerful design integrated with AMD Ryzen 4000H Series processor and HUAWEI SharkFin Fans that deliver superior thermal performance even during periods of intense use. It has a 2K Huawei FullView Display and supports multi-screen collaboration.
FreeBuds Pro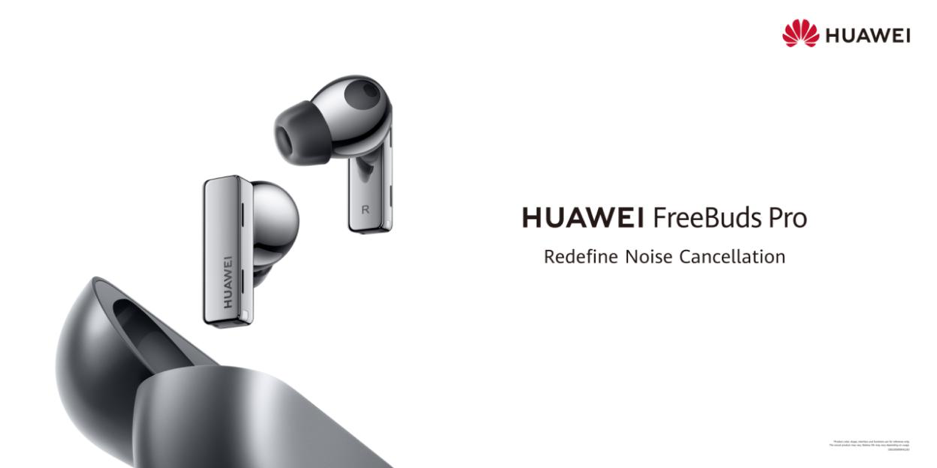 The world's first true wireless stereo (TWS) earphones to support intelligent dynamic noise cancellation: Huawei FreeBuds Pro. It can intelligently switch between three profiles: General, Cosy and Ultimate depending on the user's surroundings. Speaking of which, these new TWS earphones delivers the best noise cancelling performance with an industry-leading noise cancellation rating of 40dB, the best yet on a Huawei audio product.
Users can seamlessly switch between Android, iOS and Windows devices and are not just restricted to any one brand. Users are also able to easily take control of the earphones by quickly swiping or pinching on the cubic earphone stem, thanks to the new gesture control system.
FreeLace Pro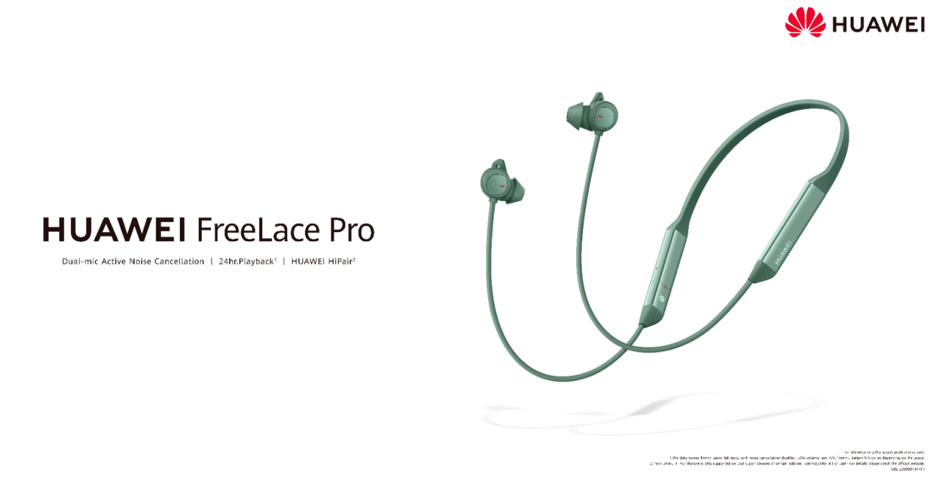 The FreeLace Pro offers up to 40dB stable noise cancellation in any situation. It features a pair of 14mm aluminum-magnesium alloy dynamic drivers that offer a high-fidelity audio for a superior listening experience, thanks to the tip-notch bass tubes.
Huawei HiPair makes both pairing and charging seamless, allowing users to easily do both at the same time by plugging the earphones to a smartphone with a USB-C port. The battery life is simply impeccable, with a five-minute charge being enough to sustain five-hours of music playback, and a full-charge lasting the whole day.
WATCH GT 2 Pro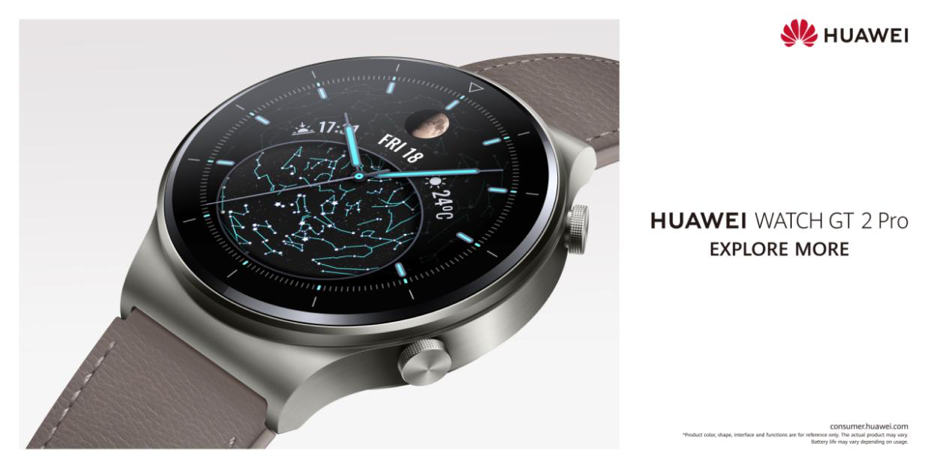 The latest addition to the Huawei WATCH family, the WATCH GT 2 Pro is an elegantly modern smartwatch that offers up to two weeks of battery life, more than 100 workout modes and pro-grade fitness data tracking features with the upgraded Huawei TruSeen 4.0+ providing more accurate heart rate readings. The newly announced workout modes include Skiing, Cross Country Skiing, Snowboarding and Golf Driving Range which provides users with real-time performance tracking and analyses for professional sports.
This new flagship smartwatch boasts a rugged design featuring premium materials, including a sapphire watch crystal, titanium case and skin-friendly ceramic case back that combines with another sapphire glass black to enhance monitoring accuracy and wearing comfort. In addition, the smartwatch also supports apps that conveniently gets users access to more features and Huawei has hinted at future plans to further enhance the smart experience.
WATCH FIT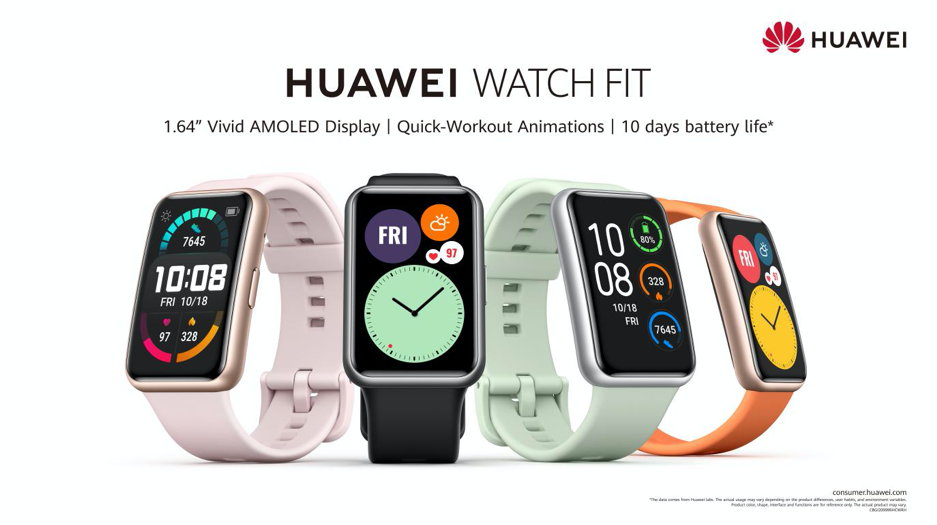 The WATCH FIT is the first Huawei sports smartwatch to feature a rounded rectangular watch face design. The smartwatch features a stunning 1.64-inch AMOLED HD display, and is extremely light weighing a mere 34g, making it as light as a wristband. It lasts up to ten days on a single charge and also supports Huawei's fast charging technology. The battery life is immaculate, with a five-minute charge typically lasting the whole day.
Features the newly improved HUAWEI TruSeen 4.0 heart rate technology, the watch provides more accurate 24-hour heart monitoring to track changes in blood oxygen, sleep and stress conditions. Fitness advice is generated by analyzing all the data collected, helping users lead healthier lives.
The WATCH FIT is the first Huawei smartwatch to support Quick-workout Animations. It combines forty-four standard fitness routines including fat burn, shoulder muscle relief, body sculpting and other routines, into twelve animations. It also offers thirteen specifically-tailored running classes for jogging enthusiasts; the pace of running is scientifically analyzed and results are provided in real time to help users augment their workouts. It is the ideal outdoor companion, coming with 96 workout modes, built-in GPS and 5ATM water resistance.
More information regarding these newly announced products can be found on their official website. For more on Huawei, click here.