The Logitech Lift is a vertical ergonomic mouse built for comfort, ease of use and productivity. The wireless mouse comes with impressive features and provides up to 24-months of use on a single charge. It uses Logitech's Logi Flow technology that allows pairing up to three devices and supports drag-drop file transfers between them.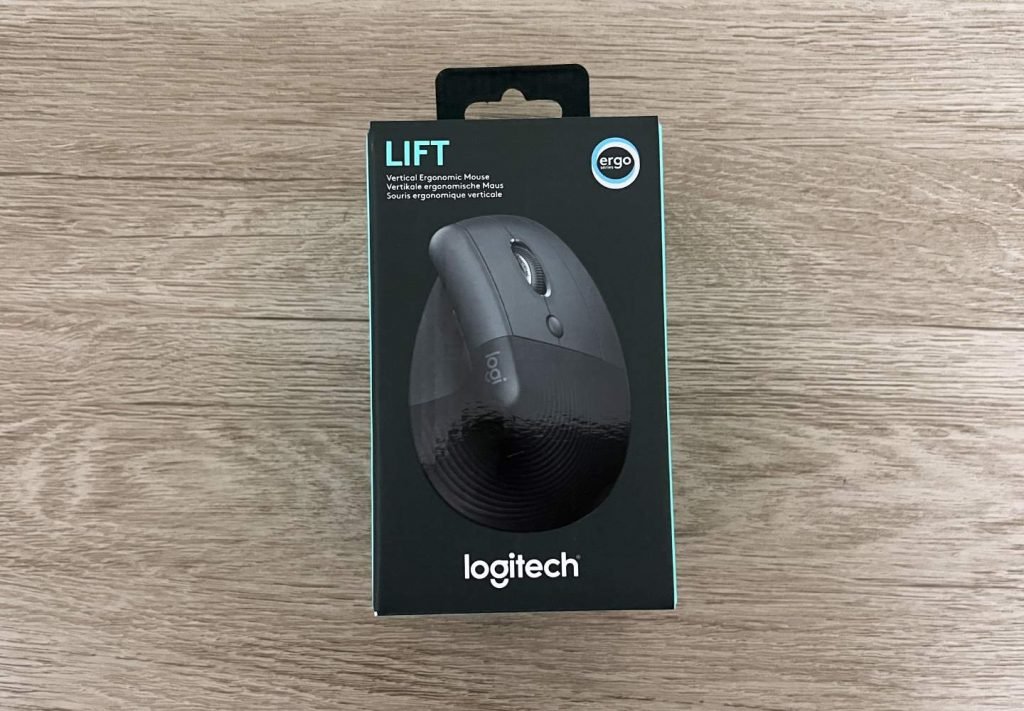 In terms of performance, the mouse offers a 4,000 DPI sensor, scroll wheel with SmartWheel technology and is cross-platform compatible. For connectivity, it uses a 2.4GHz USB dongle to achieve quick responsiveness and can connect via Bluetooth LE alternatively.
The Logitech Lift features a comfortable ergonomic shape and is designed to keep your hands in a neutral position. It comes with PTFE glide pads to support smooth movements during multitasking.
Highlights
Vertical ergonomic mouse with six buttons
4,000 DPI sensor
Up to 24-months battery life
Bluetooth LE and 2.4GHz wireless connectivity
Connect up to three devices
Specifications
Sensor Type
Logitech Advanced Optical Tracking
DPI
4000 dpi
Buttons
6
Scrolling
SmartWheel
Connectivity
2.4GHz wireless technology Bluetooth Low Energy
Battery Type
1x AA battery
Battery Life
Upto 24-months
Measurements (LXWXH)
124.9 x 84.3 x 51 mm
Weight
141g
Software
Logi Options+ and Logitech Flow
Compatibility
Windows 10, 11 or later
macOS 10.15 or later
iPadOS 14 or later
Linux
Chrome OS
Android 8.0 or later
Read the full specifications here.
Packaging
The packaging comes in a Logitech branded cardboard box with photos and specifications on the sides. The box is durable and the keyboard and accessories are well protected. You have to download the Logi Options+ software manually. The packaging includes: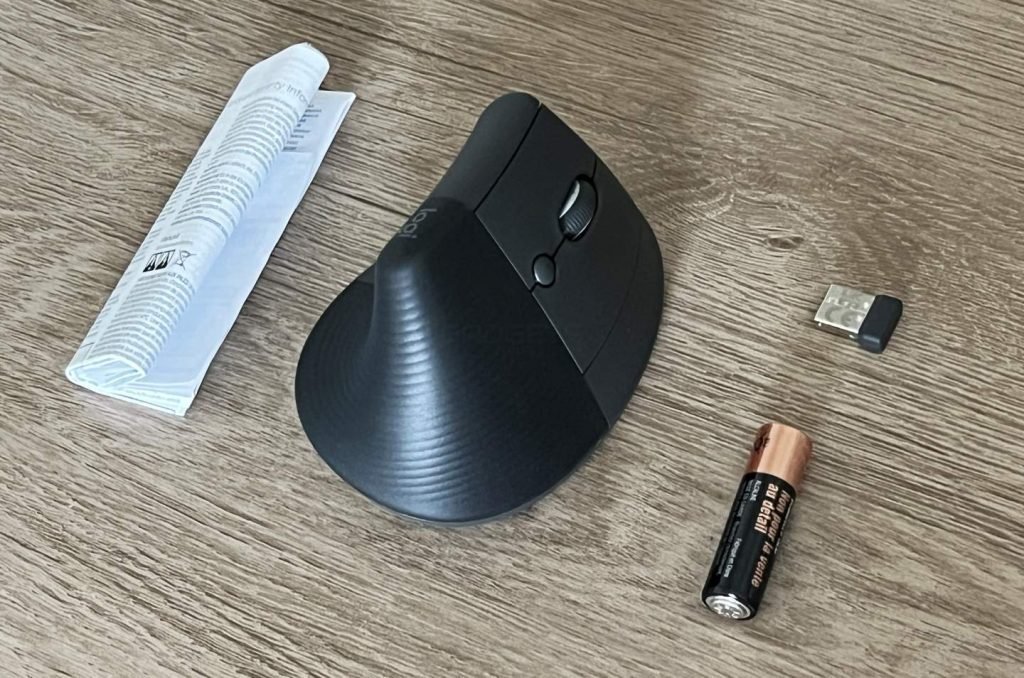 Lift Vertical Ergonomic Mouse
Logi Bolt USB Receiver
1 x AA Battery
Quick Start Guide
Design
Measuring 71 x 70 x 108mm (HxWxD), the Logitech Lift is quite hefty at 125g but feels natural and comfortable to use.
The Logitech Lift comes in Rose, Graphite, and Off-white color options. The mouse comes in a two-tone design and has a matte-textured finish. The front half is made of high-quality plastic with most of it coming from post-consumer recycled plastic and the back half is rubberized. The mouse is designed for right-handed users. There is also a left-handed version available.
Being a vertical ergonomic mouse, the Lift has an unusual design and button placement that may feel odd at first. But with its textured grip, easy-to-reach buttons, the mouse is very comfortable to use and feels natural. The mouse puts less pressure on your wrist and places your arm and upper body in a more natural posture. There is also a rubber grip texture for your palm on top half of the mouse and a cozy thumb rest on the left.
There are a total of six buttons on the Logitech Lift, four of them can be customized using the Logi Options+ software. At the top are left and right click buttons which we found to be very precise and quiet during our test. Located here is the scroll wheel with SmartWheel technology that shifts from precise scrolling mode to free-scrolling based on applied force.  The scroll wheel itself is clickable and can be used to assign a function.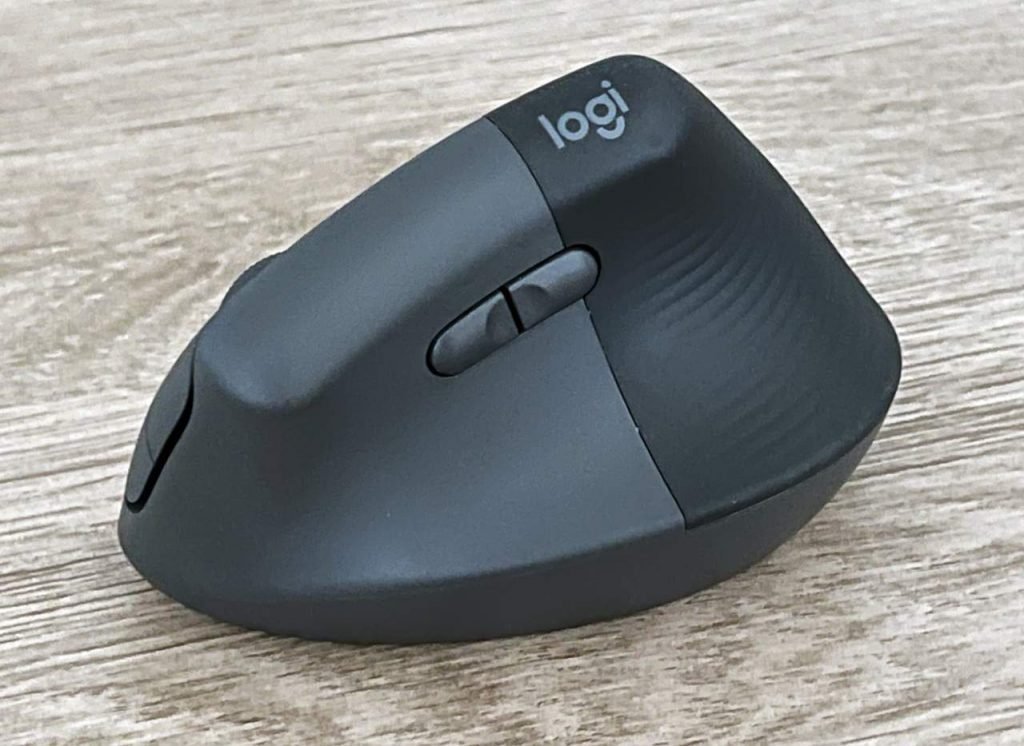 Right below the scroll wheel is a button which can be customized to switch DPI on the fly. There two buttons are on the left side of mouse for forward and backward functions.
At the base is a toggle to switch between wireless and Bluetooth mode. There is also a tiny button here to pair and switch between 3 devices. The battery and dongle compartments are located at the base as well. Finally, there are two PTFE to help with smooth, gliding movement.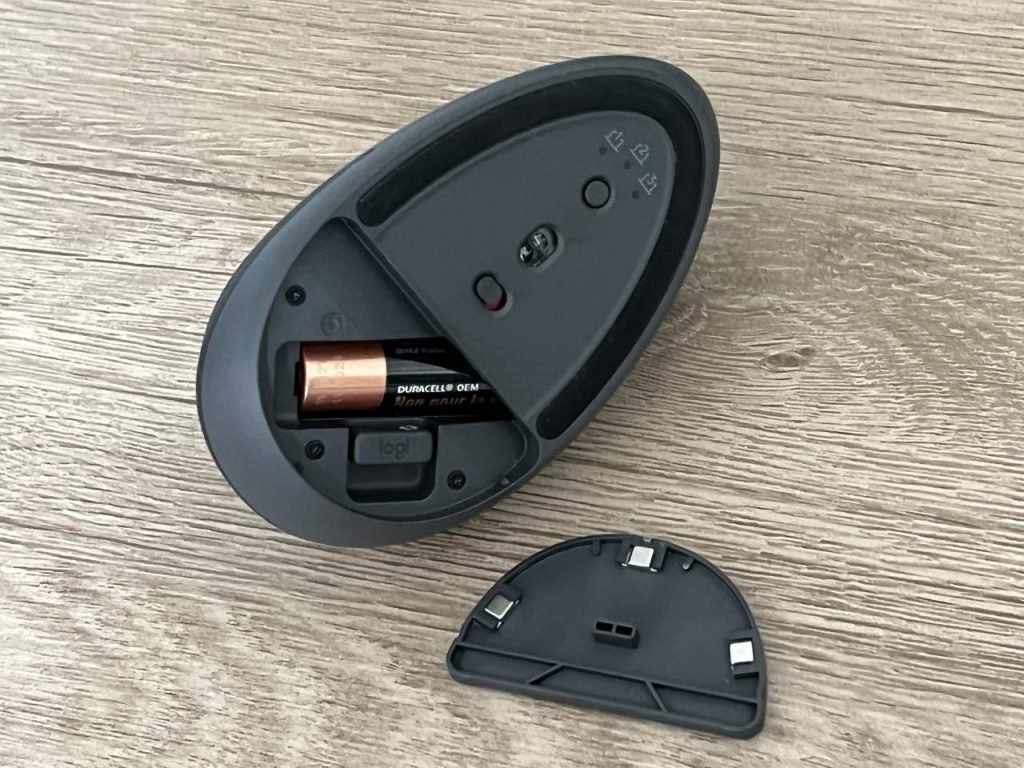 Overall, the construction is good and the mouse feels comfortable to use and glides smoothly.
The Logitech Lift transmits data via a USB dongle that can be connected directly to the PC. Alternatively, it can also connect via Bluetooth. There's no charging port here, the Lift uses a single AA battery for power.
Features & Performance
The Logitech Lift comes with Logitech Advanced Optical Tracking sensor and features adjustable 400-4,000 dpi. The sensor offers accurate tracking with sensitivity adjustment options in 100 DPI steps.
The default DPI settings on the mouse can be customized using Logi Options+ software. It can also be manually switched using DPI button below the scroll wheel.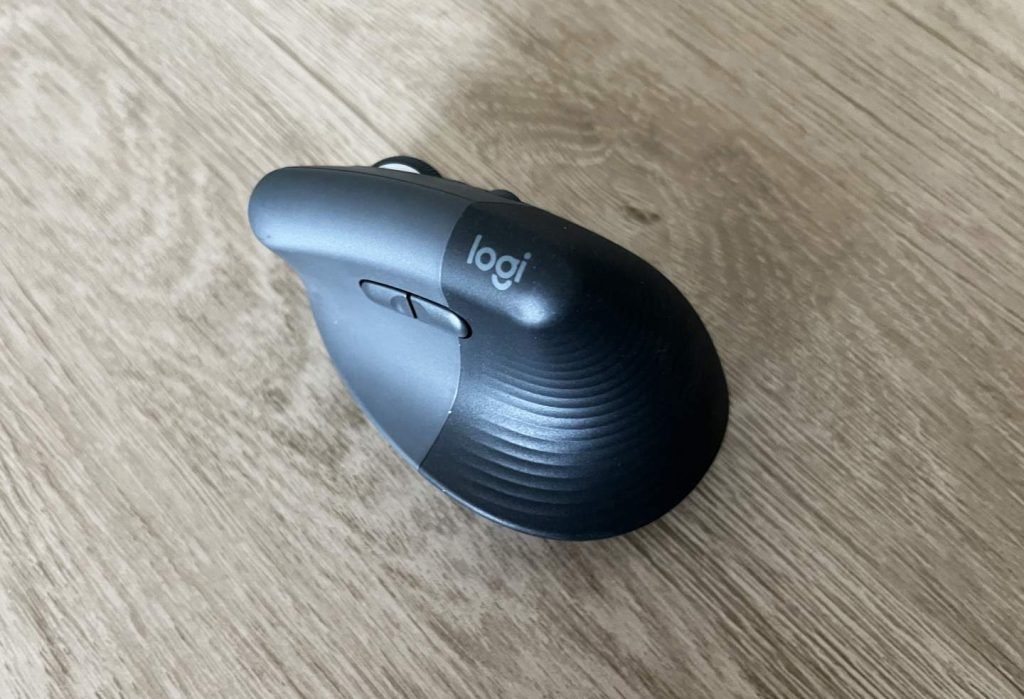 The mouse supports a 10-m wireless range, we never noticed any connection or delay issues. The main buttons click very precisely and feel light and crisp while being incredibly quiet. The side buttons, are easily accessible and the matte, textured surface offers a very good grip.
In our everyday test, the mouse performed well and with very good overall impressions. However, the layout makes it harder to accurately control the mouse's sensor initially and getting used to vertical orientation can take some time.
The scroll wheel is smooth and precise to use. It can be used to scroll line by line or fly through documents using Logitech's SmartWheel feature.
Software
Mouse settings can be adjusted via the Logi Options+ software which can be downloaded from Logitech's website. The software allows customizing the button functions, adjusting scroll wheel settings, setup Logi Flow, back device settings and more.
The mouse supports the company's Flow technology, which lets you use and control multiple computers seamless. Simply switch to another computer by moving your cursor to the edge of the screen. Or copy files from machine and paste on the other. Something to note is that Logi Flow works only runs on devices that have Logi Options+ installed.
When paired with one of Logitech's keyboards such as MX Mechanical, the same mouse and keyboard can be used across multiple PCs.
Also lets you create app specific button functions for software's such as Adobe Photoshop, Adobe Premiere Pro, Final Cut Pro, Google Chrome, Safari, Zoom, Microsoft Teams, Word, Excel, PowerPoint, and Edge.
Battery & Charging
In terms of battery life, Logitech promises up to 24-month of use. While we couldn't test it fully, the mouse was fully functional for about the 30 days we used it from a single charge and 90% still left.
Logitech Lift Review Verdict
The Logitech Lift is a great ergonomic, vertical mouse built for comfort and to reduce strain on the wrist. It offers excellent battery life and versatility that enables it to connect up to three devices wirelessly. The mouse also has a storage compartment for the receiver dongle when it's not in use. If you are looking for an ergonomic wireless mouse for use at home or office, Logitech Lift is a great choice and is incredibly quiet.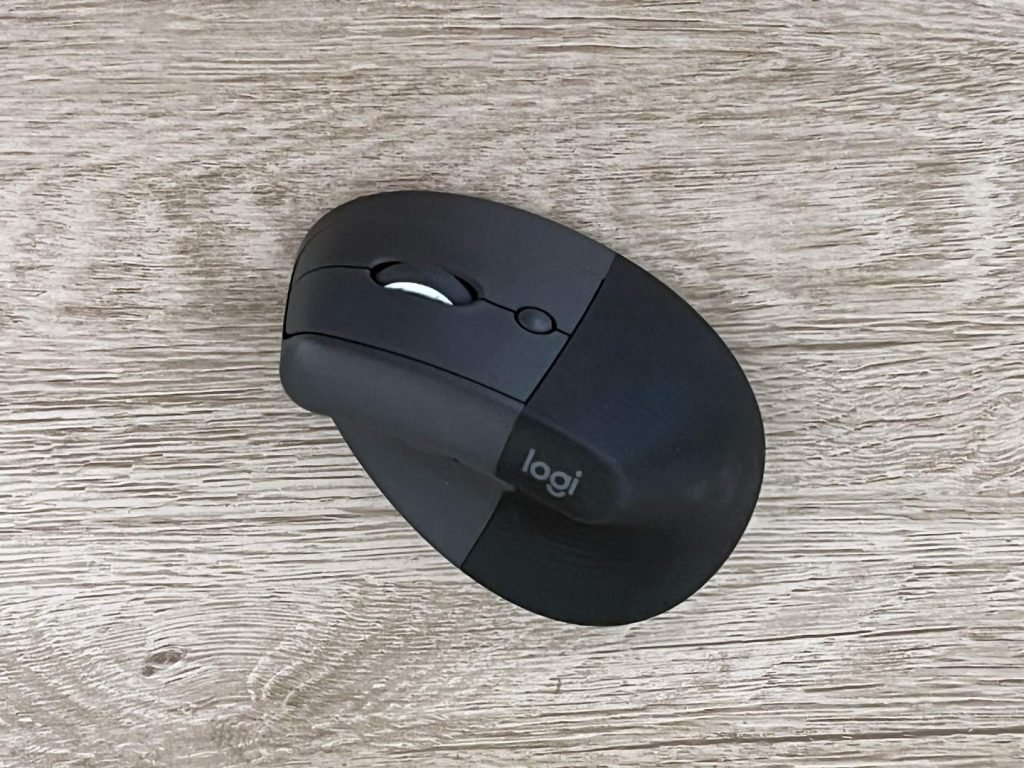 The downsides are that it takes time getting used to; lacks onboard memory, so you can't store your custom settings and it's a bit bulky to fit into cases or laptop bags.