The SteelSeries Rival 5 is the latest addition to the popular Rival series gaming mice. It is one of the most versatile precision gaming mouse from SteelSeries with 9 programmable buttons to fit different gameplay styles, including a custom quick-action paddle switch that's built for lightning fast reaction plays.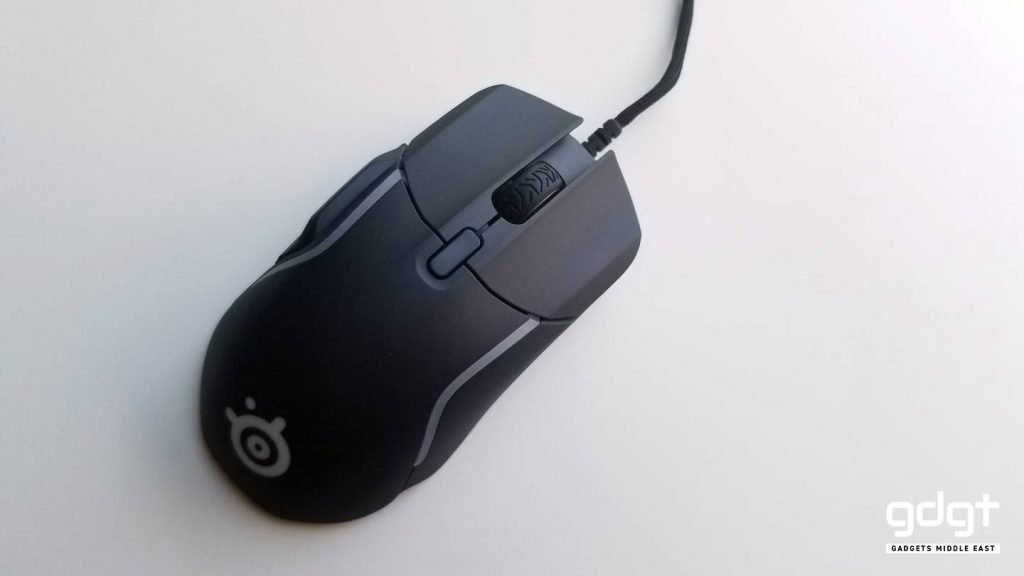 The new Golden Micro IP54 switches promise a durability of 80 million clicks and the mice also features the new TrueMove Air sensor with one-to-one tracking and a maximum CPI of 18,000, tracking speed of 400 IPS and an industry-standard 1,000Hz polling rate.
Highlights
Perfect for all Battle Royale, FPS, MOBA, MMO, and other fast-paced games
TrueMove Air precision optical gaming sensor with true 1-to-1 tracking
Ergonomic 9-button programmable layout with 5 quick action side buttons
85g competitive lightweight and extra durable
Next-gen Golden Micro IP54 Switches
PrismSync lighting with 10 zones of 16.8 million beautifully crisp colors
Specifications
| | |
| --- | --- |
| Sensor | SteelSeries TrueMove Air |
| Sensor Model | Optical |
| CPI | 100–18,000 in 100 CPI Increments |
| IPS | 400, on SteelSeries QcK surfaces |
| Max Acceleration (G) | 40G |
| Polling Rate | 1000Hz / 1 ms |
| Buttons | 9 |
| Switch Type | SteelSeries IP54 Mechanical Switches Rated for 80 million clicks |
| Illumination | 10-Zone RGB |
| Compatibility | Windows, Mac, Xbox, and Linux. USB port required. |
| Measurements (LXWXH) | 128.80mm x 63.35mm x 28.20mm |
| Weight | 85g |
| Cable Length | 2 m / 6.7 ft |
| Software | SteelSeries Engine |
Packaging
The packaging comes in a white-orange carboard box, standard for most SteelSeries products, with photos and specifications on the sides. The box is durable and the mouse is well protected.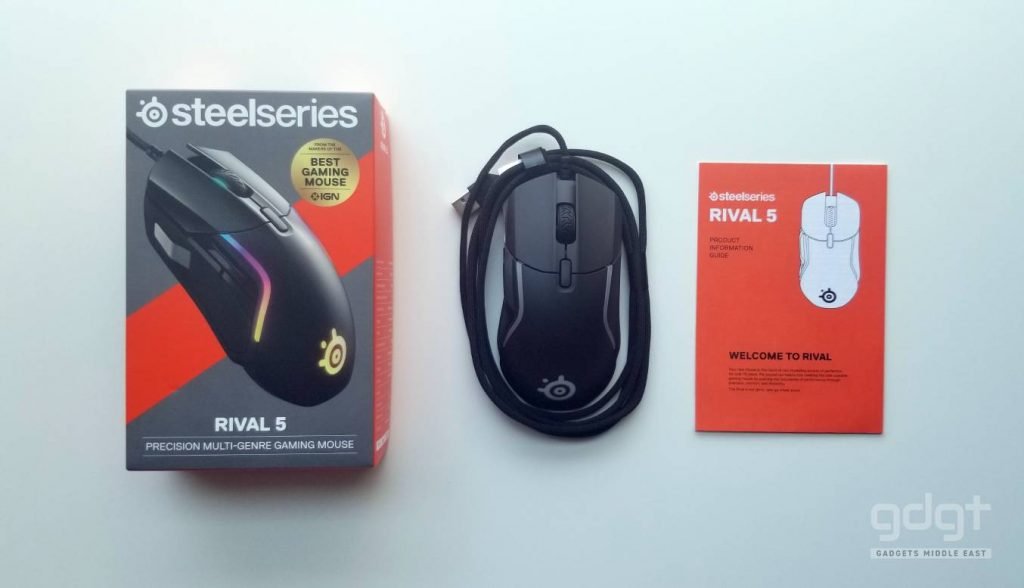 Inside the box, we find the Rival 5 mouse and the product information guide. You have to download the SteelSeries Engine software manually.
Rival 5 mouse
Product Information Guide
Design & Features
The Rival 5 comes in a matte-black finish with a grainy texture and is made of good quality ABS plastic. The mouse is designed for right-handed users and is intended for a claw, palm or fingertip grip.
Measuring 128.80mm x 63.35mm x 28.20mm (LxWxH), the Rival 5 weighs just under 85g and feels comfortable as the mouse is specifically designed for long game play with the multiple side buttons, and IP54 mechanical switches for the main triggers.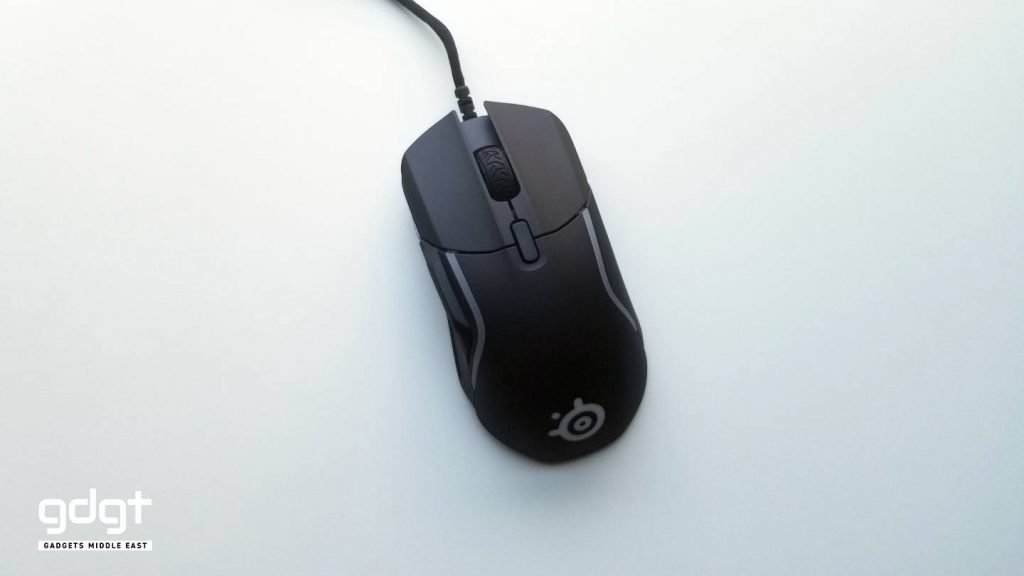 At the top are left and right click buttons uses the new Golden Micro IP54 switches with a lifespan of 80 million clicks, which we found to be very responsive and relatively quiet during our test, including the mouse wheel. Also located here is a button to cycle between different profiles. The remaining 5 buttons are on the side panel which is designed for swift thumb action, featuring a custom paddle button for quick in-game actions without losing grip or hindering your aim. All buttons are programmable via the SteelSeries Engine software.
The two large PTFE at the base help with smooth, gliding movement. Overall, the construction is fantastic and the Rival 5 looks stylish from every angle. The Rival 5 also features an all-new soft microfiber mesh cable with less drag and a lighter feel for swift movements.
In terms of lighting, the Rival 5 has 10 RGB zones that can be customized through SteelSeries. With 16.8 million colors to choose from, users can highly customize effects whether it's related to in-game events or to match their setup. The mouse can also synchronize with other SteelSeries products.
Performance
Under the hood, SteelSeries has developed a new optical sensor called TrueMove Air developed for true 1-to-1 tracking with 18,000 CPI, 400 IPS, 40G acceleration, plus tilt tracking to eliminate unwanted tracking during angled drops, tilt slams, and quick flicks. SteelSeries says the TrueMove Air sensor delivers 3X better accuracy than the competition so that every mouse movement, from micro-adjustment to sweeping burst, translates precisely in-game as it was intended to.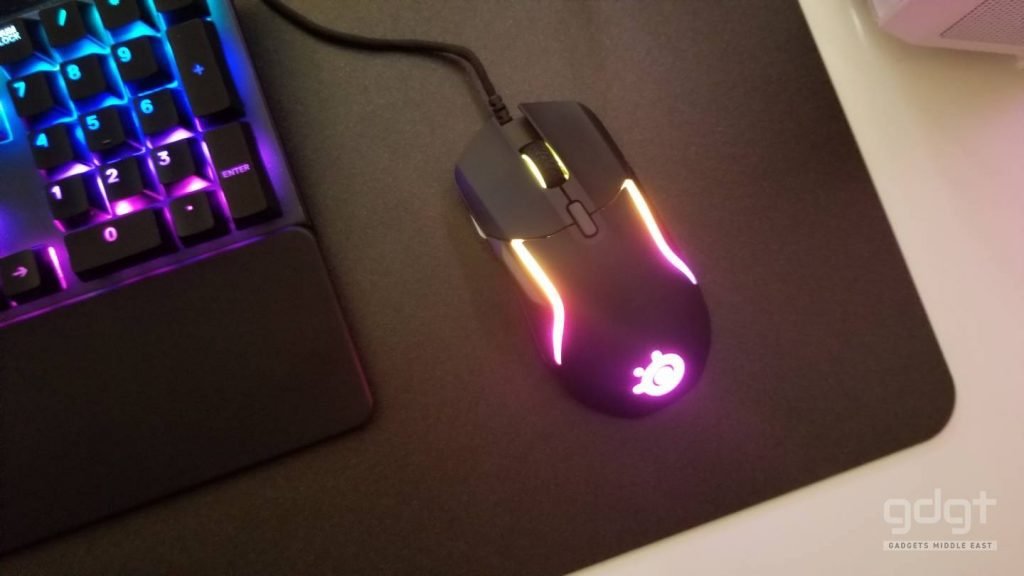 In our everyday test, the mouse performed well and with very good overall impressions. It can be easily adapted to your own preferences and skills with the SteelSeries Engine software. In addition, we never noticed any connection or delay problems.
The main buttons click very precisely and have a well-defined pressure point. The top four buttons are easily accessible and the matte-finish surface offers a good grip. The side buttons are designed to be quickly accessible and allows you to reset your thumb to quickly maneuver your mouse at the same time.
However, some of the side buttons may be difficult for some users to reach depending on hand size and preferred grip style. We couldn't make much use of the unique paddle button either but this could be of appeal to some gamers. The size of the paddle button also means some of the side buttons are too small to get used to.
Software
As with most SteelSeries products, SteelSeries Engine is used for customizing the Rival 5. The software enables the creation of several profiles, adjusting CPI, polling rate, battery saver settings, acceleration/deceleration and more. Discord and other GameSense enabled apps allow for chat notifications, in-game events, and more.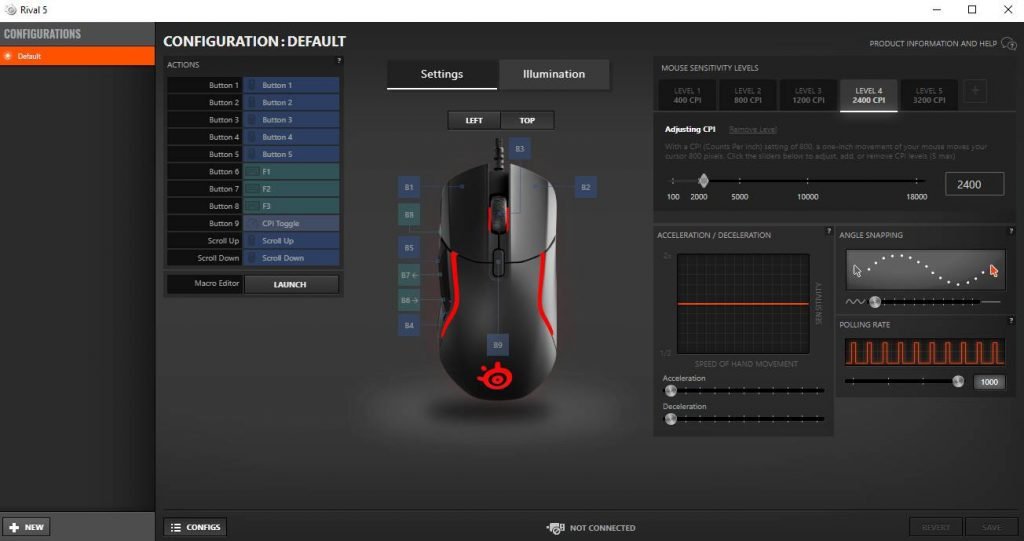 In terms of RGB, there are pre-built effects, but you can also create your own custom lighting profiles. Synchronization with other SteelSeries devices is also possible.
Verdict
The SteelSeries Rival 5 is a great mouse and an easy recommendation considering its feature set and asking price. The mouse features 9 programmable buttons that can suit multiple play styles across different genres, beautiful RGB zones and a robust software suite to back it up.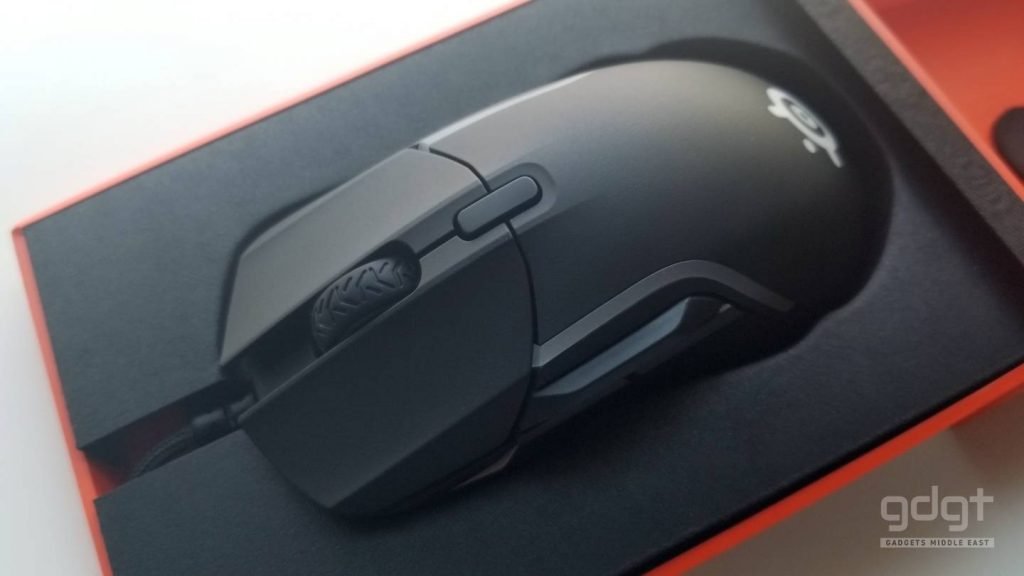 Unfortunately, there's a limit to the Rival 5's on-board memory and has only one on-board profile that can store your DPI, polling rate, and mouse button mappings. All other settings, require having the SteelSeries software. This isn't much of an issue if you plan to use this as a daily mouse.