The Logitech MX Anywhere 3S is a feature-packed wireless mouse built for portability and offers an incredible 70 days of battery life on a single charge. With Bluetooth Low Energy technology, it ensures quick responsiveness while enabling seamless pairing with up to three devices for convenient file transfers through drag-and-drop functionality. Additionally, the mouse is compatible with Logi Bolt USB (sold separately) for alternative connectivity options.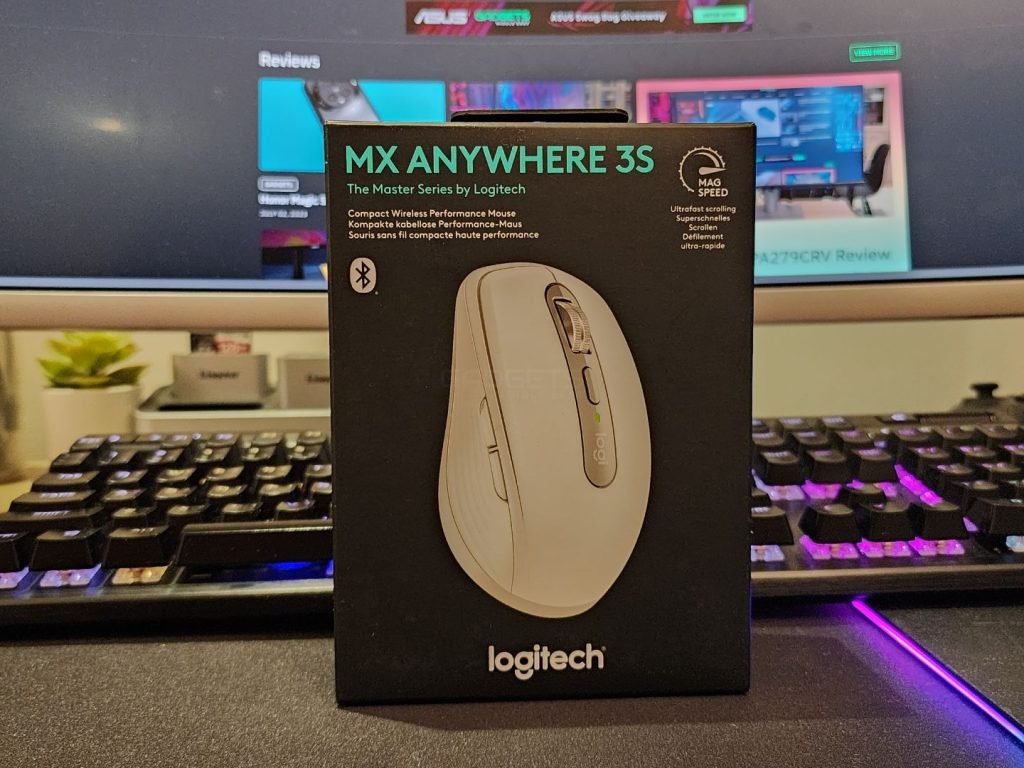 Performance-wise, the Logitech MX Anywhere 3S excels with its 8,000 DPI Darkfield high precision sensor and MagSpeed scroll wheel which is capable of scrolling through 1,000 lines per second. I'ts cross-platform compatibility makes it suitable for use across various operating systems.
Highlights
8,000 DPI sensor
Up to 70 days battery life
Six buttons
Connect upto three devices
Bluetooth LE and Logi Bolt wireless connectivity
Specifications
Sensor
Darkfield high precision
Sensor Type
Optical
DPI
8000 dpi
Buttons
6 (Left/Right-click, Back/Forward, Wheel mode-shift, Middle click)
Scrolling
MagSpeed
Connectivity
Bluetooth Low Energy Compatible with Logi Bolt USB Receiver (not included)
Battery
Rechargeable Li-Po (500 mAh) battery
Battery Life
70 days on full charge 3 hours of use from 1 minute charge
Measurements (LXWXH)
100.5 x 65 x 34.4 mm
Weight
99g
Software
Logi Options+ and Logitech Flow
Compatibility
Windows 10, 11 or later
macOS 10.15 or later
Linux
Chrome OS
iPadOS 14 or later
Android 8.0 or later
Packaging
The packaging comes in a Logitech branded cardboard box with photos and specifications on the sides. The box is durable and the mouse and accessories are well protected. You have to download the Logi Options+ software manually.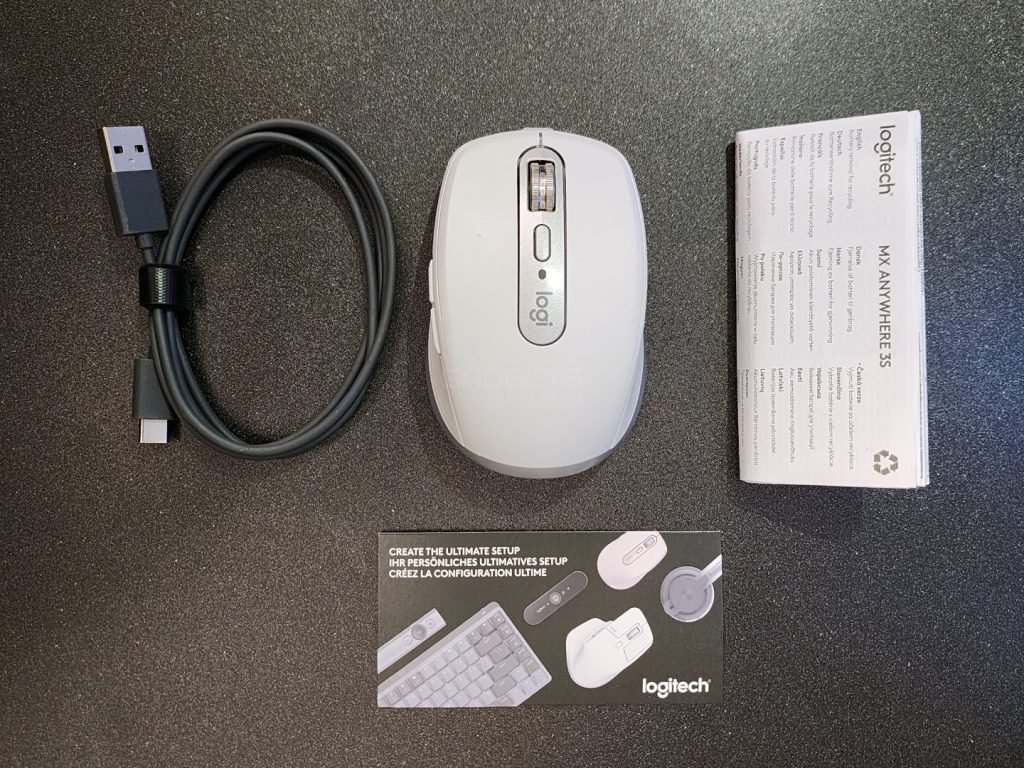 Logitech MX Anywhere 3S Wireless Mouse
USB-C charging cable (USB-A to USB-C)
User documentation
Design
Design-wise, the Logitech MX Anywhere 3S wireless mouse excels in compactness and portability, measuring at 100.5 x 65 x 34.4 mm (HxWxD) and weighing a mere 90g. Its ergonomic design ensures a natural and ultra-comfortable user experience. However the compact form factor may be small for larger hands.
Available in Graphite, Pale Gray, and Rose color options, the MX Anywhere 3S has a sleek matte-textured finish, and is made of high-quality plastic with some of it consisting of post-consumer recycled materials. Designed for right-handed users, it accommodates both palm and claw grips.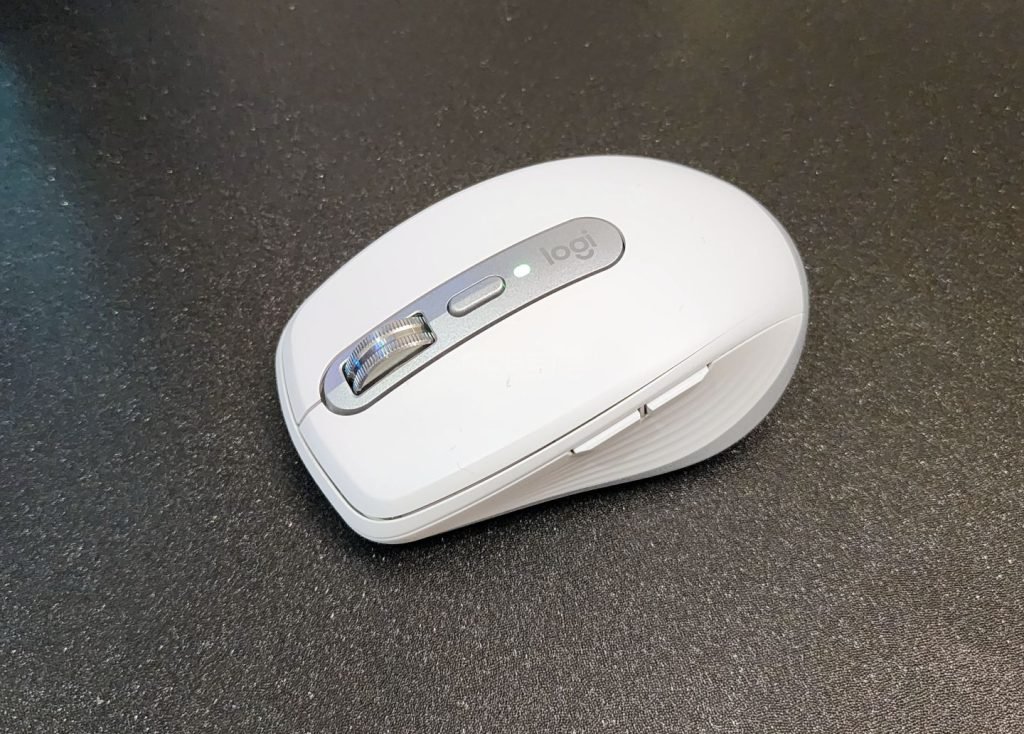 The mouse utilizes Bluetooth Low Energy technology for seamless data transmission. Additionally, it can be wirelessly connected via a Logi Bolt USB dongle (sold separately) operating at 2.4GHz. Located on the front side, a USB-C port can be used for fast recharging, wired mode functionality or both.
Featuring a total of 6 buttons, all of which can be customized using the Logi Options+ software, the MX Anywhere 3S offers a versatilitly. The left and right click buttons provide precise and quiet feedback, while the exceptional MagSpeed steel scroll wheel offers quick and accurate scrolling with optimal resistance. The scroll wheel can also be clicked and assigned functions.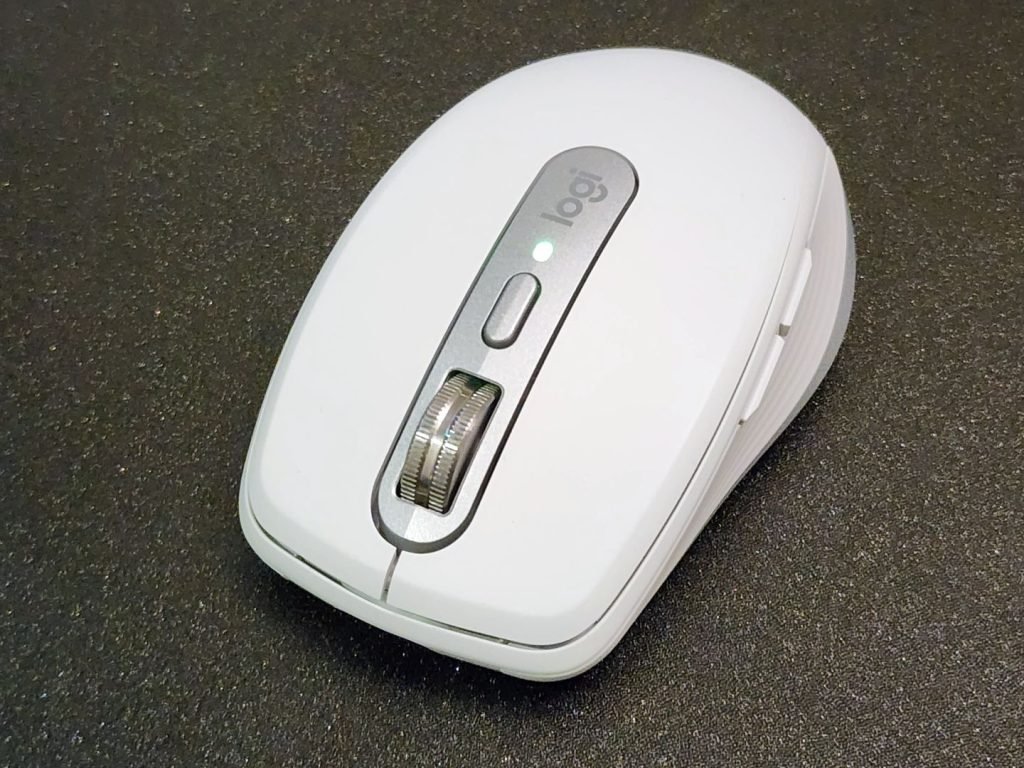 Below the scroll wheel, a default button allows switching between 'Ratchet' and 'Free Spin' scroll wheel modes, but it can also be customized for other functions such as for on-the-fly DPI adjustments and switch between two presets. Additionally, a small charging status indicator is conveniently located here.
Two buttons are situated on the left side of the mouse, it also allows horizontal scrolling by holding the side button and rotating the scroll wheel.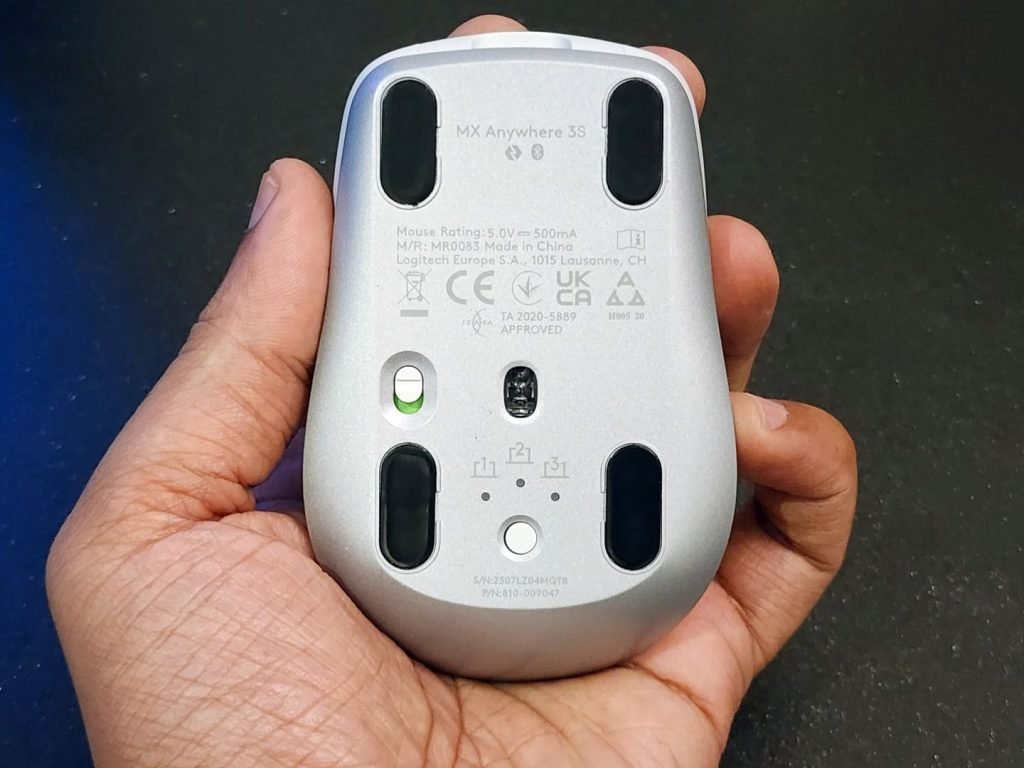 The base of the MX Anywhere 3S features a toggle for power on/off, along with a small button for effortless device pairing and switching among three devices. Four small PTFE pads, one in each corner, ensure smooth and fluid movement.
Overall, the MX Anywhere 3S impresses with its premium and ergonomic construction, providing both aesthetic appeal and comfortable usage. However, it is worth noting that the included USB Type-A to Type-C cable lacks braiding and may feel somewhat cheap.
Features & Performance
When it comes to features and performance, the MX Anywhere 3S has an impressive set of capabilities. Equipped with Logitech's Darkfield Laser Tracking sensor, it offers accurate tracking with adjustable sensitivity ranging from the default 1000 DPI up to a maximum of 8000 DPI, adjustable in 50 DPI increments.
One standout feature is the mouse's built-in battery, eliminating the need for replaceable batteries. The USB-C port conveniently located on the front allows for fast charging, wired mode usage or both.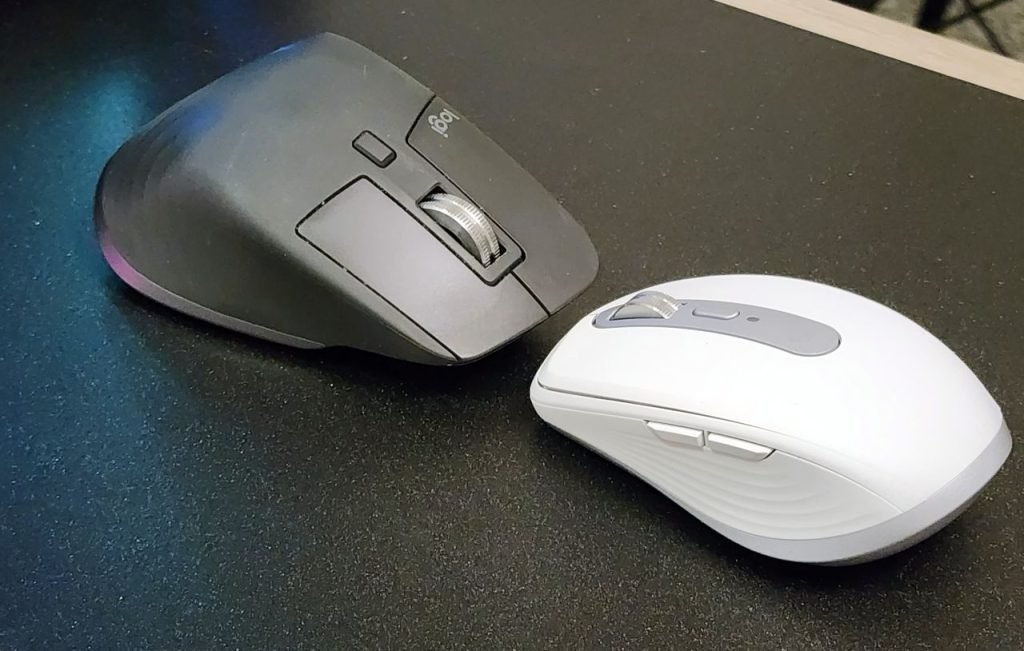 The default DPI settings can be personalized using the Logi Options+ software, giving you control over your mouse's sensitivity. Furthermore, the DPI can be manually switched using the dedicated button located below the scroll wheel, once configured via the software.
During our everyday testing, the mouse delivered exceptional performance and left us with a highly positive impression. Its adaptability to individual preferences and skill levels through the Options+ software is a notable advantage. Additionally, we experienced no connectivity issues or delays.
The main buttons of the mouse are precise, light, and crisp, providing a satisfying click while remaining impressively quiet. The side buttons are conveniently accessible, and the matte, textured surface offers excellent grip for comfortable handling.
The scroll wheel is another standout feature, allowing for both free-spinning mode and the more controlled Ratchet mode, where you can feel each scroll step. The horizontal scroll wheel proves particularly useful for navigating between different tabs in web browsers like Chrome.
Software
The Logi Options+ software, available for download from Logitech's website, provides extensive customization options for the MX Anywhere 3S mouse. With this software, you can easily customize button functions, fine-tune scroll wheel settings, set up Logi Flow for seamless multi-computer control, configure device settings, and more.
One notable feature is Logi Flow, which enables effortless control over multiple computers. By simply moving your cursor to the edge of the screen, you can seamlessly switch between computers or copy and paste files across devices. It's important to note that Logi Flow requires Logi Options+ to be installed on the devices involved.
When paired with one of Logitech's keyboards, such as the MX Mechanical, the same mouse and keyboard can be used across multiple PCs, providing a streamlined experience.
The Logi Options+ software also allows creating app specific button functions for software's such as Adobe Photoshop, Adobe Premiere Pro, Final Cut Pro, Google Chrome, Safari, Zoom, Microsoft Teams, Word, Excel, PowerPoint, and Edge.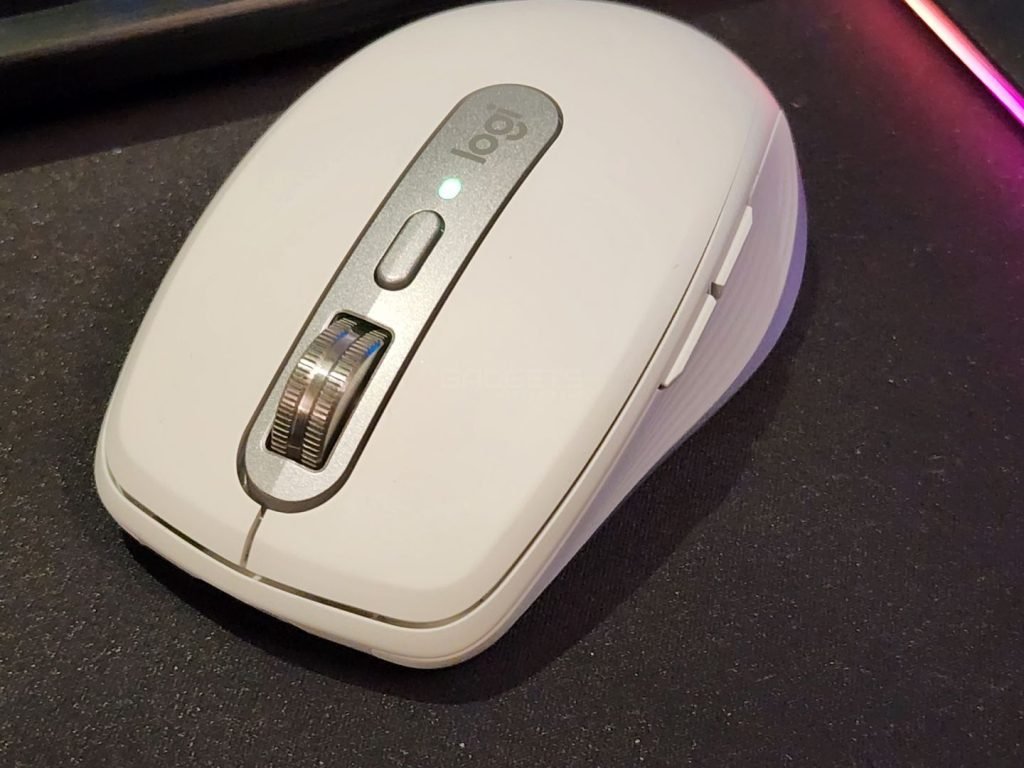 Battery & Charging
When it comes to battery life, the Logitech MX Anywhere 3S offers impressive longevity. Logitech claims up to 70 days of use on a full charge, and during our testing period of approximately three weeks, the mouse remained fully functional without needing to recharge.
Additionally, a mere 1-minute charge provides approximately 3 hours of usage, ensuring you're never left without a functioning mouse.
Verdict
In conclusion, the Logitech MX Anywhere 3S wireless mouse impresses with its compact and versatile design, exceptional battery life, and seamless multi-device connectivity through Logi Flow technology. Its high-precision sensor and MagSpeed scroll wheel enhance performance, while the customizable settings and ergonomic construction provide a comfortable and personalized user experience.
Although the included USB cable could be improved, the MX Anywhere 3S remains a top choice for users seeking a reliable and portable wireless mouse that excels in both productivity and portability.