MAINGEAR has launched a new top of the line gaming PC – RUSH, the new and improved full-tower desktop.
The system is targeted towards elite gamers looking to push frames and play the most demanding titles at max settings in 4K (or higher)! This powerhouse is ASUS ROG Certified and also features the next-generation version of MAINGEAR's custom APEX liquid cooling solution, which pairs highly-efficient cooling components with a gorgeous (ASUS Aura Sync-supported) crystal clear design.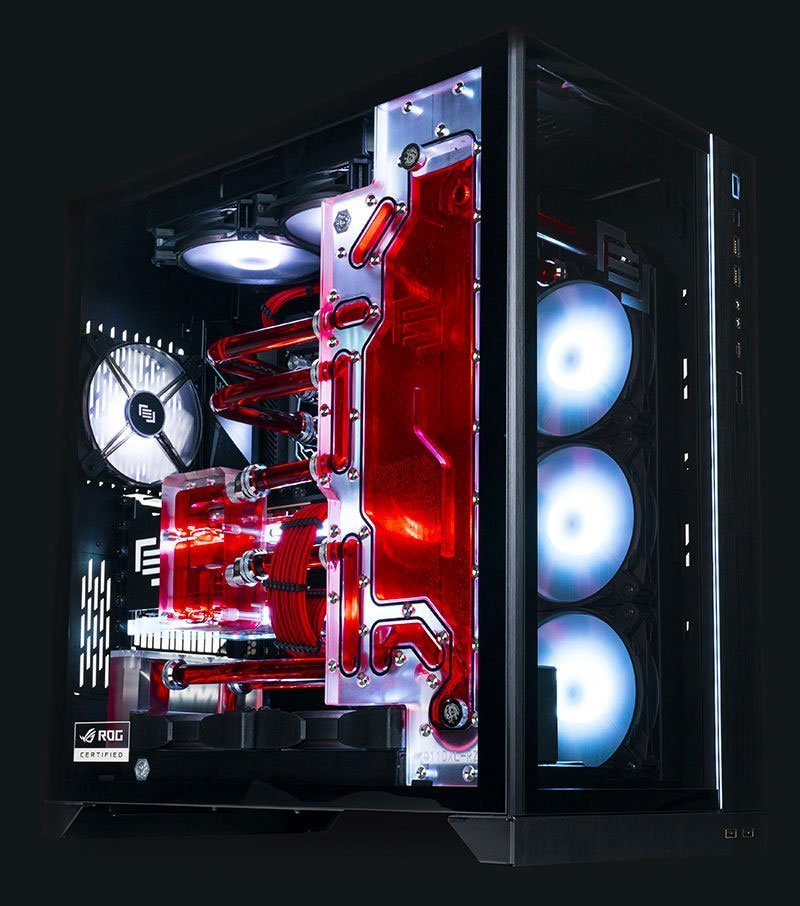 The RUSH's chassis can also be extensively customized with paints and skins to look just how you want it.
Specifications
Processors
AMD RYZEN – Up to AMD RYZEN 9 3950X 16-Core 3.5 GHz (4.7 GHz Max Boost) 
AMD Threadripper – Up to AMD Ryzen Threadripper 3990X 64-Core 2.9 GHz (4.3GHz Max Boost) 
Intel Z390 – Up to Intel Core i9 9900K 8-core 3.6GHz (5.0GHz Max Boost) 
Intel X299 – Up to Intel Core i9 10980XE 18-core 3.0GHz (4.6GHz Max Boost) 
Motherboards
AMD RYZEN – Up to ASUS ROG CROSSHAIR VIII FORMULA 
AMD Threadripper – Up to ASUS ROG Zenith II Extreme Alpha 
Intel Z390 – Up to ASUS ROG MAXIMUS XI FORMULA 
Intel X299 – Up to ASUS ROG Rampage VI Extreme Omega 
Graphics
NVIDIA – Up to 2 x GeForce Titan RTX 24GB GDDR6  
AMD – Up to 2 x Radeon VII 16GB HBM2  
Memory
AMD RYZEN – Up to 128GB DDR4-3600 4x32GB (Dual Channel) 
AMD Threadripper – Up to 256GB DDR4-3200 8x32GB (Quad Channel) 
Intel Z390 – Up to 128GB DDR4-3600 4x32GB (Dual Channel) 
Intel X299 – Up to 128GB DDR4 -3200 8x16GB (Quad Channel) 
Storage
Up to 2 m.2 NVME SSD (motherboard dependant) 
Up to 7 x 2.5" Sata SSD or 4 x 3.5" Sata HDD (configurations may vary) 
Optical
8X ASUS External Slim DVD+/-RW Drive 
12X Asus® Blu-ray Burner
External USB 3.0 with playback software 
Power Supply
Up to 1600W EVGA® SuperNOVA P2 80 PLATINUM Certified Fully Modular PSU
SUPERSTOCK Open Loop
APEX Hand Crafted Liquid Cooling with Crystal Hardline or Metal Hardline tubing, premium chrome fittings, 920mm total Copper Core Radiators, High Airflow Fans, Distilled Deionized Non-Conductive Liquid
Liquid Cooling
Closed Loop – Up to EPIC 240 SuperCooler Regular Open Loop – Custom Liquid Cooling for CPU and GPU with 920mm total Radiators, High Airflow Fans and Distilled Deionized Non-Conductive Liquid
Dimensions
20.2" – Height
18.5" – Depth
11.2" – Width
Weight
Average Weight – 80 lbs
MAINGEAR has partnered with ASUS to make the RUSH ROG Certified, crafting a powerful machine for truly dedicated gamers that also sports a fully integrated RGB lighting experience customizable through ASUS's Aura Sync software.
RUSH owners have complete control over the computer's lighting system and Aura-compatible peripherals. Paired with MAINGEAR's own selection of custom paint finishes and MARC designs, the RUSH is a desktop that ensures each owner's gaming battlestation makes a personalized statement.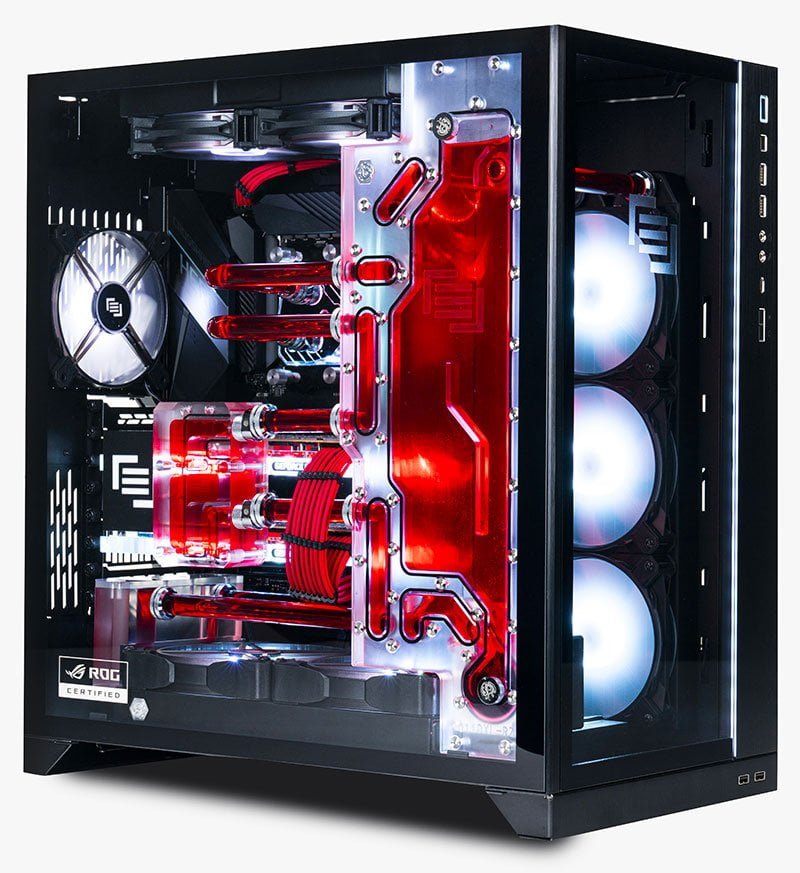 "The MAINGEAR RUSH is a powerhouse system designed to push the limits of what hardcore gamers can achieve," said Wallace Santos, founder and CEO of MAINGEAR. "We have married best in class gaming hardware, from today's leading brands such as ASUS, with our custom-engineered APEX liquid cooling solution. Every element of the RUSH was designed to deliver unbelievable performance and efficiency."
Custom RUSH systems include options to outfit the system with up to two NVIDIA® TITAN RTX™ graphics cards, up to the latest Intel 10980XE or AMD 3990X processors, up to 128GB of DDR4-3600 RAM, a selection of top-tier ASUS ROG ATX and E-ATX motherboards, and a full range of ultra-fast NVMe Solid State Drives.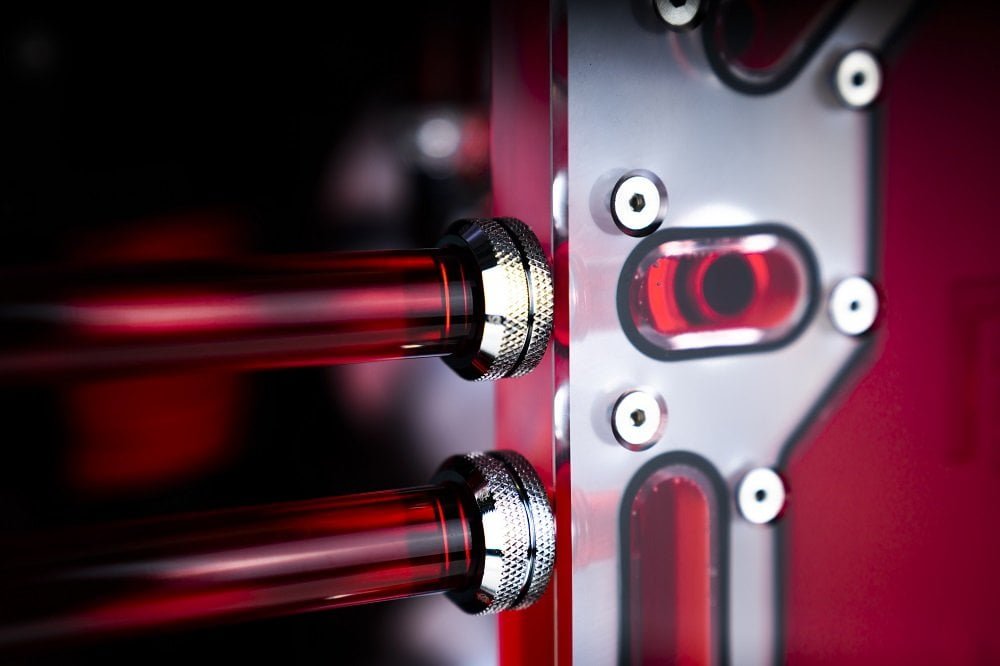 A solid steel interior construction, easily accessible tempered glass side- and front panels, and exquisite aluminum exterior with multiple front-facing USB 3.0 ports and a USB Type-C port complete the expertly crafted RUSH chassis.
Launching alongside the RUSH is the latest revision to MAINGEAR's own revolutionary APEX liquid cooling system. The next generation of APEX merges a custom quiet pump, pressure regulated cooling, a flow rate sensor, and a high-capacity reservoir with additional custom parallel GPU and radiator bridges for improved cooling and overclocking potential.
Exquisitely machined from solid blocks of crystal-clear acrylic, APEX is the best performing and most visually stunning liquid cooling solution around — and it's available exclusively from MAINGEAR for the RUSH desktop.
MAINGEAR RUSH features include:
Premium chassis with solid steel construction and aluminum exterior
Custom RGB control, ASUS ROG Certified with Asus Aura Sync
Available with the new evolution of MAINGEAR APEX liquid cooling
Up to Intel's 10980XE and AMD Threadripper 3990X
Up to Dual NVIDIA RTX Titan for gaming or Quad GPU's for productivity by request
Up to 128 GB for DDR4 Memory
Support for Multiple 2TB NVME SSDs
Optional Hardline Liquid cooling
E-ATX Motherboard Support
Cool and Quiet with up to a 960mm radiator (360+280+280)
The MAINGEAR RUSH retails starting at $1,899 USD and is available now for purchase from MAINGEAR.com.