Since the launch of revolutionary devices like the tablet and the iPad, the demand for the traditional PCs has started to reflect a downward trend in sheer terms of shipment numbers in the past decade. These devices have reimagined what a computer is to consumers and this is pretty evident in the shift of recent trends.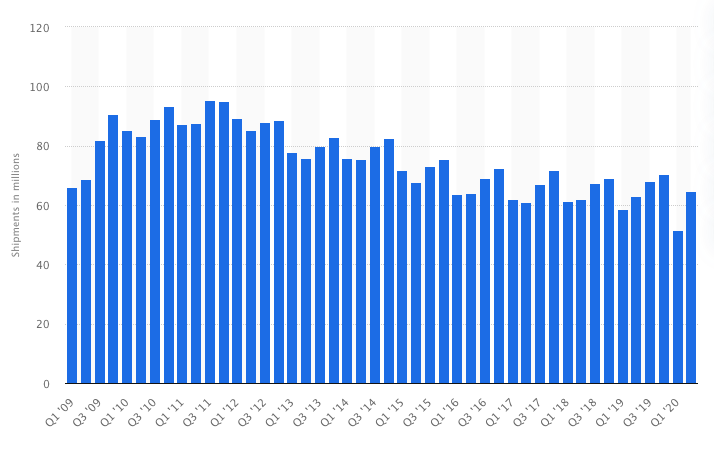 Despite this shift, shipment numbers for the traditional PC did seem to be making a comeback last year. However, the closure of factories in China due to lockdown restrictions brought this revival to a full stop as the industry was gravely impacted it. However, in the second quarter of the year shipment costs slowly began to normalize, production returned to full-swing and even surpassed those of pre-Covid levels to facilitate the newfound demand. Here's why there is novel demand for the traditional PC in 2020.
Microsoft Ends Support For Windows 7
Succeeding the critically-slated Windows Vista, Microsoft released Windows 7 in July of 2009 which turned out to be the awaited successor to the popular Windows XP. The operating system seemed to have struck a chord with casual consumers and businesses alike which led to it being the most used operating system in the world.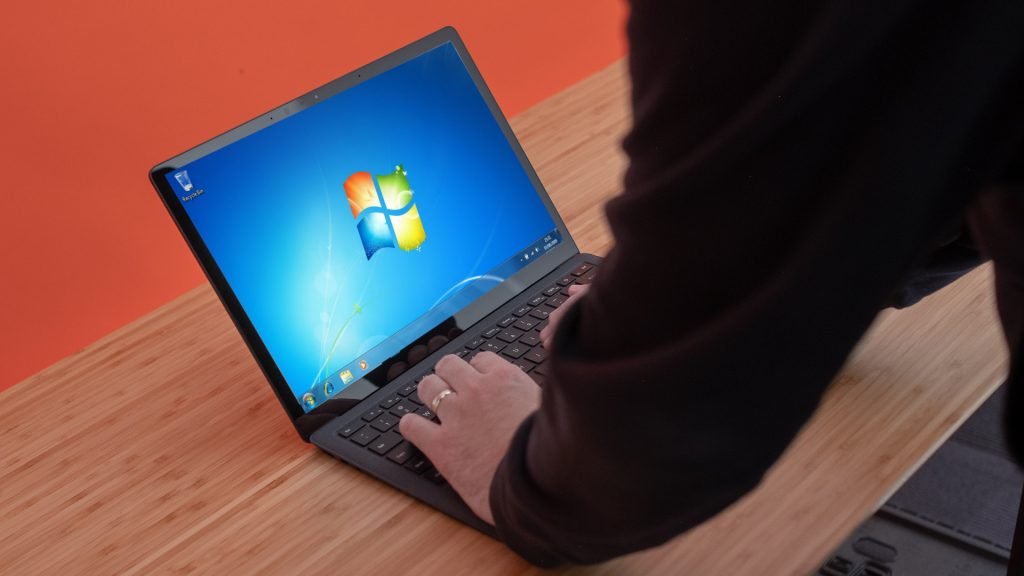 Subsequent Windows releases such as Windows 8 and 8.1 didn't affect the user-base of the Windows 7 much even when it brought innovative features such as cloud services and a new range of apps. Then came the Windows 10 in 2015 and Microsoft actively encouraged users of Windows 7, 8 and 8.1 to switch to it by offering free upgrades akin to what Apple does. Although most of the users did upgrade at that point, there were still a large number of users that continued to stick with Windows 7.
Microsoft then announced that they will cease support for the Windows 7 on 14th of January, 2020 and those who didn't upgrade despite Microsoft's warnings were in a pickle as their devices will become more vulnerable to malware and security risks. Therefore, businesses that waited until the eleventh hour to adapt to this change frantically rushed to purchase new devices before their current ones became obsolete.
The resurgence of the traditional PC has also affected Microsoft as they've reassessed their priorities and decided to alter their plans for the Windows 10X operating system. Originally planned to arrive primarily on dual-screen devices, now the 10X will be coming to single-screen devices first.
Remote Working
Its undeniable how much the pandemic has affected all aspects of our life, perhaps the way we work being impacted the most. As lockdown restrictions were imposed, everyone had to adapt to it quickly and people opted to work remotely wherever possible. As many people attempted to work from home for the first time, they began to notice some underlying problems.
People are recognizing…trying to use an iPad to work from home is not gonna work. That PC form factor is huge and you can see that data in everything from supply chain and what's happening with devices.

Jared Spataro, Head of Microsoft 365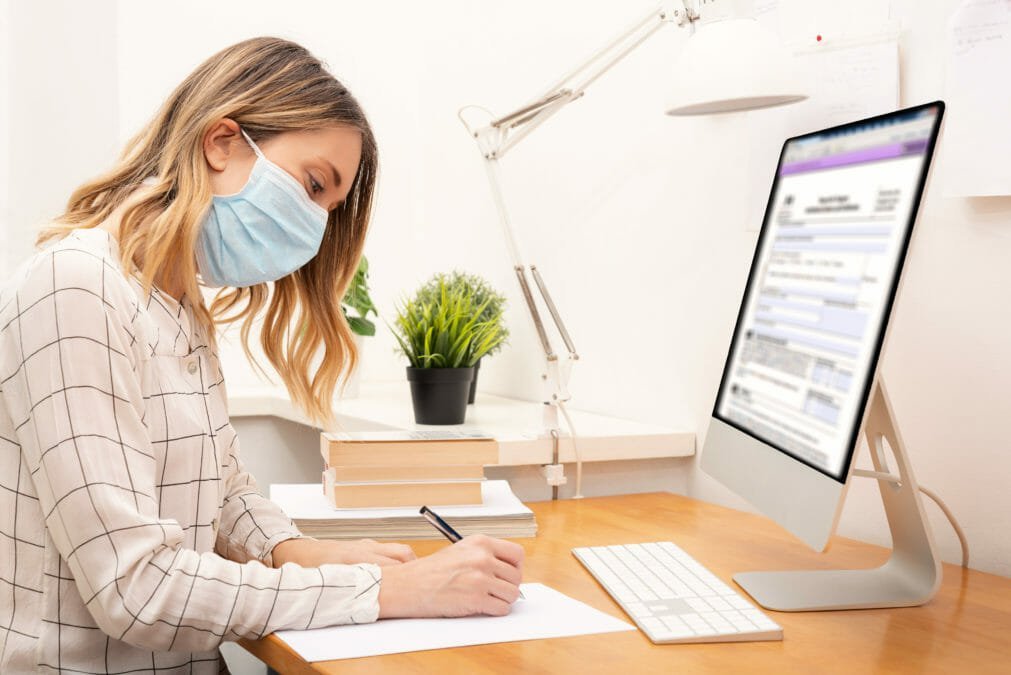 While the iPad and such tablet PCs do aid in portability and is optimal choice for a lot of people, it isn't the ideal device for more intensive work and hence can't substitute the PC. A lot of consumers either didn't already have a PC at home, or didn't have a machine powerful enough to work on it in practicality. This led to a lot of first-time purchases which has contributed to this surge in demand.
Since the work-from-home working model has brought surprisingly good results and increased the productivity in many sectors, Covid-19 could permanently change the way we work.
E-learning
Schools were amongst the first organizations to close down once the pandemic had been widespread due to the sensitivity and the high risk of community spreading. During the initial few weeks, students were given unofficial holidays while educators and teachers were hard at work trying to develop a new model for uninterrupted learning. The solution almost everyone adopted was E-learning.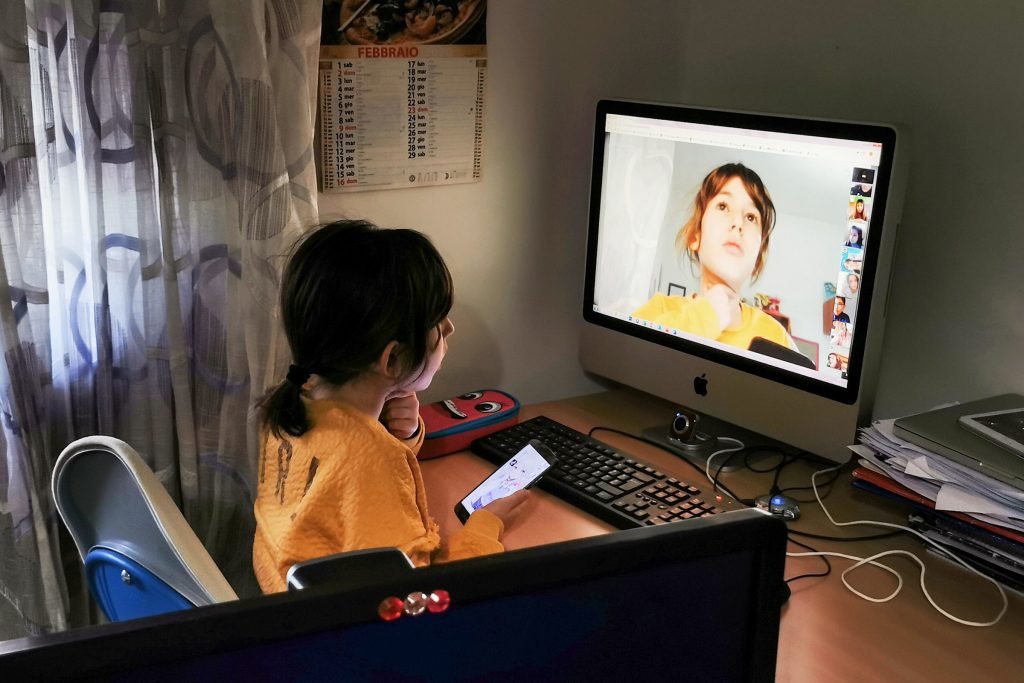 Since most households likely only had one or two devices which were shared amongst siblings and other family members, the shift to E-learning and all classes being conducted around the same time required the need for a separate device for each member. This led to multiple purchases in one family eventually increasing the overall sales of the PC.
Chromebooks are the popular choice in this segment and it has also helped increase the overall demand for PCs in general.
Entertainment
During the initial stages of the lockdown people had ample time to kill and couldn't spend it outdoors. This led to a lot of people consuming their entertainment in-house as well as, finding ways to remain connected with friends without actually leaving the house. This period saw a rise in online gaming and services such as Netflix Party.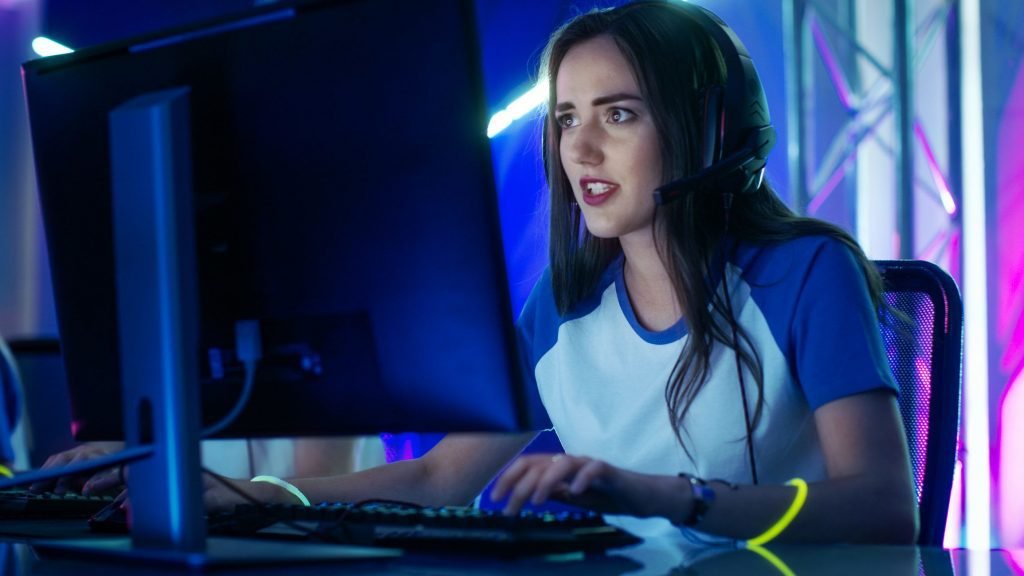 Games and gaming equipment were selling tremendously and millions of new PC gamers entered the scene during this time. A report published by Jon Peddie Research predicts that the entry-level category will grow 21.7% this year and it looks that way considering the sales during the first two quarters.
The EMEA Region & Rest of the World
According to Gartner, PC shipments in the Europe, Middle East and Africa region (EMEA) have grown 20% in the second quarter of 2020, compared to 2.8% worldwide. This is the strongest growth in the region in over a decade. The shipment numbers exceeding above-average expectations are likely to facilitate the needs of working and studying from home in the region.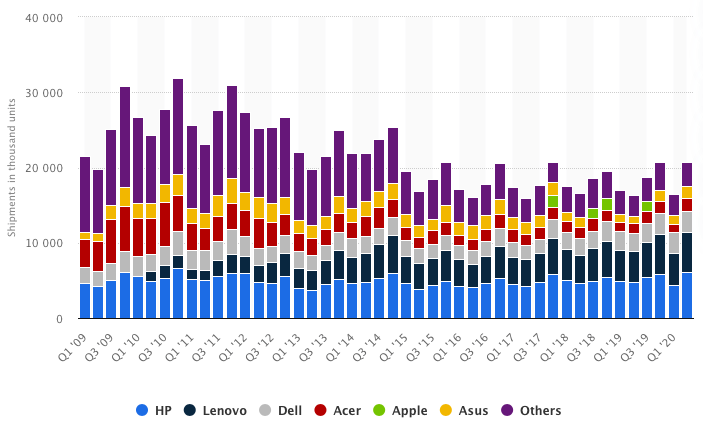 Interestingly, Dell's shipments have declined worldwide for the first time since 2016, however it has flourished only in the regions of EMEA and Japan. Lenovo and HP share the leading position in worldwide PC shipments as of 2020's second quarter, with HP accounting for half of the world's total shipments, a rapid increase from 46.6% last year.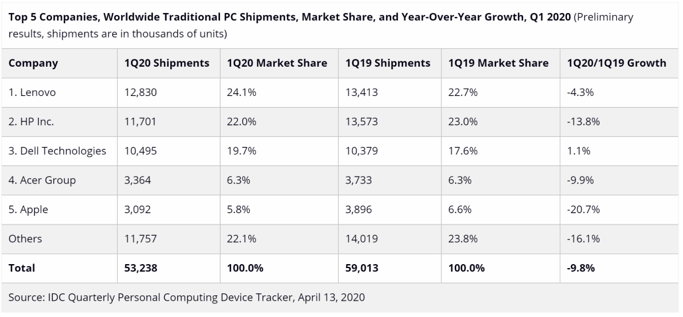 The PC is (Not) Back!
Although this is a positive trend in the industry we must not get too optimistic, because this doesn't mean that the PC is officially back. We will not be seeing a consistent increase in the demand and shipments of PCs from next year and there are a couple of reasons why.
Firstly, since a lot of consumers have purchased a PC this year they won't be needing a new one anytime soon. A survey by Intel suggests that a PC should be replaced every five years and most PC warranties do exist for a period of three years indicating its longevity. A PC is meant for long-term usage and considered as an investment, hence we don't see it being replaced as frequently as other gadgets such as mobile phones for instance.
"…this uptick in mobile PC demand will not continue beyond 2020, as shipments were mainly boosted by short-term business needs due to the impact of the Covid-19 pandemic.

Mikako Kitagawa, Research Director at Gartner
This surge in shipments is due to the fact that people are staying home and hence working remotely and studying online whereas by this time next year, people will most likely be physically present at their schools and workplaces.
As Covid-19 continues to impact our daily lives and drastically affect many of our industries, it is interesting to note how it has increased the sales and shipments of traditional PCs worldwide.
To find out how the pandemic has affected the video game industry, read our previous article by clicking here. For more stories like this, and everything else related to gadgets and gaming, consider signing up for our newsletter.