ROG has introduced the ROG Ally, a Windows 11 gaming handheld with impressive power. Equipped with the latest AMD Ryzen Z1 series processor, the Ally can handle both AAA games and indie titles effortlessly. The device features a high refresh rate touchscreen display that is bright and clear, making it ideal for outdoor gaming. With its lightweight design of just 608 g and ergonomic handholds, the Ally is easy to carry and can be used comfortably all day long.
Incredible AMD-powered performance
The ROG Ally is equipped with a purpose-built APU, the AMD Ryzen Z1 series processor with RDNA 3 graphics, that promises to deliver unparalleled levels of handheld gaming performance. Whether gamers prefer lighter indie titles or more demanding AAA games, the Ally can handle it all. To ensure that the device stays cool in any orientation, ROG has incorporated their Zero Gravity thermal system, which uses a dual-fan system, ultra-thin heatsink fins, and high-friction heat pipes.
In addition to top-notch gaming performance, the Ally boasts a 120 Hz full HD (1080p) panel with FreeSync Premium support. This high-quality display delivers supreme motion clarity, with no tearing or stuttering, even during FPS drops. With a maximum brightness of 500 nits, gamers can keep track of the action in challenging outdoor environments. Furthermore, the touchscreen display makes it easy for gamers to navigate the Windows desktop when they need to change settings or install their next game.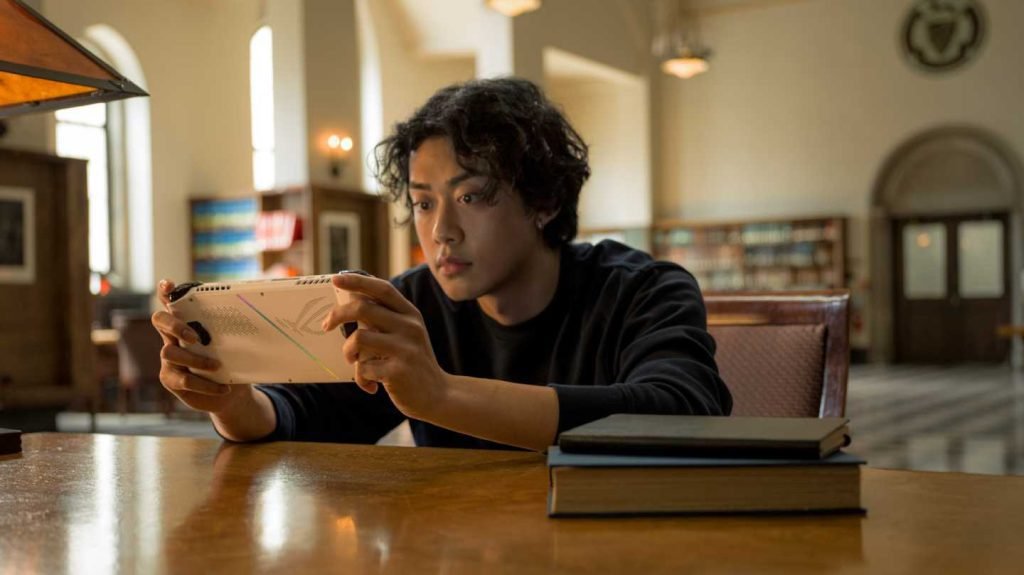 Full-fledged Windows 11 gaming
Gamers can access all of their publisher libraries and game streaming services on a single device with the ROG Ally running on Windows 11. This means that the Ally can power gamers, no matter where the latest and greatest titles are available. Navigating the Windows desktop is a breeze, whether through the Ally's joysticks and buttons or through Windows' touchscreen support.
The ROG Ally also comes with a Special Edition of Armoury Crate, which features customized quick performance mode toggles, a game launcher, in-game monitoring software, Aura Sync support, and more. Furthermore, ROG is offering a bundled 90-day trial of Xbox Game Pass Ultimate, giving users instant access to hundreds of games from Xbox Game Studios, indie studios, and blockbusters.
Ergonomic and lightweight design
Weight and ergonomics are crucial considerations for a handheld device, and the ROG engineers paid close attention to these factors when developing the ROG Ally. They worked tirelessly on the shape and weight of the device until they were satisfied that they had created the perfect machine for gamers to carry and play with all day long. At just 608 grams, the Ally is lightweight and easy to carry around, allowing for uninterrupted and comfortable gameplay.
The Ally's ergonomic design extends to its handgrips, which feature unique triangle texturing on the rear for a solid hold from any angle. ROG styling lines also adorn the palm side of the grip, while helping to prevent accidental slipping.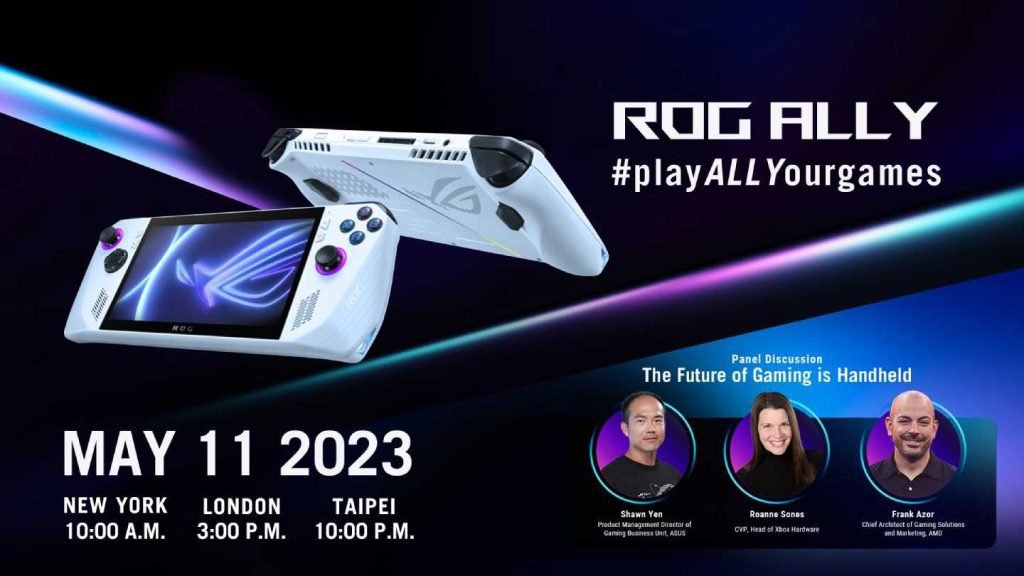 ROG Ally launch event
Mark your calendars for May 11th, 2023, when the official ROG Ally launch event will take place. During the event, you can expect to learn more about the device's full specifications and pricing. The keynote will begin at 10am Eastern Time, followed by a panel discussion with Shawn Yen, Product Management Director of Gaming Business Unit from ASUS, Roanne Sones, CVP, Head of Xbox Hardware, and Frank Azor, Chief Architect of Gaming Solutions and Gaming Marketing from AMD. The panel will delve into the design story of the ROG Ally and its impact on the gaming landscape. Be sure to tune in and catch all the exciting details!