ViewSonic today announced a new collection of ELITE 32" professional gaming monitors geared up with the latest display technologies. The new models allow gamers to experience next-level gaming with quantum-dot technology on the class-leading ELITE XG320Q monitor, expand the arena via a gaming console with ELITE XG230U with HDMI 2.1 capabilities, or enter true cinematic immersion with the flagship Mini-LED-backlit ELITE XG321UG.
All three monitors are packed with gamer-centric design features, its ELITE Design Enhancements (EDE) elevates the battlestation – from the ambient RGB LED light to create the perfect atmosphere and cable-drag-free mouse anchor to reinforced headphones hook for a clutter-free desk setup. Supported with TÜV-certified eye comfort, marathon gaming sessions will be a breeze without the straining of eyes. Engineered with tilt, swivel, and height adjustments, the displays provide a wide range of movements for the ideal viewing position.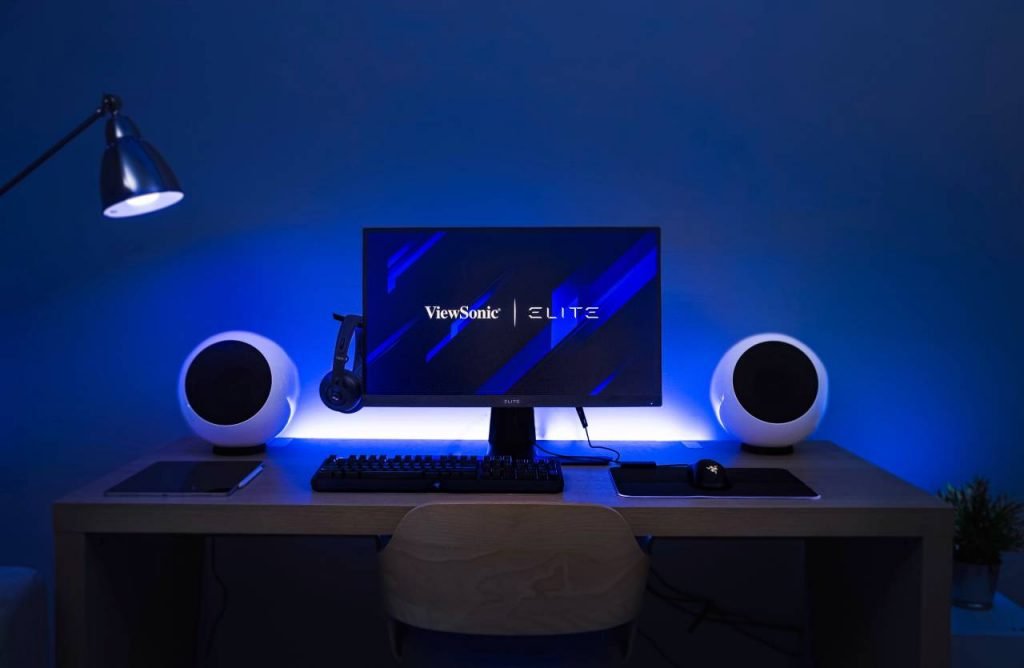 ELITE XG320Q
Realistic Colors with Quantum-Dot Technology
Key Features
32" 2K QHD Vesa DisplayHDR™ 600 Fast IPS display
Hyper-realistic colors from quantum-dot technology and 99% Adobe Color Gamut
165Hz refresh rate overclockable up to 175Hz and 0.5ms (MPRT) response time
NVIDIA G-Sync technology and PureXP Motion Blur Reduction
With the ELITE XG320Q monitor, it is all about color, clarity, and speed. The 2K QHD Fast IPS display boasts hyper-accurate colors and high-contrasting details from quantum-dot technology. When hit with the LED backlight, each 'dot' or nanoparticle produces superbly precise color and deeper contrast.
The display is equipped with NVIDIA G-Sync compatible technology for an overclockable refresh rate of 175Hz, delivering extremely smooth frame rates and a 0.5ms (MPRT) response time. With PureXP Motion Blur Reduction capabilities, and enjoy fast-moving visuals in captivating detail.
ELITE XG320U
High Fidelity Console Gaming with HDMI 2.1 Connectivity
Key Features
32" 4K UHD Vesa DisplayHDR™ 600 IPS display
Expand gameplay onto next-gen consoles with single-cable HDMI 2.1 connectivity
Brilliant, vibrant imagery from 99% Adobe Color Gamut
Refresh rate of 144Hz (overclockable to 150Hz) and 1ms (MPRT) response time
AMD FreeSync Premium Pro technology and PureXP Motion Blur Reduction
Designed for next-generation console gaming such as Xbox Series X/S and PlayStation 5, the uber-stylish 4K ELITE XG320U display includes a single-cable HDMI 2.1 connection that unlocks an unparalleled fidelity gaming experience. It supports higher video resolutions with an expanded 99% Adobe color gamut and lightning-fast overclockable 150Hz refresh rate, every faraway landscape and battle scene will appear in pixel perfection.
Blessed with AMD FreeSync Premium Pro, PureXP Motion Blur Reduction, a 1ms (MPRT) response time, and Vesa DisplayHDR 600, gamers can surge through fast-paced FPS and action-adventure games at the highest visual settings.
ELITE XG321UG
Mini LED Backlight Technology and High Dynamic Range
Key Features
32" 4K UHD Vesa DisplayHDR™ 1,400 IPS display
Mini LED backlight technology and peak luminance of 1,400 nits
Blazing fast 144Hz refresh rate
NVIDIA G-Sync Ultimate technology and Reflex Latency Analyzer
The hero of the ELITE lineup – the 4K ultra-high definition ELITE XG321UG monitor utilizes industry-leading Mini-LED backlight technology, in which 1,152 independent LED zones are packed densely to deliver the brightest whites and darkest blacks.
With a peak brightness of 1,400 nits and lifelike HDR of 1,400, relish the tiniest in-game details in extreme clarity. Push the competitive edge with the latest NVIDIA G-Sync Ultimate and Reflex Latency Analyzer, combined with 144Hz refresh rate for ultra-low latency, stutter-free gameplay.
Availability
ViewSonic ELITE XG320Q and XG320U monitors will be available worldwide in Q3, 2021. Later in Q4 2021, ViewSonic ELITE XG321UG will be made available worldwide.