The ViewSonic VG2448, a 24-inch FHD business monitor that brings together impressive features and a sleek design, perfectly suited for the modern office environment. With an IPS panel and advanced ergonomic considerations, this monitor aims to provide an exceptional viewing experience while prioritizing eye care.
The VG2448 is designed to ensure optimum eye comfort during long hours of work. Its high refresh rate of 60Hz and peak brightness of 250 nits contribute to a clear and vibrant display. Covering 72% of the NTSC color gamut, this monitor delivers rich and accurate colors for a visually immersive experience. What's particularly noteworthy is the inclusion of several eye care features that help reduce eye strain and fatigue.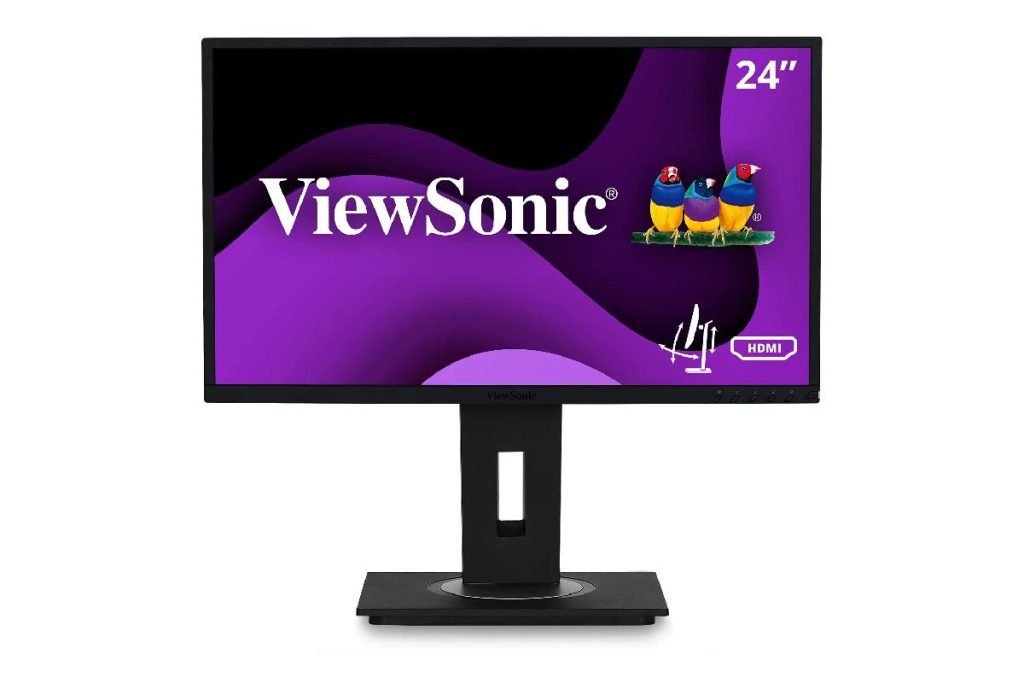 Customization is key when it comes to the VG2448. The monitor offers a range of adjustable settings, allowing you to personalize your viewing experience. With dual-direction pivot, swivel, height adjustment, and an impressive tilt of up to 40°, you have the freedom to find the perfect angle, even if you prefer to work while standing. Moreover, the mountable stand and thoughtful cable management design make the VG2448 a practical choice for cloud-based environments, ensuring a clean and organized workspace.
Connectivity options include HDMI, DisplayPort, VGA, and USB 3.2 ports, providing versatile connectivity for seamless integration with a wide range of devices.
Highlights
vDisplay Manager (free download)
Narrow bezel
HDMI, DisplayPort and VGA inputs
SuperClear IPS technology
Versatile stand design
Specifications
| | |
| --- | --- |
| Size | 23.8 inch |
| Features | Blue Light Filter Flicker-free technology |
| Connectivity | 1x VGA 4x USB 3.2 Type A Down Stream 1x USB 3.2 Type B Up Stream 1x HDMI 1x DisplayPort in |
| Resolution | 1920×1080 |
| Panel Type | IPS |
| Backlight Technology | LED backlight |
| Brightness | 250nits |
| Native Contrast | 1000:1 |
| Max Refresh Rate | 60Hz |
| Response Time | 5ms |
| Display Colors | 16.7 million colors |
| Color Gamut | Adobe RGB: 77% size / 72% coverage (Typ) NTSC: 72% size (Typ) sRGB: 103% size / 92% coverage (Typ) |
| Built-in Speaker | 2x 2W |
| Ergonomics | Tilt (down/up): -5° – 40° Swivel (left/right): 120° / 120° Pivot: 90° Height Adjustment: 130mm |
View full specifications here.
Packaging
The monitor comes in a standard brown carboard packaging. Inside, all the components are well protected by foam. The packaging includes:
Monitor
Power cord
Video cable1
USB cable
Quick Start Guide
Design & Connectivity:
When it comes to design, the ViewSonic VG2448 is a well-built monitor specifically tailored for the office environment. Constructed entirely of plastic, the monitor feels durable and reliable. The stand, in particular, feels sturdy and provides smooth movement for optimal positioning. With its sleek black color and minimalist aesthetic, the VG2448 effortlessly blends into any workspace. Additionally, for those who prefer wall mounting or alternative setups, the monitor is VESA mount compatible.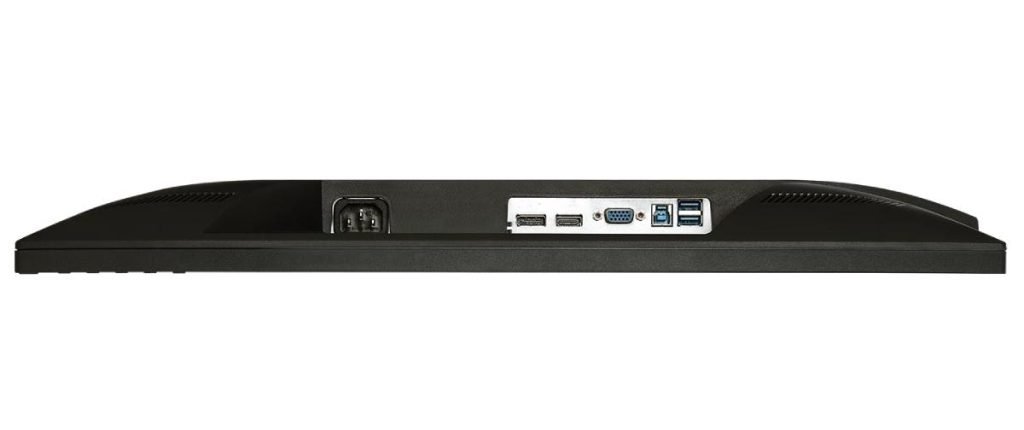 The VG2448 features narrow bezels on three sides, maximizing the screen real estate and providing an immersive viewing experience. All the ports are conveniently located at the back of the monitor. In terms of connectivity options, you'll find 1x VGA, 4x USB 3.2 Type A Downstream, 1x USB 3.2 Type B Upstream, 1x HDMI, and 1x DisplayPort. The monitor is also equipped with 2x 2W speakers, ensuring decent audio output.
With external measurements of 549mm x 50mm x 326mm (WxDxH) and a weight of approximately 8.7 kg with the stand, the VG2448 strikes a balance between screen size and a compact form factor.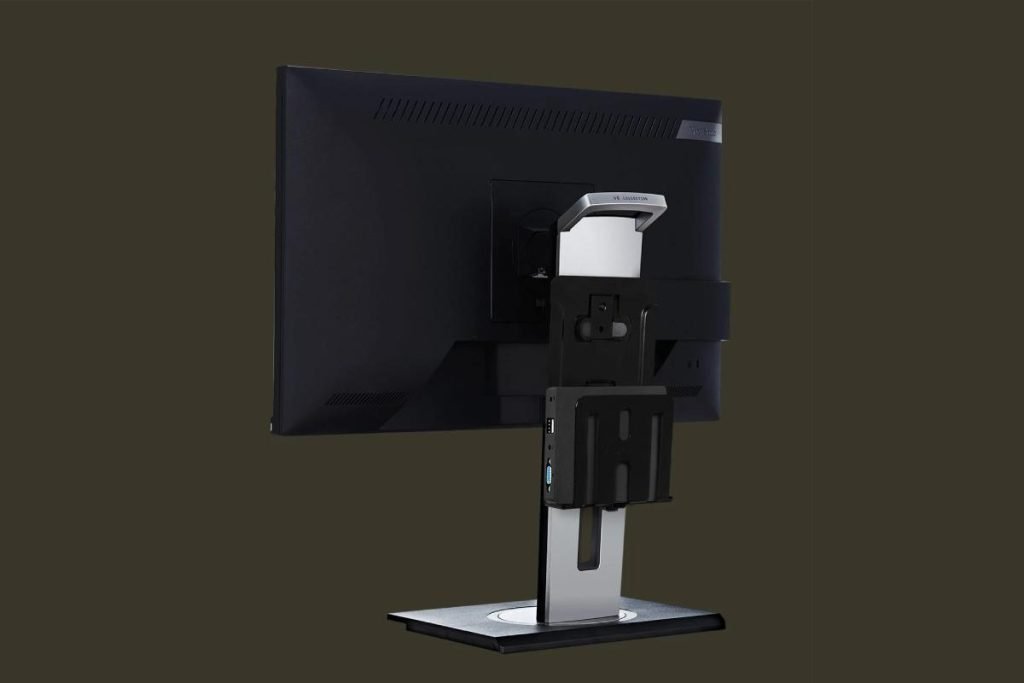 The stand of the VG2448 offers not only stability but also thoughtful design features. Equipped with a cloud client mount on the back, it allows for seamless integration into cloud-based environments. Additionally, the stand incorporates a cable management system, keeping your workspace neat and free from cable clutter. At the top of the stand, you'll find a convenient carrying handle, facilitating easy relocation of the monitor as needed.
The DisplayPort out feature of the VG2448 enables multi-monitor setup, providing you with extra screen real estate for enhanced productivity. Once the monitor is attached to the base, it offers impressive adjustability options. You can tilt it from 5˚ to 40˚, pivot it 90˚, and swivel it 120˚ on each side. The height can be adjusted effortlessly through a slide system, allowing for a vertical movement of up to 130 mm.
In terms of design and connectivity, the ViewSonic VG2448 combines a sleek and minimalistic appearance with a range of convenient features, making it an ideal choice for the modern office setting.
Display
The ViewSonic VG2448 is equipped with a range of display features that contribute to a good viewing experience. With a contrast ratio of 1000:1 and wide horizontal and vertical viewing angles of 178 degrees, this monitor ensures vibrant and consistent image quality from various perspectives. The 60Hz high refresh rate helps with a smooth visual experience.
Featuring an IPS panel with a 23.8″ viewable area, the VG2448 delivers accurate color reproduction and image quality that is well-suited for work tasks, casual entertainment, and general usage. The monitor's peak brightness of 250 nits ensures sufficient luminosity for indoor lighting conditions.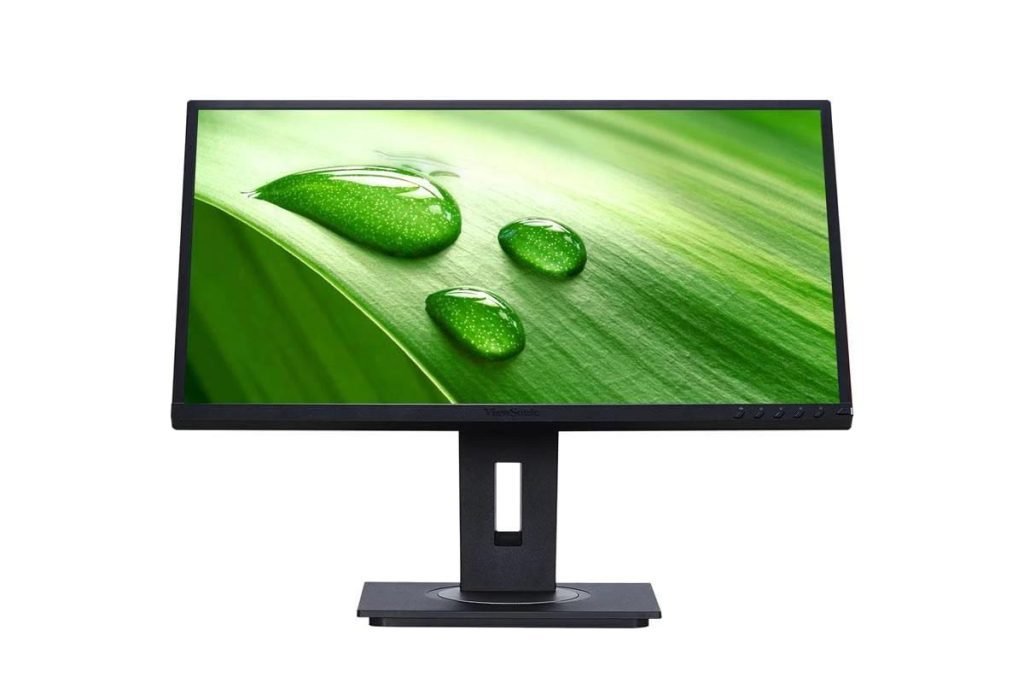 Additionaly, the ViewSonic VG2448 offers exclusive features that enhance its value. The ViewMode feature provides predefined settings for different content types, allowing users to optimize their viewing experience effortlessly. Whether you're working on documents, watching videos, or browsing the web, ViewMode adapts the monitor's settings to ensure optimal visuals.
To prioritize eye comfort, the VG2448 incorporates Flicker-free technology, which minimizes screen flickering that can lead to eye strain and fatigue during prolonged use. Additionally, the monitor includes blue light settings, which help reduce the potentially harmful effects of blue light exposure, particularly during evening or night-time usage.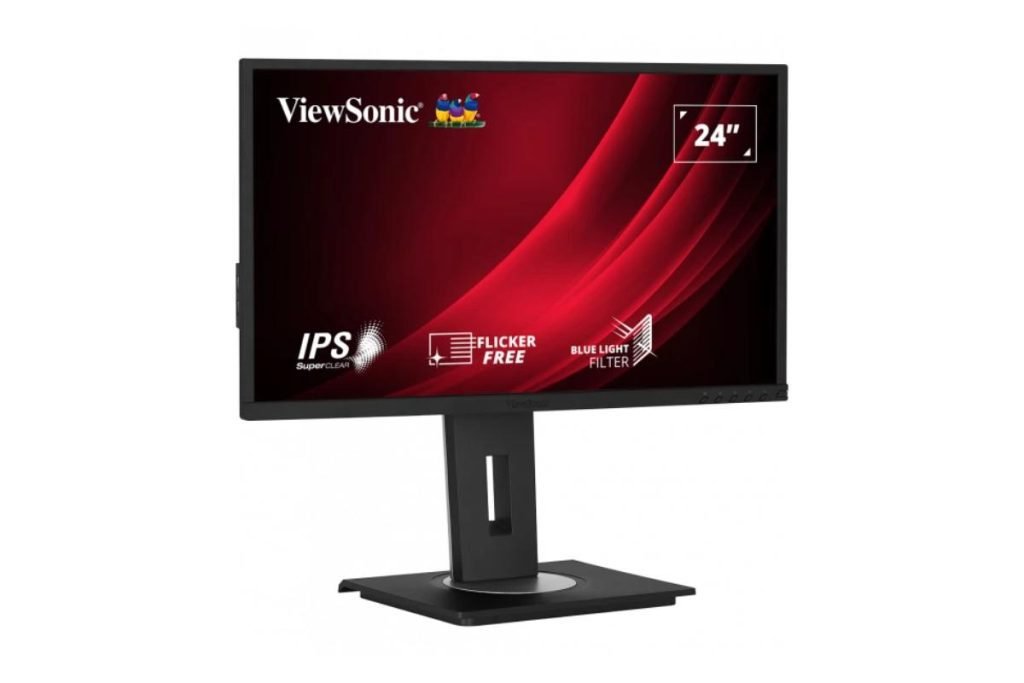 For added convenience and productivity, ViewSonic provides the vDisplay Manager software as a free tool for VG2448 users. This software enables users to organize and divide their screen into multiple segments, enhancing multitasking capabilities. Furthermore, users can adjust various monitor settings directly through the software, streamlining the workflow and eliminating the need for manual adjustments.
The monitor also has a 2Wx2 audio system, which are located in the lower frame. The sound quality is good enough for small-medium offices.
ViewSonic VG2448 Review Verdict
The ViewSonic VG2448 is an affordable monitor made for work and general use with advanced eye-care technology features being the main highlight. With its sleek design, ergonomic considerations, and impressive display capabilities, the VG2448 proves to be a valuable asset for the modern office environment.
In terms of connectivity, the VG2448 offers a versatile range of options, including VGA, HDMI, DisplayPort, and USB ports, ensuring seamless integration with various devices and peripherals. The inclusion of 2W speakers adds convenience for multimedia use.
Overall, the ViewSonic VG2448 business PC monitor impresses with its blend of design, connectivity, display quality, and exclusive features. Whether you're a professional seeking a reliable monitor for daily work or someone who appreciates ergonomic considerations and eye care features, the VG2448 is a solid choice that offers versatility and performance in an affordable package.