The ASUS TUF Gaming AX6000 is a top-of-the-line Wi-Fi 6 gaming router that comes with features like a dedicated Gaming Port, Dual 2.5G Port, 3-step port forwarding, AiMesh support for mesh WiFi, AiProtection Pro network security, and AURA RGB lighting.
The lightning-fast Wi-Fi 6 allows for data transmission speeds of up to an impressive 6000 Mbps (1148 Mbps on the 2.4 GHz band and 4804 Mbps on the 5 GHz band). This not only ensures lag-free online gaming experiences but also provides a significant 4X increase in network efficiency.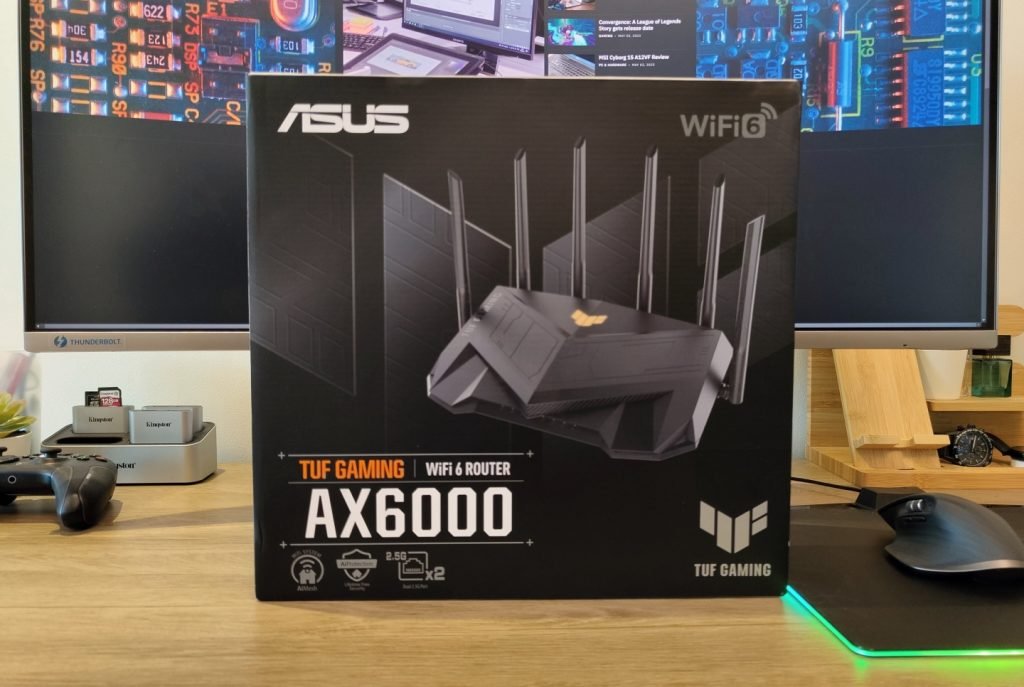 The router also boasts dual 2.5G ports, offering the flexibility of configurable WAN/LAN port options. There are also two dedicated gaming ports, which prioritizes connected gaming devices, ensuring fast and stable wired gaming sessions without any disruptions.
Highlights
Ultrafast Wi-Fi 6 – Ultra Wi-Fi speed up to 6000 Mbps and 4X network efficiency.
Dual 2.5G Ports – Dual 2.5G ports with flexible WAN/LAN port configuration.
Fast & Stable Wired Gaming – Dedicated gaming port to prioritize connected gaming device.
ASUS AiMesh Support – Support AiMesh to create a whole-home mesh network.
Tested Durability and Stable Operation – TUF Gaming AX6000 is built to be durable and undergoes verified testing to ensure reliable, stable operation.
WHAT IS WI-FI 6?
Wi-Fi 6 or 802.11ax is the new standard for wireless networks. It is roughly 30% faster than the old 801.11ac (Wi-Fi 5) standard and offers improved network performance when multiple devices are connected to the same network.
An improved MU-MIMO technology along with beamforming allows connecting many more devices at the same time with better stability. With an increase in households wireless devices due to the growth of home automation and IoT, innovations like this are very important to maintain a strong, stable network; especially when speed is important.
Specifications
Standards
IEEE 802.11a
IEEE 802.11b
IEEE 802.11g
WiFi 4 (802.11n)
WiFi 5 (802.11ac)
WiFi 6 (802.11ax)
WiFi Speeds
AX6000: 1148+4804 Mbps
802.11a : up to 54 Mbps
802.11b : up to 11 Mbps
802.11g : up to 54 Mbps
WiFi 6 (802.11ax) (2.4GHz) : up to 1148 Mbps
WiFi 6 (802.11ax) (5GHz) : up to 4804 Mbps
Antenna
External antenna x 6
WiFi Technology
OFDMA (Orthogonal Frequency Division Multiple Access)
Beamforming: standard-based and universal
1024-QAM high data rate
20/40/80/160 MHz bandwidth
WiFi Encryption
WPS support, WPA/WPA2/WPA3-Personal, WPA/WPA2-Enterprise
WAN Types
PPPoE, PPTP, L2TP, Automatic IP, Static IP
Processor
2.0 GHz quad-core processor
Memory
256 MB Flash 512 MB RAM
Ports
1x RJ45 for 2.5 Gigabits BaseT for WAN
1x RJ45 for 2.5 Gigabits BaseT for LAN
4x RJ45 for Gigabits BaseT for LAN
1x USB 3.2 Gen 1
Buttons
WPS Button, Reset Button, Power Switch, LED on/off
Power
AC Input : 100V~240V (50~60Hz) DC Output : 12 V with max. 2.5 A current
Dimensions
242 x 100 x 325 mm (WxDxH) with antenna
242 x 100 x 164 mm (WxDxH) without antenna
Weight
696 g
View full specifications here.
Packaging & Design
The ASUS TUF Gaming AX6000 arrives in TUF-branded sleek black packaging that showcases the product's main features and specifications, along with enticing product photos. Opening the package, you'll find the router itself, accompanied by detailed installation manuals, a power supply, and an RJ-45 cable for seamless connectivity.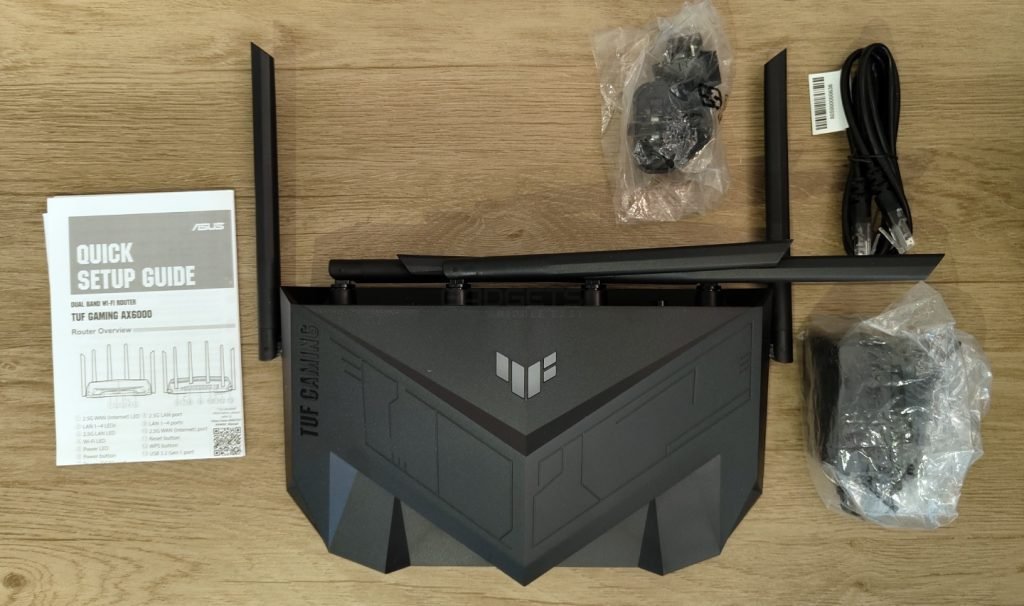 The router's design is both modern and distinctive, constructed from high-quality, durable plastic. It is designed to be placed horizontally, with six dual-band antennas, ensuring optimal signal reception and transmission. The TUF Gaming AX6000 impresses with its substantial build, featuring generous dimensions and weighing in at 696g.
Featuring a metallic TUF logo embellished with LEDs, sharp edges, and a captivating matte-finish texture, the router exudes a futuristic aesthetic that caters specifically to gaming enthusiasts. Its striking appearance makes it a centerpiece of any gaming setup, adding a touch of sophistication.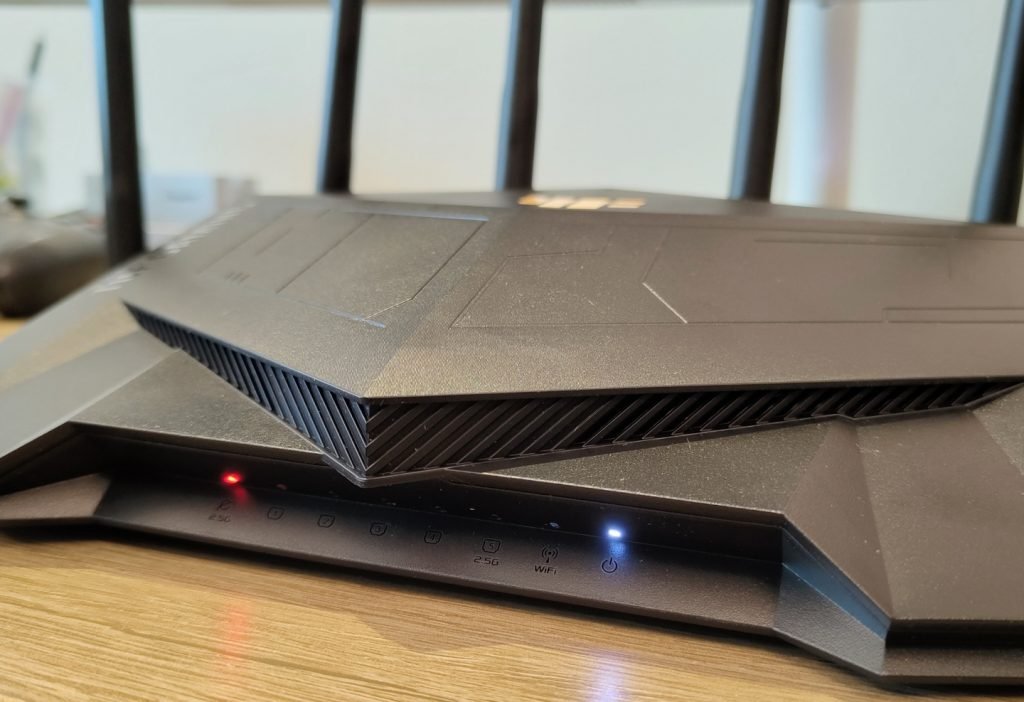 At the front of the router, you'll find a series of LEDs that provide clear indications for various operations. These LEDs cover essential aspects such as WPS, internet connectivity, LAN status, Wi-Fi connectivity, and power status, allowing for quick visual assessment of the router's current state.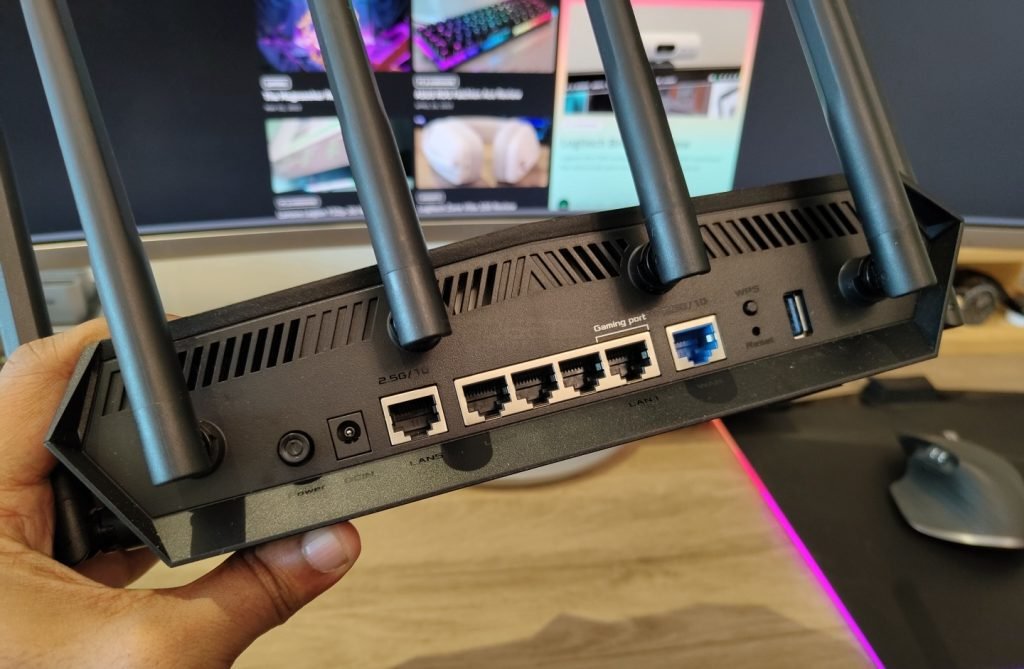 Located at the back of the router is a collection of ports, neatly arranged for easy access. From left to right, you'll find a power switch, power supply connector, 1x LAN 2.5G port, 2x LAN 1G ports, 2x dedicated LAN ports specifically optimized for gaming with a combined 2 Gbps throughput, 1x additional LAN 2.5G port, a reset button, and a valuable USB 3.0 port. The inclusion of a USB 3.0 port allows for convenient file sharing over the network using a pen drive or an external disk, providing added versatility.
One notable advantage of the TUF Gaming AX6000 is its dedicated gaming ports, which automatically prioritize any wired device connected to them. This eliminates the need for complex configurations—simply connect your gaming PC or console to the special LAN port, and enjoy a fast and stable connection that ensures you remain at the forefront of the queue for seamless gaming experiences.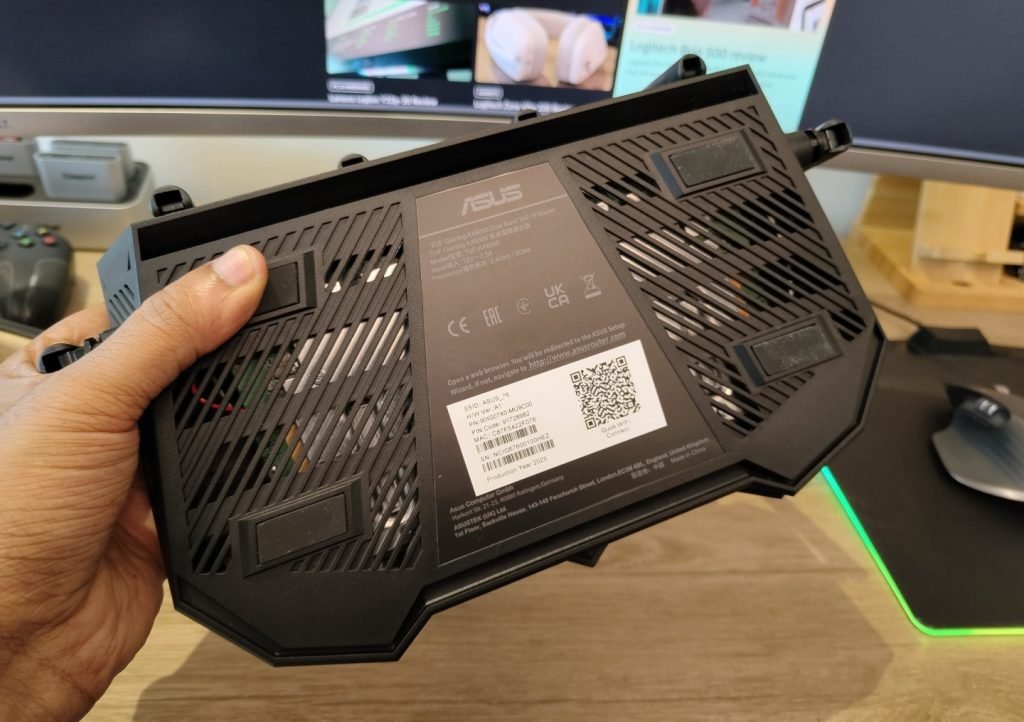 It's worth noting that the router is designed for horizontal placement, allowing for optimal cooling to keep temperatures in check. However, it would have been beneficial to have the option for wall mounting to suit individual preferences.
Software & Setup
This router encompasses all the cutting-edge wireless technologies of Wi-Fi 6, ensuring top-notch performance. It features MU-MIMO, OFDMA, 1024QAM, beamforming, and a convenient WPS button, allowing for seamless device synchronization with ease and speed.
Setting up the TUF Gaming AX6000 is a breeze, and the initial configuration can be conveniently done by accessing router.asus.com. Once connected to your network, you'll be guided through a straightforward setup process, which encompasses various essential steps and allows you to tap into the extensive range of features this router has to offer.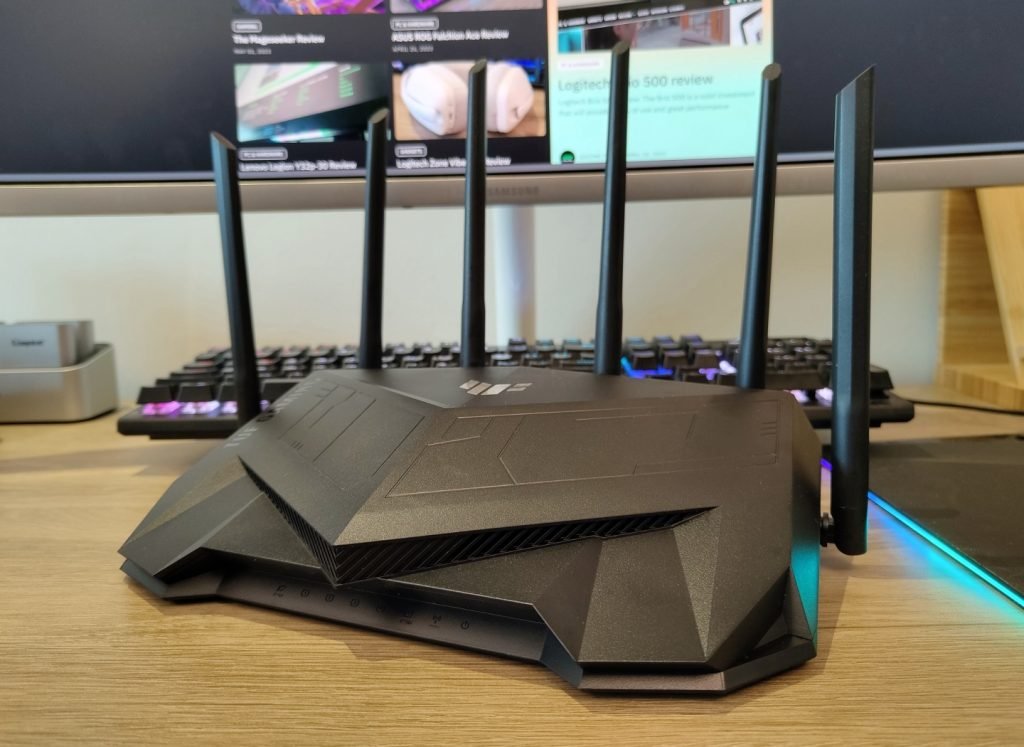 During the setup, you'll have the option to customize the names of your wireless connections, ensuring easy identification and management. The TUF Gaming AX6000 provides flexibility by allowing you to merge the 2.4 GHz and 5.0 GHz frequency bands into a single SSID. Alternatively, you can choose to keep them separate if you prefer. In the former case, the router intelligently determines the optimal connection based on signal strength, seamlessly switching between bands as needed.
Bringing together the best of ASUS router technologies, the TUF Gaming AX6000 offers features like ASUS AiMesh and ASUS AiProtection Pro. AiMesh empowers you to create a mesh network, expanding coverage throughout your home for a reliable and robust connection. AiProtection Pro serves as a robust network security solution, safeguarding your network against potential threats.
Gamers will appreciate the router's gaming-oriented features. With advanced adaptive QoS (Quality of Service), the TUF Gaming AX6000 ensures optimal performance by prioritizing gaming traffic over other types of data. Additionally, a dedicated LAN port specifically prioritizes gaming connections, guaranteeing the utmost stability and low latency for an uninterrupted gaming experience. The router even supports NVIDIA GeForce Now, further enhancing its compatibility with gaming platforms.
The QoS functionality goes beyond gaming, allowing you to fine-tune network performance by tracking and managing network traffic. This feature enables you to prioritize specific applications such as media streaming, web surfing, and gaming, ensuring each receives the necessary bandwidth and reducing latency accordingly. The QoS settings provide real-time insights into the network load, helping you make informed decisions to optimize performance.
By enabling AiCloud, you gain the ability to remotely access resources from your router network, no matter where you are, at any time. This convenient feature adds a new level of accessibility and flexibility to your network management.
To provide comprehensive network protection, the TUF Gaming AX6000 comes with lifetime free AiProtection Pro. This includes the latest WPA3 security protocol, advanced Parental Controls, and other security features to keep your network safe and secure. The convenience of monitoring and managing your network is at your fingertips, as the router's mobile app provides a user-friendly interface for monitoring network activities and ensuring a safe online environment.
Features & Performance
The TUF Gaming AX6000 excels in its feature set, providing impressive performance for a seamless networking experience. With dual-band Wi-Fi 6 capability, the router delivers a total bandwidth of up to 6 Gbps (AX6000) when utilizing both the 2.4 GHz and 5 GHz bands. Specifically, the 5 GHz 802.11ax network achieves speeds of up to 4,804 Mbps, while the 2.4 GHz 802.11ax network reaches up to 1,148 Mbps.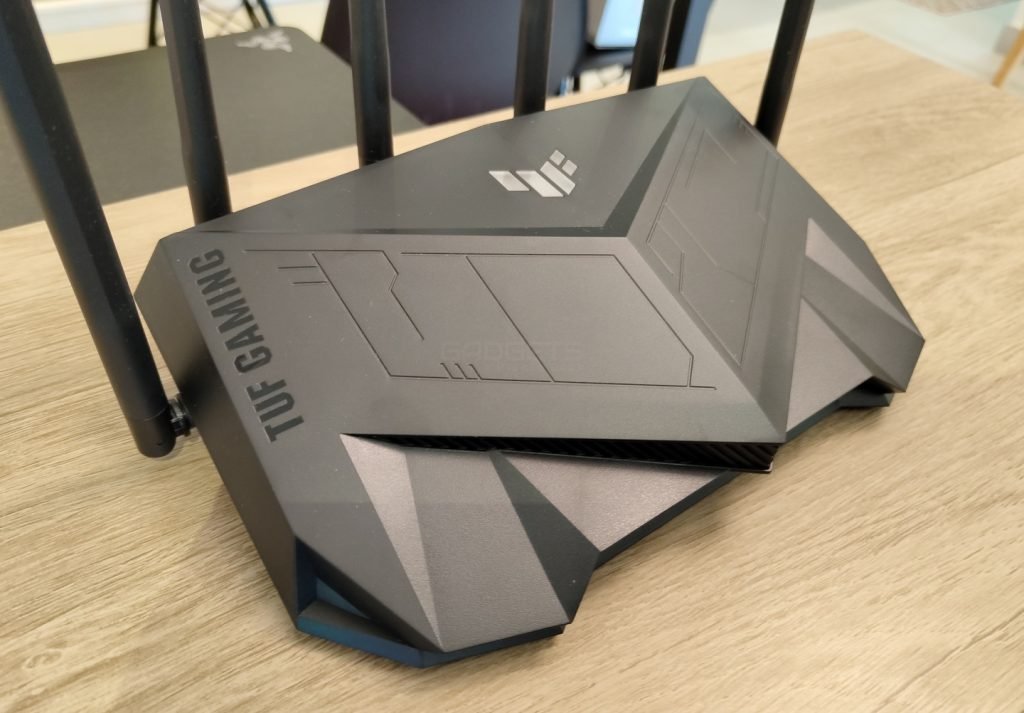 The Wi-Fi 6 (802.11ax) standard ensures compatibility with devices that support both 5 GHz and 2.4 GHz bands, enabling optimal performance for newer and older devices alike.
In terms of processing power, the TUF Gaming AX6000 is equipped with a formidable 2.0 GHz quad-core processor, accompanied by 512MB of RAM and 256MB of flash memory. This hardware configuration ensures smooth and efficient operation of the router's functions.
To evaluate the router's performance, we conducted a comprehensive test by connecting three devices positioned in different areas:
The first device was located in close proximity to the router, with a direct line of sight. In this setup, the throughput reached an impressive 1,500 Mbps, indicating great performance in close-range scenarios.
The second device was positioned at a distance of 40 meters from the router, without any obstructions. Even in this moderately distant setup, the throughput achieved a commendable 1,300 Mbps, showcasing the router's ability to maintain strong connections over extended distances.
The final device was positioned 40 meters away from the router with a wall barrier in between. Despite the obstacle, the throughput reached a reliable 1,100 Mbps, proving the AX6000's capability to deliver stable and consistent performance even in scenarios with physical barriers.
Conclusion
The ASUS TUF Gaming AX6000 is a remarkable choice for users in search of a high-performance router that delivers exceptional speed and reliability. Setting up the router is a breeze, requiring minimal effort to get it up and running. Whether you're a beginner or an experienced user, the TUF Gaming AX6000 offers an intuitive experience that ensures a seamless connection for all your wireless devices.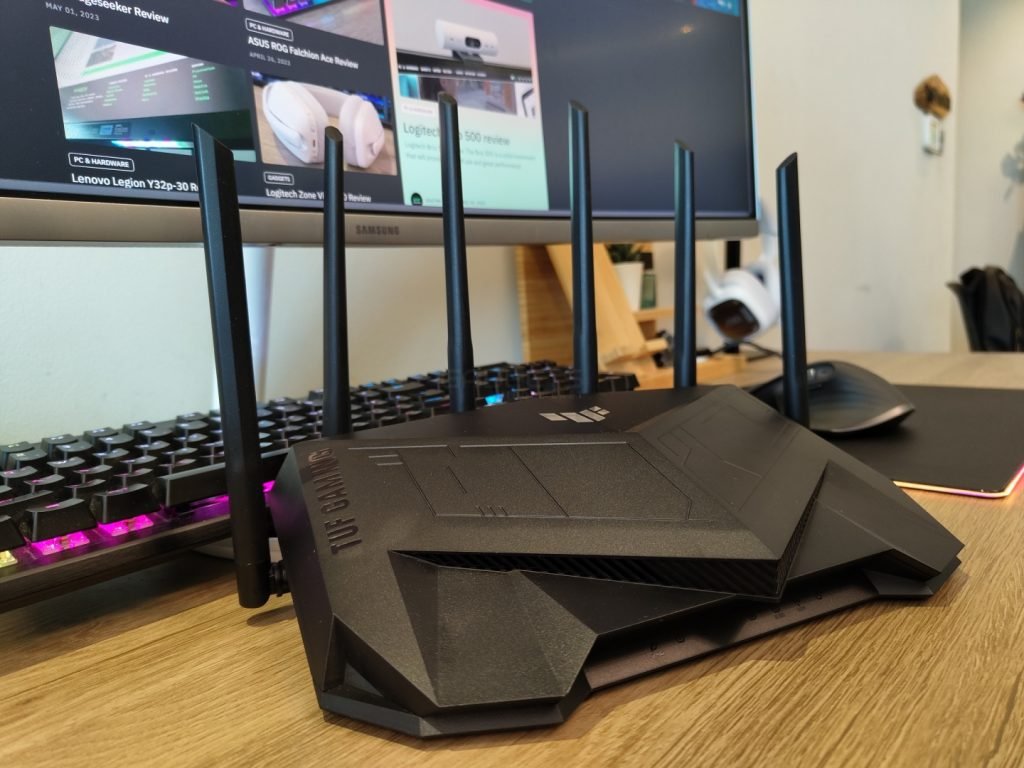 The router's impressive performance and comprehensive feature set make it an excellent option for both home and office environments. With its ability to handle bandwidth-intensive activities and support for mesh setup, the TUF Gaming AX6000 offers versatility and scalability, making it an ideal choice for those starting fresh or looking to upgrade their existing wireless network.
The router's software is highly comprehensive, providing users with a range of customization options and advanced features. Whether it's optimizing gaming performance, ensuring network security with the latest protocols, or monitoring and controlling network activities, the TUF Gaming AX6000 has you covered.
Overall, the ASUS TUF Gaming AX6000 combines ease of use, exceptional performance, and a robust feature set, making it a top-notch choice for users seeking a high-performance router. It's a reliable and capable solution, whether you're gaming, streaming, or simply browsing the internet.