The ASUS ROG Rapture is a high-performance router that offers an extensive range of features crafted to enhance your gaming experience. Its notable features include a 2.5G Port, 3-step port forwarding, AiMesh support for mesh Wi-Fi, AiProtection Pro network security, and captivating AURA RGB lighting.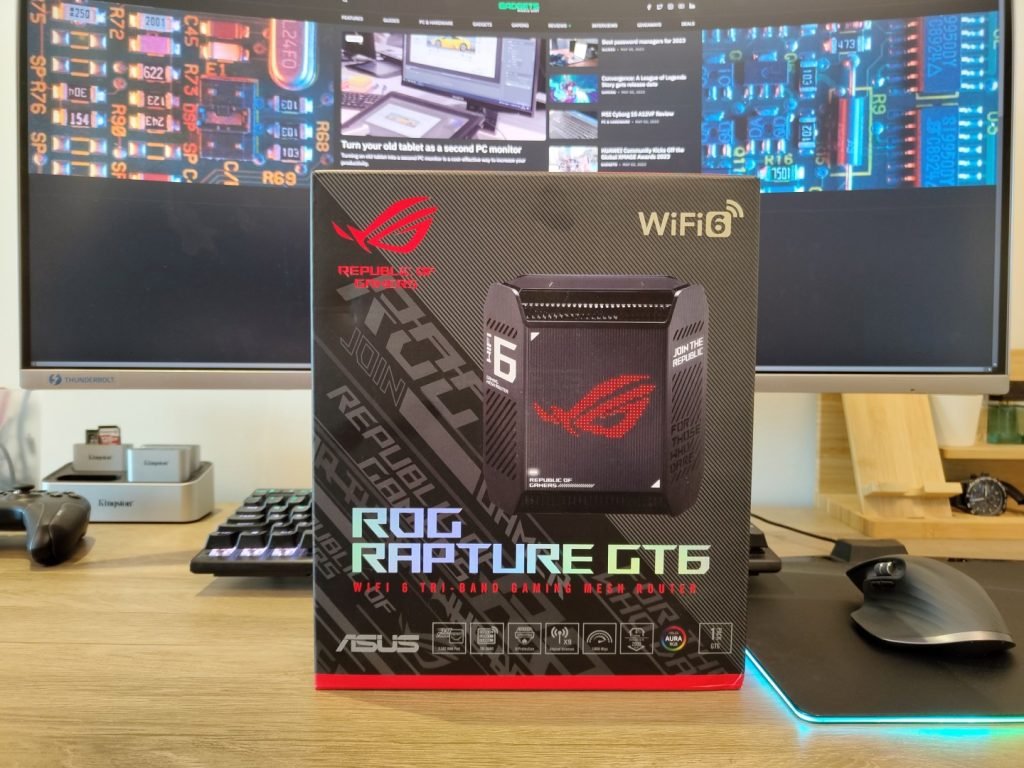 One of its remarkable strengths lies in its lightning-fast Wi-Fi 6 capability, enabling the transmission of data at an astounding speed of up to 6000 Mbps. This translates to a noteworthy 574 Mbps on the 2.4 GHz band and an impressive 4804 Mbps on the 5 GHz band.
The ROG Rapture GT6 incorporates a 2.5G port, providing users with the flexibility of configurable WAN/LAN port options. This adaptability allows for easy customization to suit specific networking requirements.
Highlights
Ultrafast Wi-Fi 6 – Ultra Wi-Fi speed up to 6000 Mbps and 4X network efficiency.
2.5G Port – 2.5G ports with flexible WAN/LAN port configuration.
Fast & Stable Wired Gaming – Dedicated gaming port to prioritize connected gaming device.
ASUS AiMesh Support – Support AiMesh to create a whole-home mesh network.
Tested Durability and Stable Operation – ROG Rapture GT6 is built to be durable and undergoes verified testing to ensure reliable, stable operation.
What is WI-FI 6?
Wi-Fi 6 or 802.11ax is the new standard for wireless networks. It is roughly 30% faster than the old 801.11ac (Wi-Fi 5) standard and offers improved network performance when multiple devices are connected to the same network.
An improved MU-MIMO technology along with beamforming allows connecting many more devices at the same time with better stability. With an increase in households wireless devices due to the growth of home automation and IoT, innovations like this are very important to maintain a strong, stable network; especially when speed is important.
Specifications
Standards
Wi-Fi 6 (802.11ax)
IPv4
IPv6
Backwards compatible with 802.11a/b/g/n/ac Wi-Fi
WiFi Speeds
2.4GHz AX: 2×2 (Tx/Rx) 1024 QAM 20/40MHz, up to 574Mbps
5G-1Hz AX: 4×4 (Tx/Rx) 1024 QAM 20/40/80/160MHz, up to 4804Mbps
5G-2Hz AX: 4×4 (Tx/Rx) 1024 QAM 20/40/80/160MHz, up to 4804Mbps
Antenna
Internal antenna x 9
WiFi Technology
OFDMA (Orthogonal Frequency Division Multiple Access)
Beamforming: standard-based and universal
1024-QAM high data rate
20/40/80/160 MHz bandwidth
WiFi Encryption
WPS support, WPA/WPA2/WPA3-Personal, WPA/WPA2-Enterprise
WAN Types
PPPoE, PPTP, L2TP, Automatic IP, Static IP
Processor
1.7GHz tri-core processor
Memory
256MB Flash 512MB DDR4 RAM
Ports
1x 2.5 Gigabit WAN Port
3x Gigabit LAN Ports
1x USB 3.2 Gen 1
Buttons
WPS Button, Reset Button, Power Switch
Power
AC Input : 110V~240V(50~60Hz) DC Output : 19 V with max. 2.37 A current / 19.5 V with max. 2.31 A current
Weight
880 g
Packaging & Design
The ASUS ROG Rapture GT6 arrives in a sleek black packaging, prominently displaying the product's key features, specifications, and enticing product photos. Upon opening the package, you will find the router itself, accompanied by an RJ-45 Cable, Power Adapter, Quick Start Guide, and Warranty Card.
Designed with gamers in mind, the Asus Rog Rapture GT6 boasts a visually striking appearance that combines design aesthetics from the gaming and mesh router categories. Its eye-catching design sets it apart in the router aisle and allows it to seamlessly blend into even the most sophisticated gaming setups.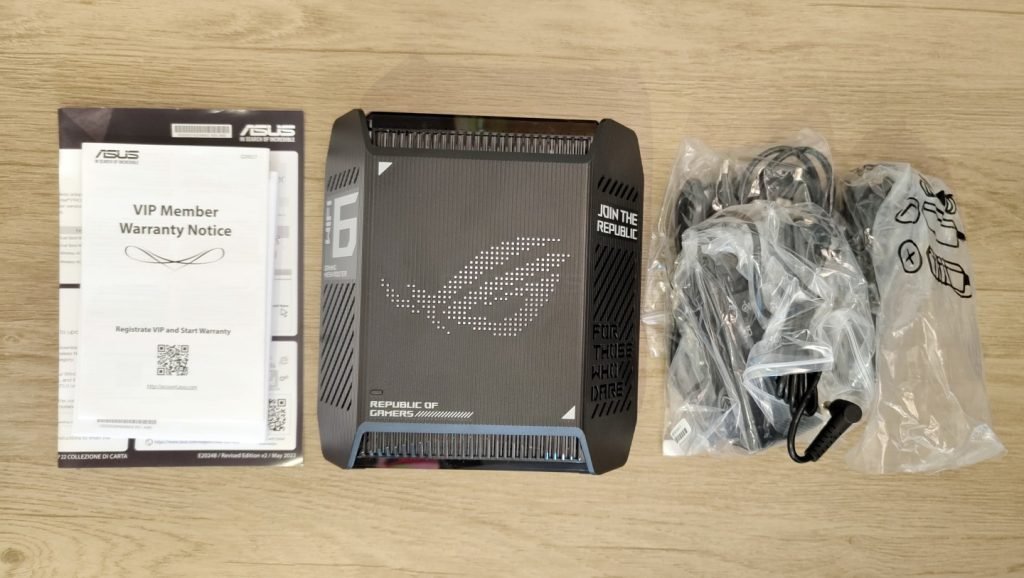 The Asus Rog Rapture GT6 reveals a well-designed layout, including a physical power switch, a 2.5Gbps WAN port, three spare gigabit Ethernet LAN ports, a USB 3.2 port, and the A/C power port.
In terms of hardware, the router is a tri-band AX10000 device, indicating support for 802.11ax (Wi-Fi 6) technology. The numerical value corresponds to the combined theoretical speeds of the 2.4GHz band (574Mbps) and the two 5GHz bands (4,804Mbps each). Equipped with nine internal antennas, the router features a robust 1.7GHz tri-core processor, 512MB of RAM, and 256MB of Flash memory.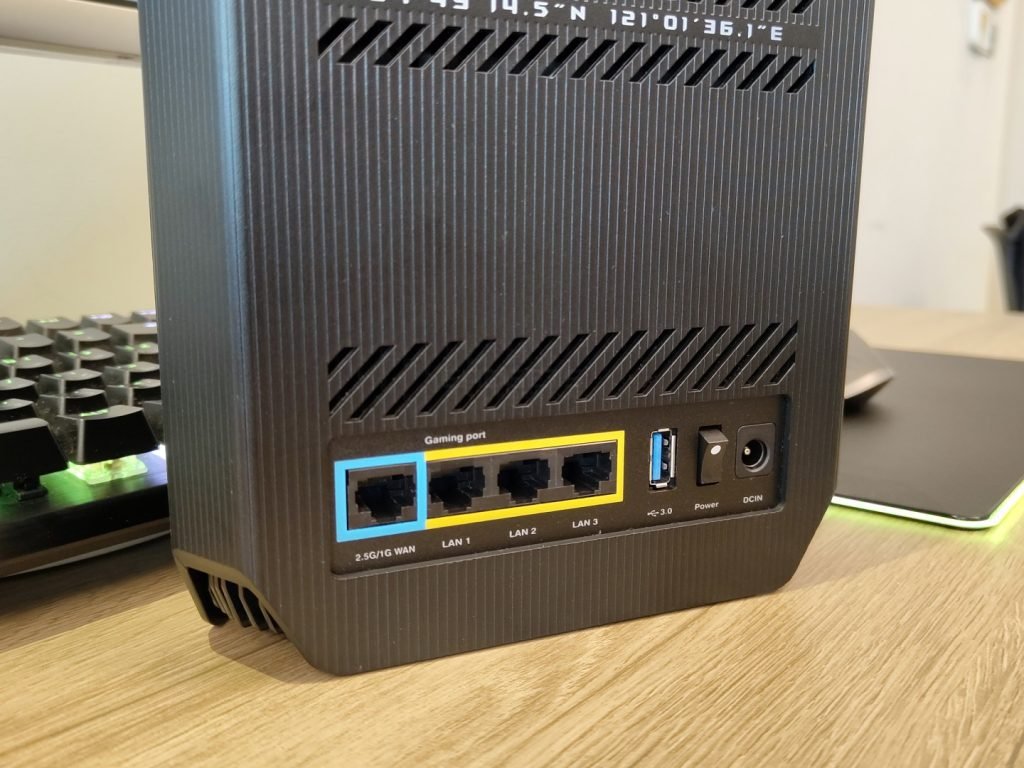 At the rear, there is a WAN port capable of handling incoming wired speeds up to 2.5Gbps, along with three additional gigabit Ethernet LAN ports, a physical power switch, the A/C power jack, and a USB 3.2 port.
On the front, the Asus GT6 showcases a large programmable RGB light, synchronized between the router and satellite units, but also allowing users to disable it if desired. The top of the GT6 is transparent, providing a glimpse of the internal antennas and components, albeit without decorative lighting.
The angular shape and attention-grabbing design of the GT6 position it as a networking product meant to be displayed rather than hidden away. It is available in both white and black variants, with the black version exuding a more ominous and menacing aesthetic.
Software & Setup
The setup process for the ASUS ROG Rapture GT6 is quick and straightforward, taking just a few minutes to complete. You will begin by selecting the GT6 router from the list of available Asus routers. Next, you'll need to scan a QR code located on the bottom of the device you're connecting to your modem. Following that, you'll be prompted to choose a name and password for your network. Once these steps are completed, the setup process is finalized.
Upon completion, you'll have access to the router's user interface, which provides real-time monitoring of upload and download traffic, CPU/RAM percentages, and the number of connected devices. The user interface also allows you to customize the color and style of the LED lights or disable them altogether. It's worth noting that when attempting to turn off the LEDs on the extender without affecting the main router, it may not work as expected. Both devices will either have the LEDs on or off simultaneously.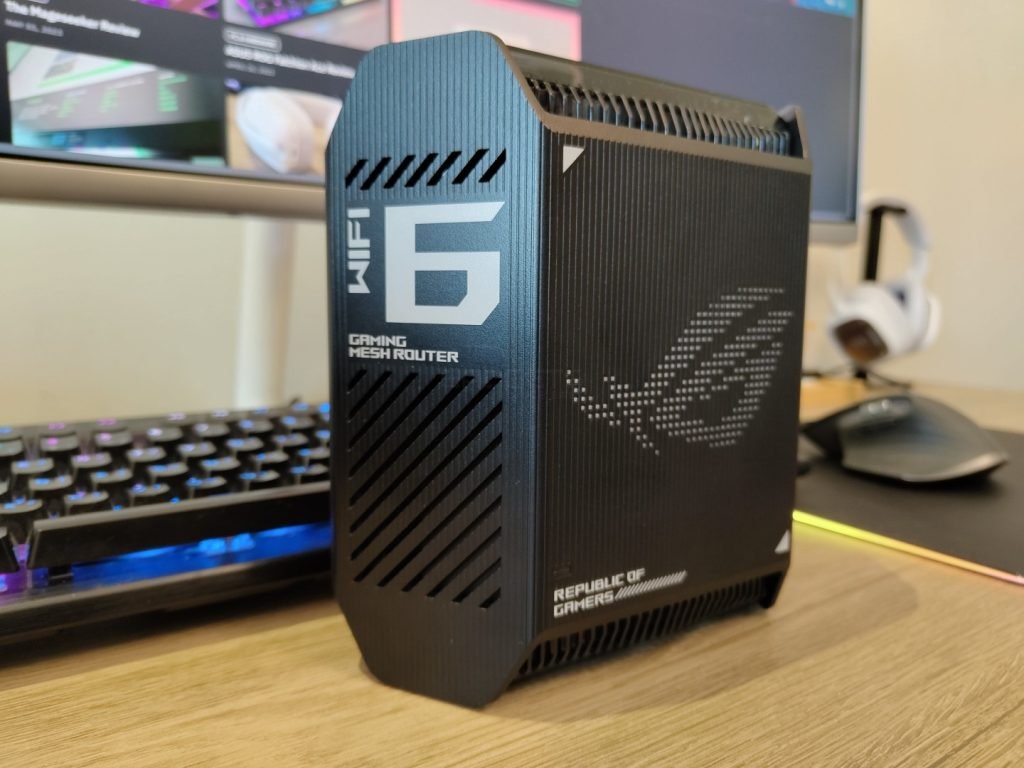 The home screen of the user interface provides convenient shortcuts to key gaming features. This includes a quality of service engine (QoS) that prioritizes different types of web traffic, giving preference to gaming or streaming activities over file transfers and other bandwidth-intensive tasks. Additionally, there is a mobile boost mode that, with a simple button press, prioritizes gaming traffic to the phone or tablet running the app. For advanced users, the user interface offers an array of settings where they can access features like Open NAT port forwarding controls and other networking options.
Performance
The GT6 comes with a 1.7GHz tri-core ARM-based processor. It has 256MB of flash storage and 512MB of RAM. The router's low latency design and powerful hardware contribute to its exceptional performance for both gamers and data-intensive tasks. It even surpasses Wi-Fi 6E devices in terms of speed.
The ASUS ROG Rapture GT6 performs exceptionally well in terms of speed and throughput. In our test environment with a gigabit fiber connection and a 1,300 sq. ft. test space, the GT6 outperformed all other mesh systems tested. It achieved an average wireless download speed of 809Mbps and an average wireless upload speed of 785Mbps.
The GT6 consistently delivered download speeds in the range of 850-900Mbps where speed tests were conducted. Overall, the ASUS ROG Rapture GT6 delivers outstanding speed, throughput, and signal penetration, making it an excellent choice for gaming, high-bandwidth activities, and larger or older homes.
Conclusion
The ASUS ROG Rapture GT6 is a remarkable mesh router that combines the best features of both gaming routers and mesh systems. Its exceptional speed, ease of setup, and unique design make it a standout choice for users with gigabit networks and beyond. With a wide range of free-to-use features, including customizable LED lights, comprehensive parental controls, automatic threat scans, and VPN access, the GT6 offers a compelling package.
In summary, the ASUS ROG Rapture GT6 earns its place as an exceptional router, providing blazing-fast speeds, user-friendly features, and a distinct design. It is a highly recommended choice for gamers, data-intensive users, and those looking for the best wireless performance and reliability.