The FreeBuds Pro is the latest premium true wireless earphones from Huawei with several standout features including ambient noise cancellation, wireless charging, and Bluetooth connectivity for upto two devices.
Specifications
Color Options:
Silver Frost, Ceramic White, Carbon Black
Dimensions:
Per earbud
21.7mm x 29.6mm x 26mm (DxWxH)
Weight: About 6.1 g

Charging case
24.6mm x 51.3mm x 51.3mm (DxWxH)
Weight: About 60 g
Connectivity:
Bluetooth compatibility: BT 5.2
Pop-up & pair: supported
Wearing detection: supported*
Simultaneous Bluetooth connection with dual devices: supported

*Requires smartphones running EMUI10 or above.
Audio Technology:
Active noise cancellation
Call noise cancellation
Awareness mode
Voice mode
Driver:
11 mm dynamic
Battery:
Battery capacity
Per earbud: 55 mAh
Charging case: 580 mAh

Charging
Wired: USB Type-C (5 V/1.2 A/6 W)
Wireless: supported (2 W)
Packaging
The packaging includes the charging case, earphones, a USB-C charging cable, manuals and replacement earbuds in three different sizes. There is no power adapter or a protective cover included for the case to prevent the it from being scratched.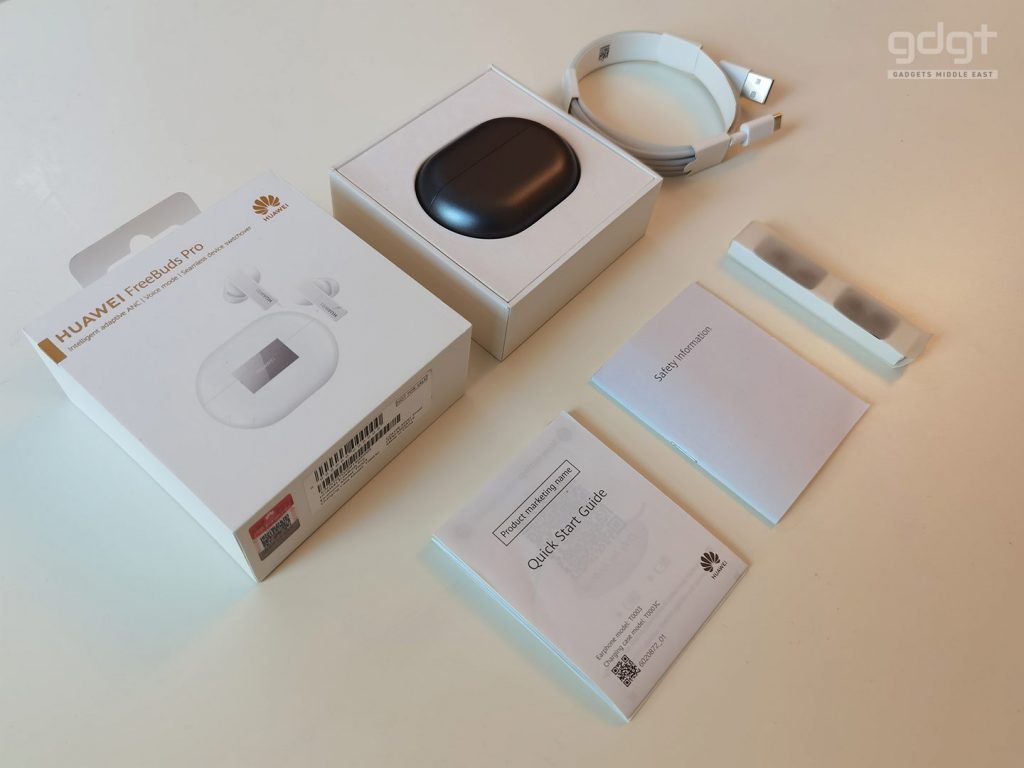 The charging case is oval in shape and comes in a grainy-metal texture. At the bottom is the USB-C charging port (the case also supports wireless charging) and a LED indicator for battery status. And on the right is another button for pairing.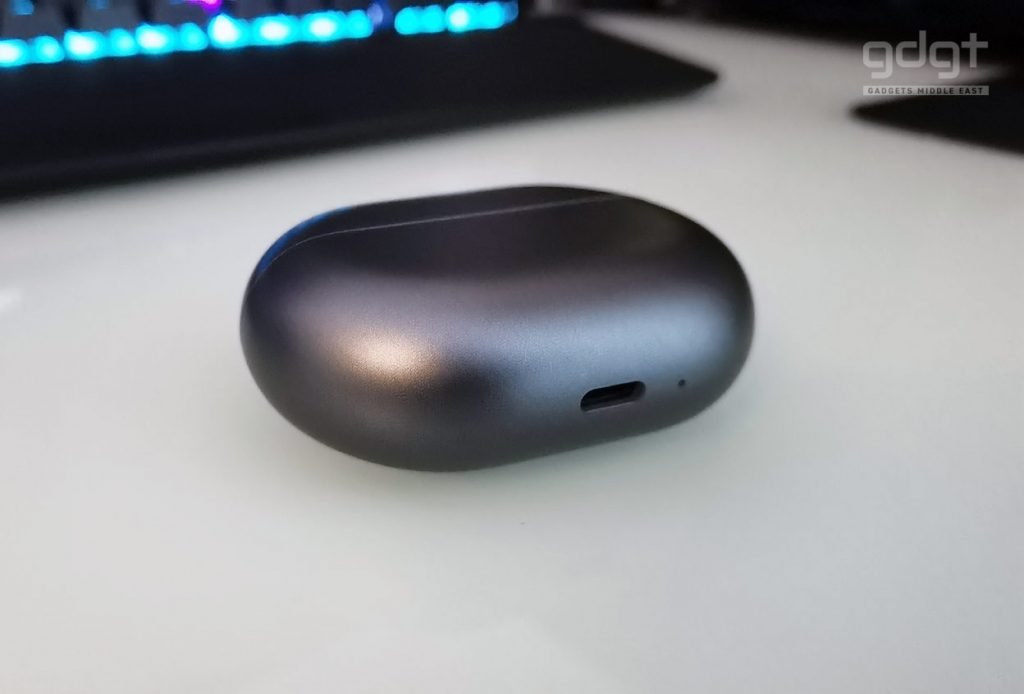 The earphones are magnetically held inside the charging case. There is also another LED indicator here for pairing status. A slight drawback here is that it's somewhat difficult to remove the earphones as the magnets hold them firmly in the case
Design & Build
The FreeBuds Pro is available in three colors – Ceramic White, Carbon Black and Silver Frost.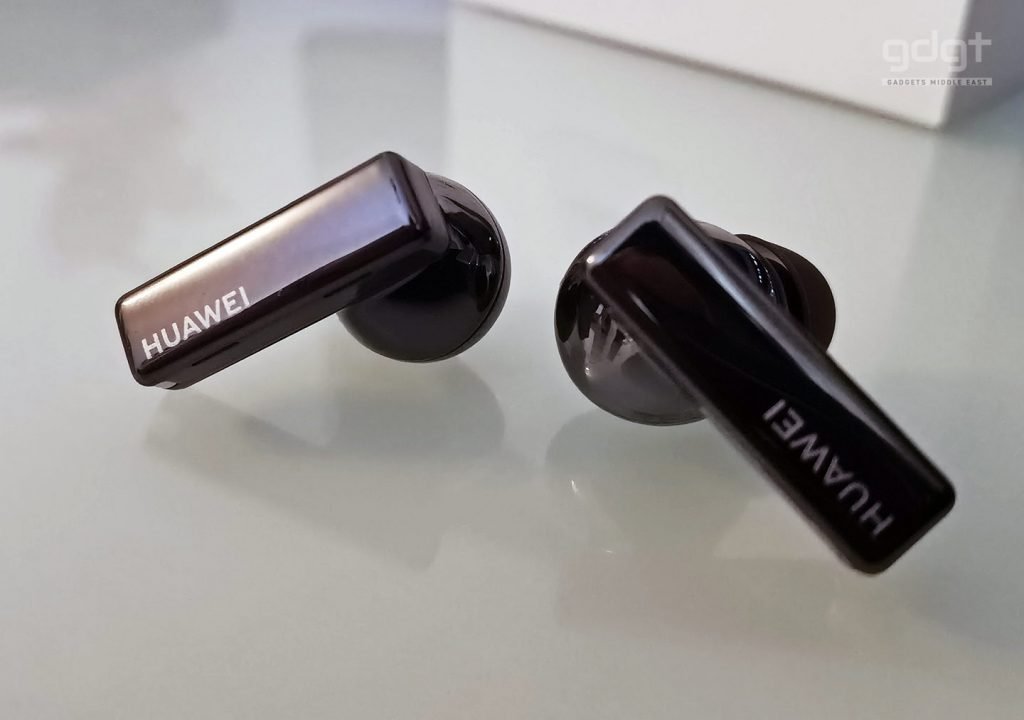 The earphones themselves look well-designed and have a glossy, rectangular-shaped stem. They are lightweight, compact, easy to wear and comes with gesture sensors for controlling playback, volume, calls and switching ANC modes.
Features
Dynamic noise cancellation
One of the main features of the FreeBuds Pro is dynamic noise cancellation which reduces ambient sounds up to 40dB. It detects the type of environment you are in using microphones to automatically switch between the three different ANC modes: cozy mode, general mode or ultra mode.
Awareness Feature
The Awareness feature amplifies the surrounding noise, letting you hear essential sounds and people talking around you.
Dual Device Connection
Another highlight is that it can connect two devices at the same time so you can have these headphones connected to a PC and a smartphone at the same time. Of course, you won't be able to listen to both audio at the same time but it can switch between the two when needed by pinching either earbud.
AI Life App
Headphone functions can be controlled through Huawei's AI Life app for Huawei phones. On iOS the app is not available yet.
The app lets you see the battery status, update firmware, switch between different ANC modes or detect if you are using the right earplugs for your ears.
Dynamic Equalization
The earphones feature dynamic equalization which means the microphones on the FreeBuds Pro are capable of analyzing ambient noise to intelligently adjust to the type of audio being played, be it music, podcast or videos.
Usage Detection
The FreeBuds Pro is equipped with a very useful usage detection feature, thanks to its IR sensor, which automatically stops playback when the earphones are removed.
Gestures
The earphones supports touch gestures. There are touch sensors at stem of each earphone which help control media playback, volume, calls etc. via swipe, pinch, pinch and hold gestures. Once you get the hang of it, they work effortlessly.

Wireless Charging
While the FreeBuds Pro can be charged via the USB-C cable, they also support wireless charging.
Fit Level Detection
The earphones have a built-in function to analyze the best earplug size for your ears, helping you pick up the most suitable ones to enjoy better noise cancellation and a more immersive sound.
Performance & Audio Quality
The FreeBuds Pro feature 11mm dynamic drivers that delivers well-balanced audio quality, both in multimedia playback and during calls. The mids and treble are clear and the bass is deep and controlled without distortion, even at high volume levels.
Noise cancellation works very well and is capable of eliminating up to 40 dB and all of the preset modes work perfectly. The Freebuds Pro also feature a dynamic equalizer, based on the real-time signal changes received by the in-ear microphones, the equalizer adjusts automatically to keep sound balanced.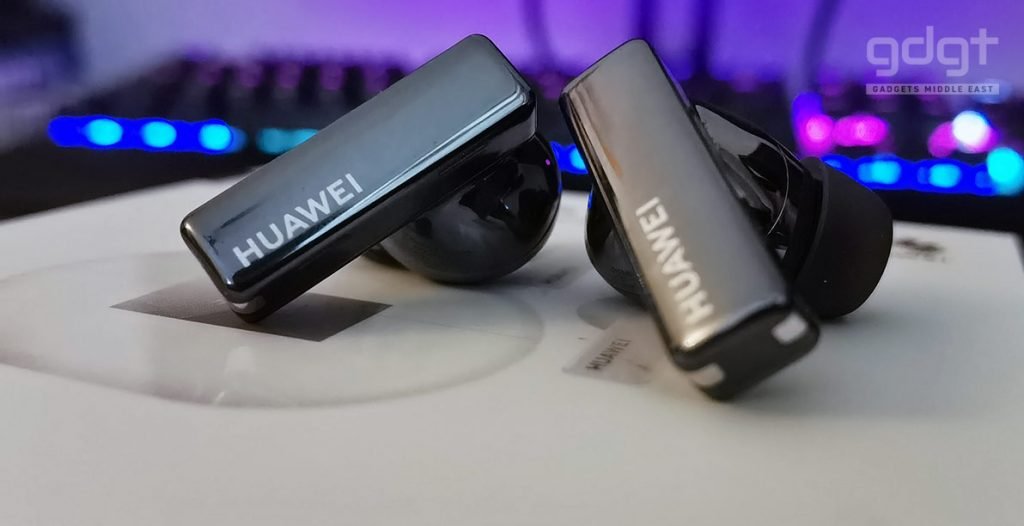 Pinch and swipe gestures are quickly recognized and work flawlessly once you get used to it.
The FreeBuds Pro comes packed with great hardware that work together to ensure exceptional sound quality without any external noise.
Connectivity and battery
The Huawei FreeBuds Pro uses Bluetooth 5.2 to pair with other devices. On Huawei devices, the FreeBuds Pro is instantly recognized. On other devices, pairing is done via a long-press of the pairing button on the right edge of the charging case.
The Bluetooth connectivity is stable without any delays between the devices, each earbud features two Bluetooth antennas ensuring good signal coverage.
The earphones themselves have a 55mAh capacity each and the charging case 580mAh. Depending on usage, the FreeBuds Pro lasts between 3 to 4.5 hours with ANC enabled and 5 to 7 hours with it disabled.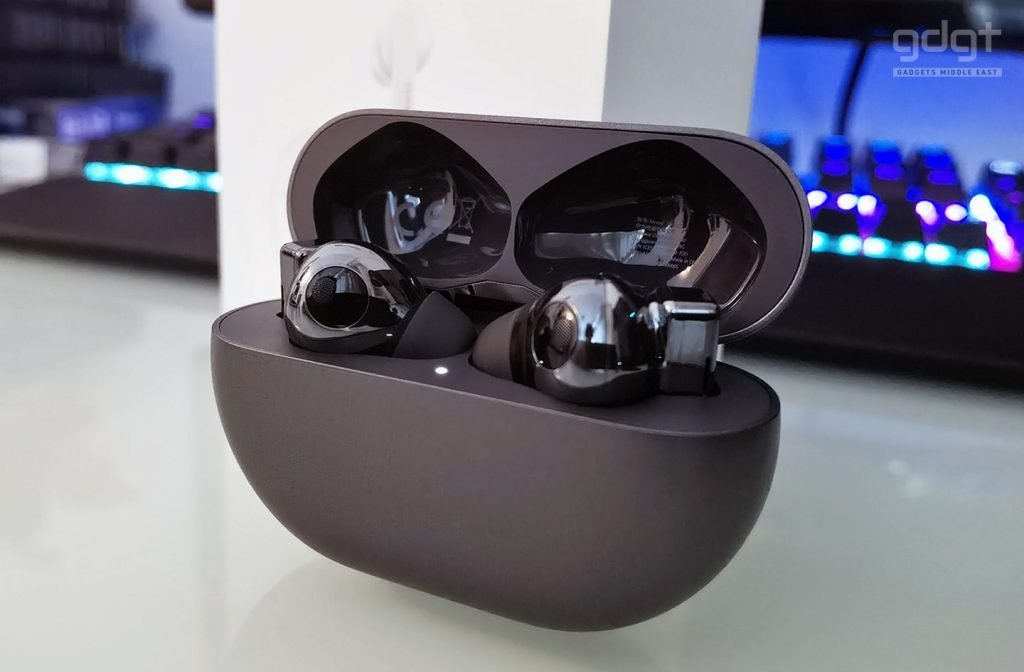 With the charging case, total battery life can reach 30h of music playback with ANC off, and 20h with ANC on. And for calls, up to 18h with the charging case and ANC off.
The earphones charge back in 30-40 minutes when placed in the charging case, and the case itself can be charged back in 60 minutes with the included cable. You can also use your smartphone or tablet to reverse-charge the charging case while you are on the go.
If you use a Huawei phone, it notifies you of the battery status every time you open the charging case.
Verdict
The Huawei FreeBuds Pro offers everything you could want in a premium wireless earphone, including excellent noise cancellation, exceptional sound quality, and good battery life.
A major drawback is that there is no integration with virtual assistants such as Google, Alexa or Huawei's own Celia. This means that there is no way to receive notifications or control other devices using your voice.
Another disappointing one is that some features such as auto-pairing are available only on Huawei devices and the AI Life app is not available on iOS.
Availability
The FreeBud Pro retails for AED 649 and is available in Ceramic White, Silver Frost and Carbon Black colors.