The Turtle Beach Recon controller is a wired gaming controller designed for Xbox One, Xbox Series X|S and Windows. The Recon controller features audio enhancements, two mappable quick-action buttons and game-changing innovations.
Available in both classic black and sleek white, The new Turtle Beach Recon controller is available for the same price as the original Xbox controller but with a few differences. The Turtle Beach Recon controller is designed for use with Xbox X|S, but fully compatible with Xbox One and PC.
By plugging in a 3.5mm headset you can take advantage of exclusive Turtle Beach audio features like Superhuman Hearing, Mic Monitoring, Signature Audio Presets and more. There is also a Pro-Aim Focus Mode, which tunes thumbstick sensitivity for long-range accuracy, and stores up to four profiles on each of the rear quick-action buttons.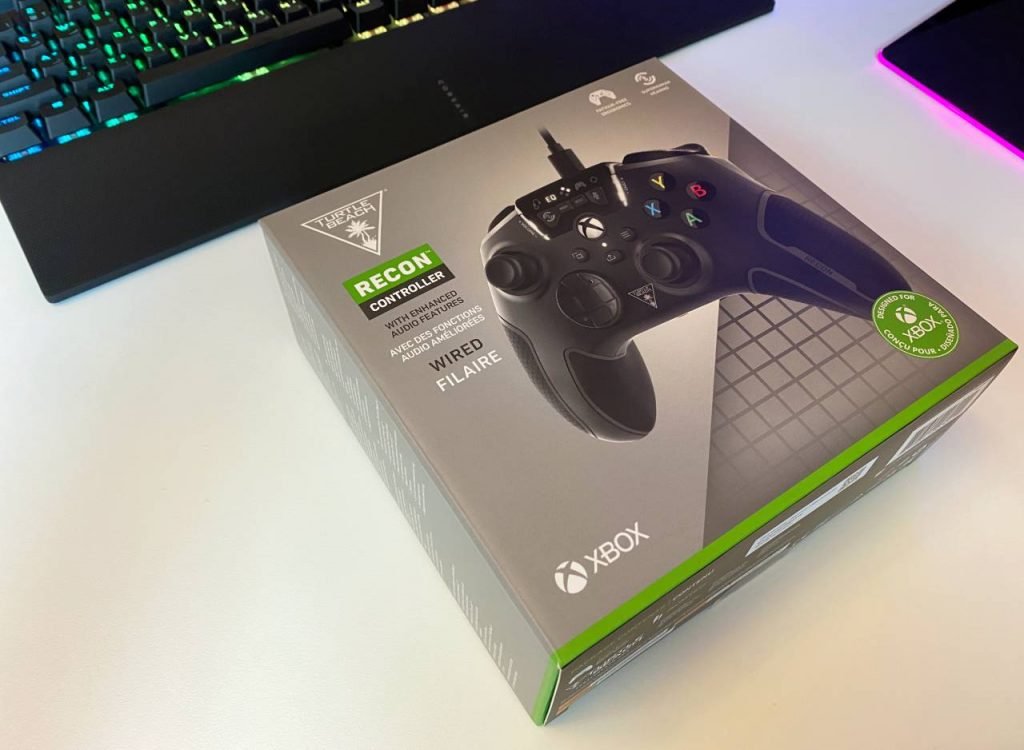 Key Features:
Turtle beach audio advantage: Easy access audio controls only available from Turtle Beach including EQ presets, game & chat volume mix, mic monitoring and more.
Two mappable quick-action buttons: Allows up to 4 different switchable profiles.
Four Turtle Beach signature presets: Customize game audio with four eq presets: Signature sound (default) Bass Boost, Bass & Treble Boost and Vocal Boost.
Vibration feedback: Dual rumble motors in the handles and triggers enhance immersion
3.5mm headset connection: Plug in any 3.5mm connected headset to take advantage of Turtle Beach audio enhancements.
Mic monitoring: Hear and adjust the volume of your voice for clear communications.
Responsive controls: Textured triggers and bumpers, 8-way d-pad, and smooth thumb stick movement for better gameplay.
Designed for Xbox Series X|S, Xbox One and Windows 10.
Specifications
Connectivity
USB-A Connection to Game Console or PC
Detachable 10ft / 3m cable with Type-C USB Connector (Type-A at console)
Audio Input/Output
3.5mm audio port for stereo audio output & microphone input
Weight
300 grams
Dimensions
180x183x73 mm
Compatibility
Xbox Series X|S Xbox One Windows 10
Warranty
1-Year Limited Warranty
Packaging
The controller comes in a grey packaging with photos and specifications on the sides. The box is durable and the controller is well protected in a protective vacuum-blister. Inside the box are also the the 3-meter braided USB-C connector, quick-start guide, warranty information and a sticker.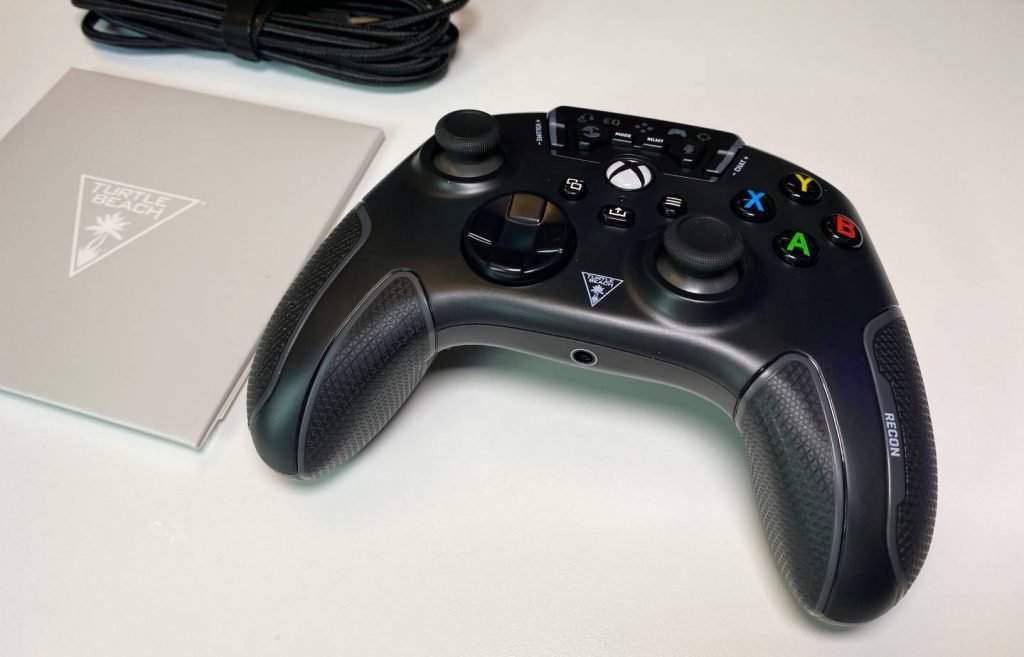 Turtle Beach Recon Controller
3m USB Cable
Quick Start Guide
Turtle Beach Sticker
Design
The controller has a solid build quality, there are no creaks or loose ends. It comes with the newly styled concave D-Pad and features ergonomic cooling grips and a comfortable shape keep your hands cool and dry while reducing fatigue over long gaming sessions.
At the bottom of the controller is a port to connect 3.5mm headsets and at the top is a USB-C port to connect with consoles or computers using the included detachable 3m braided cable with USB-C connector.
The Turtle Beach Recon controller has all the selection of buttons you would find on the brand new Xbox Series X|S controllers, which includes the newly added share button. Apart from these, Turtle Beach has added in eight additional buttons to control a set of audio and custom functions.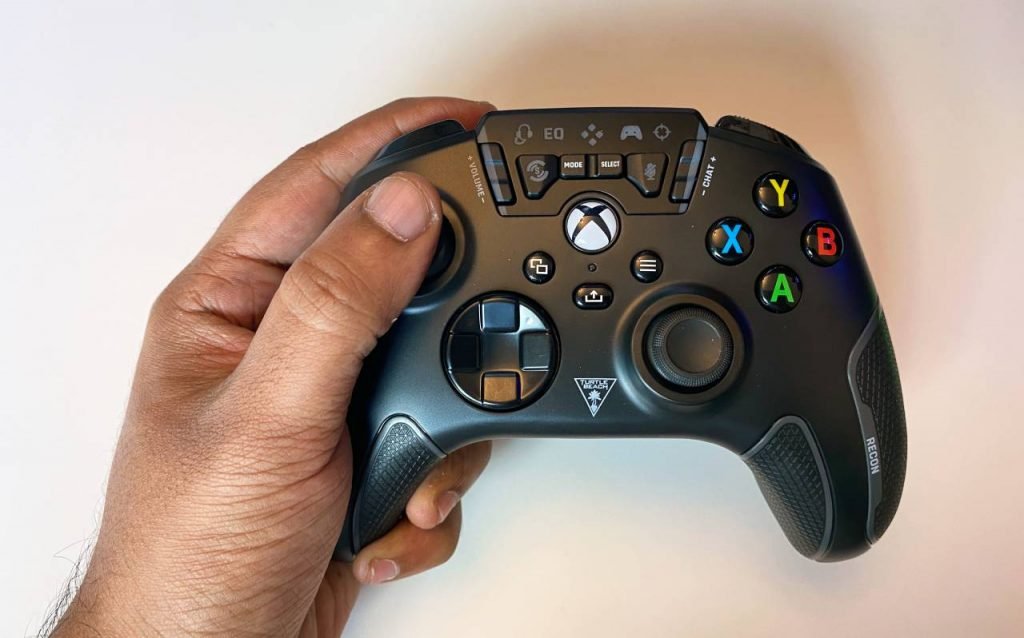 Starting from left are the volume up and down buttons, a Super Human Hearing toggle button, a mode button to cycle through presets, a select button, a mic mute button and a pair of button to adjust in-game chat volume. At the back are two mappable quick-action buttons allowing up to 4 different switchable profiles.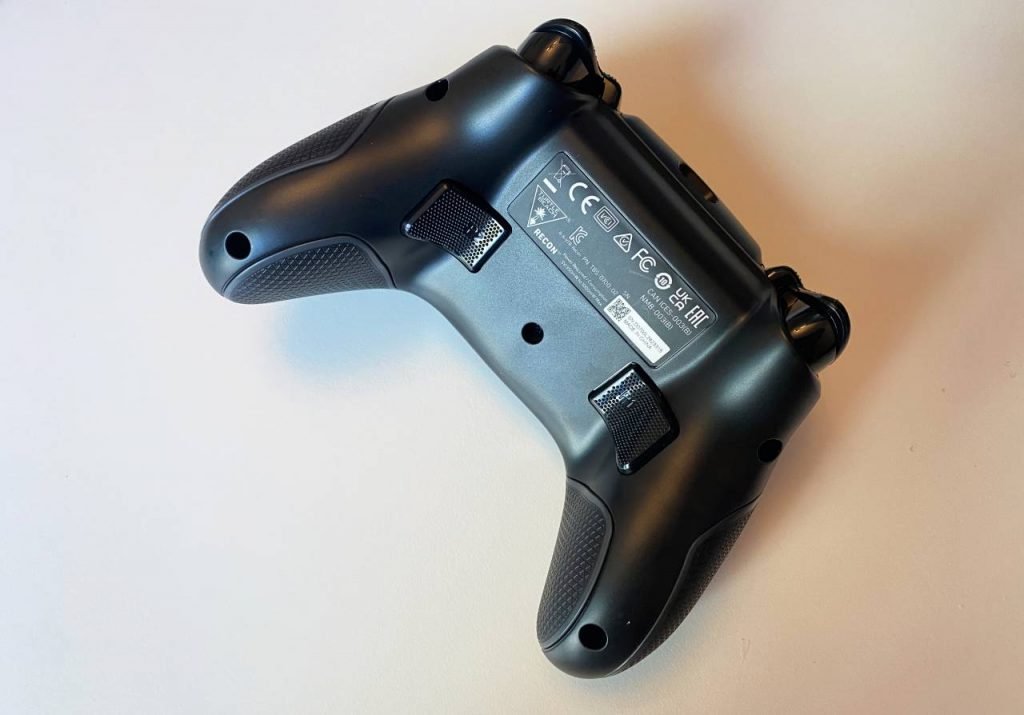 Above these buttons is an array of LED-backlit icons, each one highlighting the feature that are currently enabled. The last LED highlights if the Pro-Aim Focus mode is enabled.
Usage & Features
The ergonomic rubber-coated grips on the handles are excellent when gaming for long durations. The build quality is excellent as well nothing creak was and the pad did not bend out of shape anywhere.
The buttons feel great they press down and pop up with good precision. The L and R triggers have a dotted texture to prevent any slippage. The rumble feels quite good but a bit aggressive. The analogue sticks are well tuned and slick with zero friction. The D-Pad is snappy and punchy when clicked in. On the back side of the controller are two additional triggers, P1 and P2, which can be mapped to any of the in-game functions.
Alternatively, the P1 button can be used for precision aiming thanks to the Pro-Aim feature. Pro-Aim tunes thumbstick sensitivity for enhanced long-range accuracy and essentially lets you adjust the sensitivity of the right analog stick.
Using the shortcut buttons, you can make adjustments to the volume and mic level to incrementally change it from low to high or mute.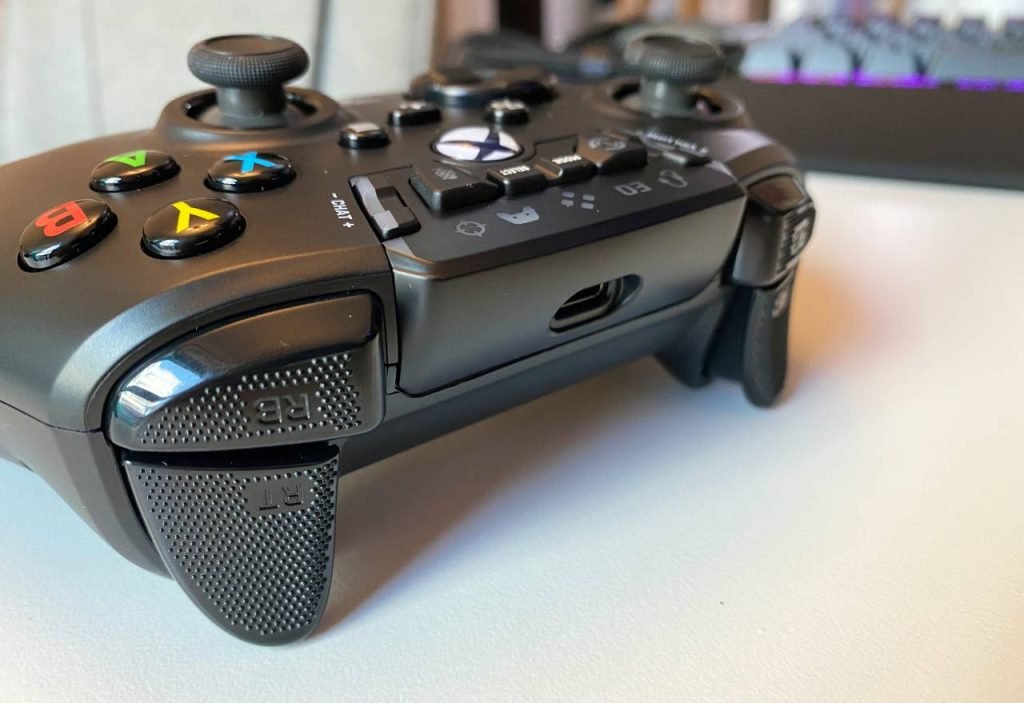 In addition to being able to control the volume of the microphone and audio, Super Human Hearing can be activated and you can switch between four preset equalizer options. Turtle Beach Superhuman Hearing sound setting lets you hear subtle and vital game details like enemy footsteps and weapon reloads to elevate your gameplay experience. However, a headset needs to be connected to the controller via the 3.5mm port to take advantage of these functions and the Recon 500 we reviewed earlier works very well with the Recon Controller.
The controller can also store up to four user profiles, which you can use to quick switch between to work with different games such as racing, FPS, strategy etc.
In terms of software, the Turtle Beach Control Center app is available on Xbox and PC from the Microsoft App Store. However, there are no customizations available within the app, it is only used to update the controller firmware.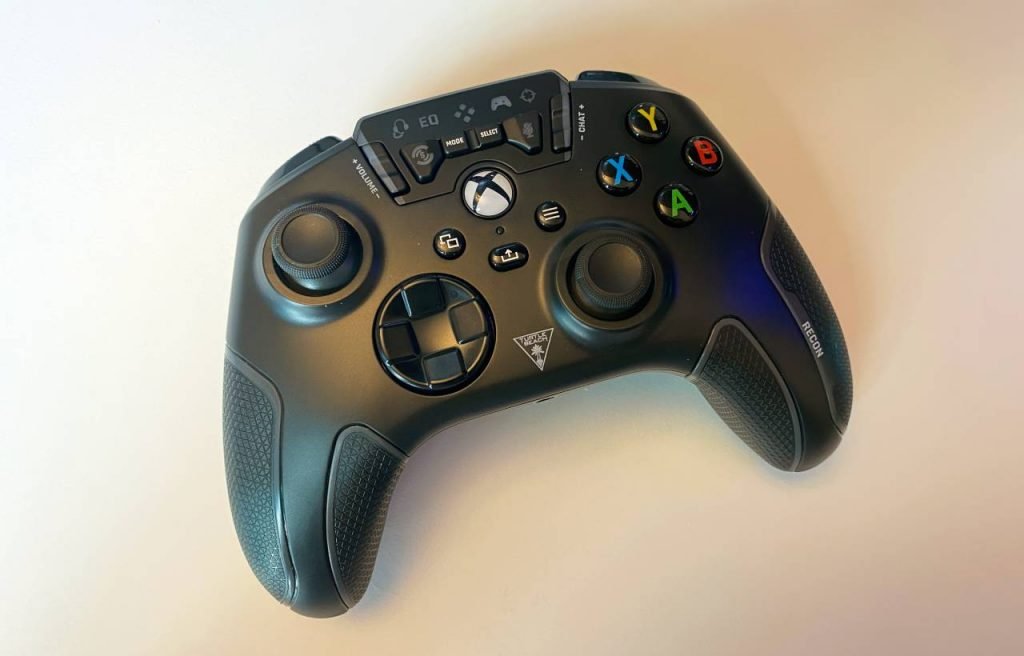 Conclusion
The Turtle Beach Recon controller offers solid build quality and numerous additional functions within the same price bracket as the original Xbox controller. The fact that the controller is wired may be a letdown for some but considering the mappable buttons, the cool audio customization features and the price, this is a solid alternative.