Ubisoft has officially unveiled Assassin's Creed Valhalla with a debut trailer the day before, following a live teaser stream. If you've missed it, you can watch it below.
Ubisoft Montreal is leading development on Valhalla, along with the support of fourteen other Ubisoft Studios. Ubisoft Montreal's last two Assassin's Creed games were Origins and Black Flag.
Ashraf Ismail is Creative Director for Valhalla, who previously served as game director for Assassin's Creed IV: Black Flag and Assassin's Creed Origins.
The Setting
Assassin's Creed Valhalla, the next entry in the long-running Assassin's Creed series, will take players to the Viking Age.
In Valhalla, you play as Eivor, who is described as a "fierce Viking raider raised on tales of battle and glory." Driven from Norway by endless wars and dwindling resources in the ninth century, players will lead Eivor's clan of Norsemen across the icy North Sea to the rich lands of England's broken kingdoms.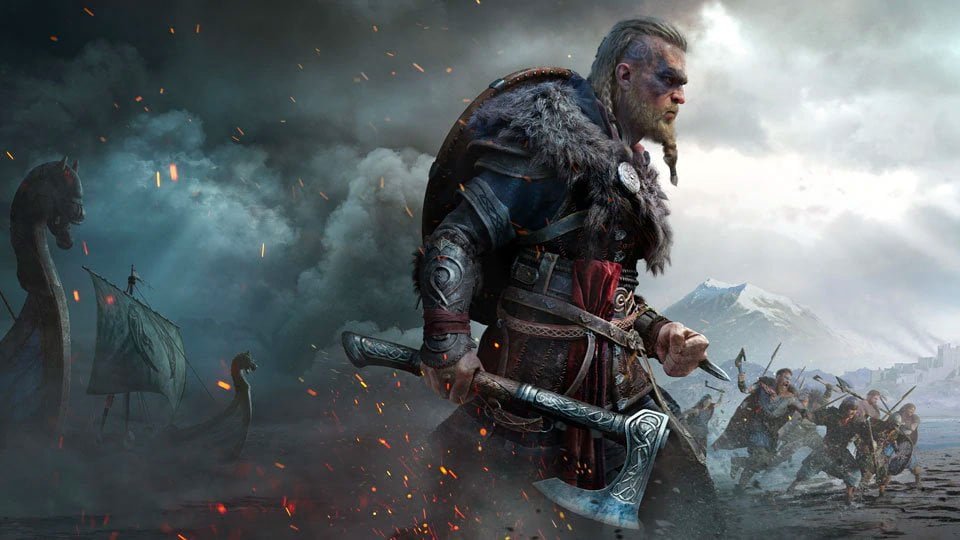 "With little resources at their disposal, players can lead raids to any promising location they see from the waterfront using their longship to earn much-needed riches and resources," Ubisoft explains in a press release. "As the Vikings begin to settle in their new home, they encounter resistance from the Saxons, including King Aelfred of Wessex, who denounces them as heathens and looks to be the sole ruler of a civilized England. Against all odds, Eivor must do what is necessary to keep Valhalla within reach."
Player Character & Gameplay
Assassin's Creed Odyssey allowed gamers to choose their character's gender, picking between a man (Deimos) or a woman (Kassandra), and 2020's game Assassin's Creed Valhalla will carry this feature forward.
However, rather than have two siblings, you will be able to choose between the male and female versions of the same character. Both voice actors for Eivor has been announced – The male character will voiced by Magnus Bruun, whom you may know from the Vikings TV Series where he played Cnutt. And the female character will be voiced by Cecilie Stenspil.
According to the Assassin's Creed Valhalla: Developer Commentary Trailer, the game begins in Norway showing the harsh living conditions, due to war and lack of resources forcing the Vikings to sail to England (or more accurately The Four Divided Kingdoms: East-Anglia, Mercia, Northumbria and Wessex)
You will also be able to go back to Norway again whenever you want but majority of the game will be based in England and is supposedly huge.
Players can fight with a variety of weapons including swords, bows, even dual-wielding axes, and equipping different skills and gear allows players to take different approaches. Apparently, you can dual-wield almost any combination of weapons including dual shields. As with past games, Valhalla will feature an open world. There will also be side activities such as hunting, fishing, dice and drinking games, or engage in traditional Norse competitions like flyting or better known as the art of the Viking rap battle.
Raven will be the new Eagle equivalent companion but will have new abilities. You may be able to change the appearance of your raven, as seen in the tweet below by a Dutch Company, offering a "Drakkar Edition" available for preorder.
Build Settlements
An integral part of the gameplay loop in Assassin's Creed Valhalla will be managing settlements. You build a settlement that serves as your base between raids and other missions for your clan and others you recruit.
Players will be able to upgrade and customize their settlements to better accommodate their community, as well as boost their abilities and equipment. Valhalla's official website note that players can construct and upgrade barracks, blacksmiths, tattoo parlors, and more.
In an interview with Game Informer, creative director Ashraf Ismail dropped some more information on the mechanics
"The settlement is really your home in the world," he elaborated. "You grow this place in terms of both buildings and people. You always start in your settlement, and then you go out into the world – you go on a journey. These journeys bring back different things. Sometimes it's other people, sometimes it's resources you might need. Sometimes it's surprises that I can't get into. The idea is that it's really at the heart of the journey; this is the place you come back to to customize your character and do a lot of things for Eivor. The settlement is unlike anything we've done in the past; it's quite key to the motivation of the journey and to the world itself."
What about the actual gameplay?
Ubisoft has confirmed on Twitter that the first official gameplay trailer will be revealed on 7th of May during the First Look Xbox Series X Gameplay on Inside Xbox
Release Date, Platforms & Editions
The game will be playable on current generation hardware, but has also been confirmed as a next-gen game for PS5 and Xbox Series X as well as on PC with only Epic Game Store and UPlay support so far.
Valhalla will also support 'Smart Delivery' on Xbox, meaning you can buy the game once and have access to both the Xbox One and Xbox Series X versions as spotted by Shinobi602 on Twitter and confirmed by multiple retailers including Amazon and Best Buy.
There are four editions of the game confirmed so far: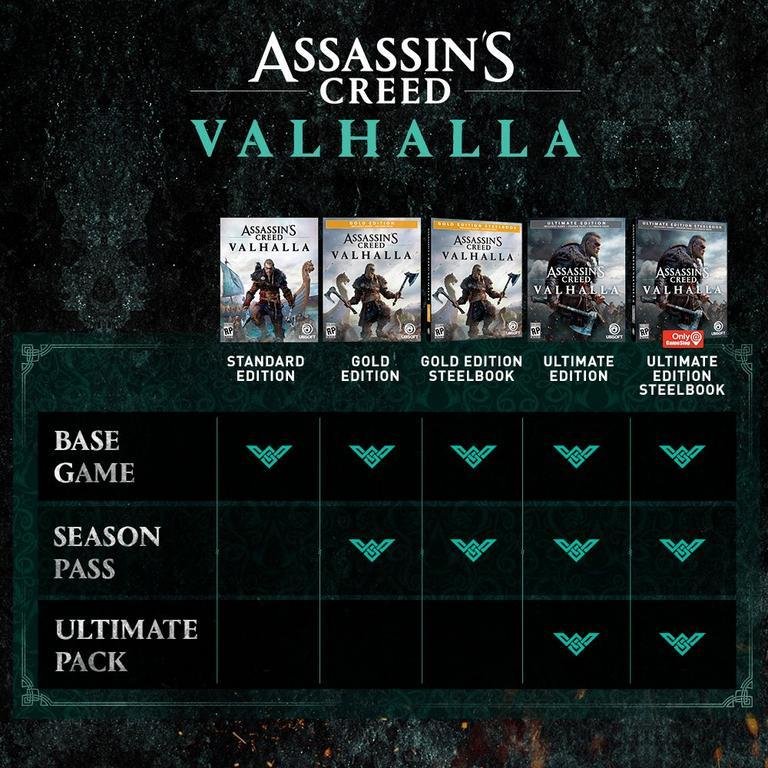 Standard Edition: The standard edition comes with The Way of the Berserker mission
Gold Edition: The Gold Edition will include the base game and the Season Pass.
Ultimate Edition: The Ultimate Edition will include the base game, the Season Pass and the Ultimate Pack, giving players access to exclusive customization content: the Berserker Gear Pack, the Berserker Settlement Pack, and the Berserker Longship Pack, along with a Set of Runes to improve weapons or gear.
Collector's Edition: The Collector's Edition will include the base game, the Season Pass, the Ultimate Pack, a high-end Ubicollectibles replica of Eivor and her longship (30 cm high), a Collector's Case, a SteelBook with unique artwork, a numbered certificate of authenticity, a Viking Statuette of Eivor with his raven and Dane axe (5 cm high), exclusive lithographs as well as a selected soundtrack of the game. The Collector's Edition is available exclusively from the Ubisoft Store.
Assassin's Creed Valhalla is set to release in Holiday 2020 for Xbox Series X, PS5, Xbox One, PS4, Stadia, and on PC exclusively through the Epic Games Store. It will also be available as part of the UPlay+ subscription service.