Ubisoft announced Tom Clancy's The Division 2 Warlords of New York, a narrative-driven expansion following the footsteps of the live open-world game Tom Clancy's The Division 2.
Warlords of New York is now available for digital purchase on the Xbox One and Xbox One X, PlayStation 4, the Epic Games Store and UPLAY+ for Windows PC. The Division 2 and The Division 2 Warlords of New York expansion will also launch on Google's new generation gaming platform, Stadia, on March 17.  
Current Division 2 players can purchase The Division 2 Warlords of New York on its own while new players can purchase The Division 2 Warlords of New York Edition, which includes The Division 2 base game along with the expansion.
Also available is the Ultimate Edition, which includes both The Division 2 base game and The Division 2 Warlords of New York expansion, as well as all year one pass content, classified Assignments and unlocked specializations. 
Each edition of the game comes with a Level 30 boost which players can activate to immediately jump directly into the expansion. After completing the expansion campaign, players can then fast travel freely between Washington DC and New York City to enjoy the entire range of the game's content.
A New Chapter in The Division Franchise, and a New Map in Lower Manhattan
In Warlords of New York, players will go on the ultimate manhunt for Aaron Keener, a former Agent who has now gone rogue. Keener, along with his network of Rogue Agents, is now a major threat to the burgeoning rebirth of civilization.
To track down Keener, players will roam the untamed living open-world of Lower Manhattan; a former Dark Zone that was hit by a devastating hurricane that struck New York City harder than anywhere else in the US.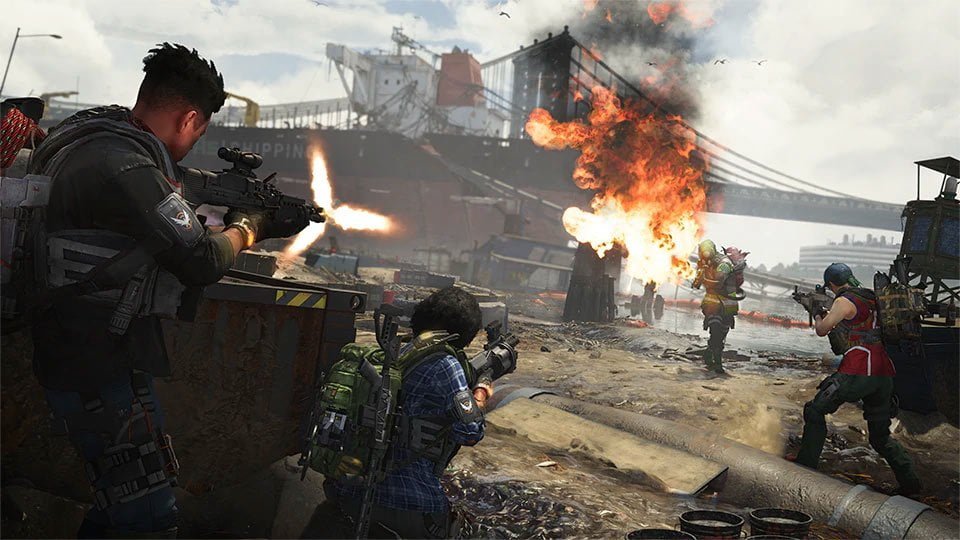 Set 8 months after the events that occurred in the first game, players are tasked to explore 4 new named zones, each crafted at a 1:1 New York scale, including Two Bridges, Civic Center, Battery Park and Financial District.
Before confronting Keener, players must first track down and take on each of his Rogue Agents. Each Rogue Agent has their own unique back story – and a new skill that would be earned once the Rogue Agent is taken down.  
The Introduction of Seasons and Return of Global Events
Warlords of New York will also introduce a new post-launch philosophy: Seasons – a 3-month-long themed endgame event, introduced as its own narrative-driven mini campaign featuring a new main target and connecting network to track down.
Each Season offers new gameplay experiences with different stories and unique rewards. The first Season begins March 10. In addition to the Seasonal Manhunt, Seasons will offer new in-game activities.  Leagues are a series of challenges for players, with opportunities to unlock rewards based on players' ability to complete such challenges.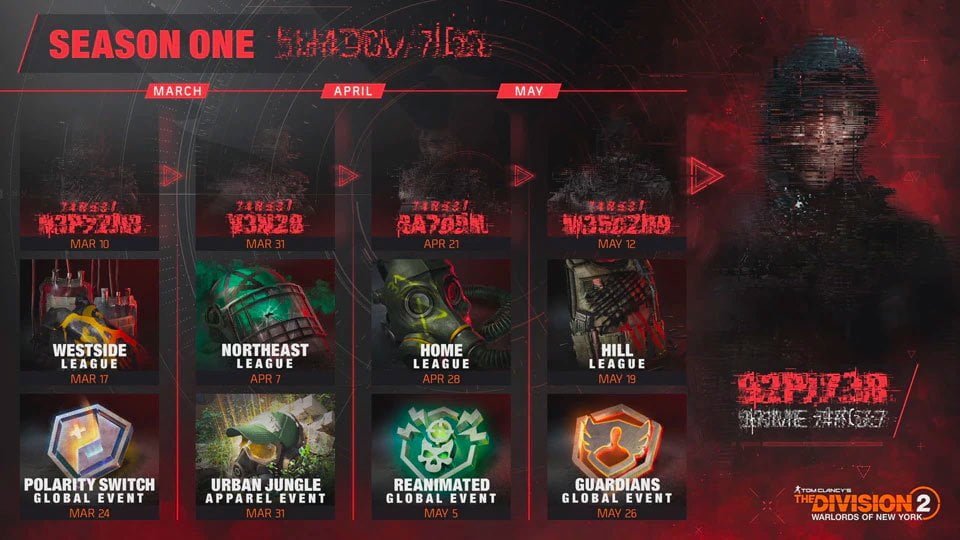 Players will also see the return of Global Events, time-limited in-game events during which a global modifier is applied to the entire game and players will be rewarded by completing specific tasks. During each Season, players will grow their Season Level to unlock various rewards by participating in the various seasonal activities or even simply playing the game.
Players interested in collecting additional rewards can acquire a Season Pass. The first Season Pass will be free for all players of The Division 2 Warlords of New York. More information on Seasons and the Season Pass can be found here.
Full RPG Overhaul, More Meaningful Loot and Revitalized Dark Zones
Both the base game and the expansion includes an RPG system overhaul, allowing players to better read and manage their gear inventory. The UI screen will be updated to always show the roll ranges for each stat on a piece of gear or weapon. 
The overhaul also includes the return of god rolls, improving readability and helping players make better decisions on the gear's usefulness to their build.
Additionally, players will see a more streamlined gear recalibration system, with item and stat usefulness indicators, as well as permanent attribute and stat storage at the recalibration station, simplifying inventory management and giving players the flexibility to plan the perfect build.
With the new recalibration stat-storing system, players have new goals to reach as they aim to find the best loot in the game and extract powerful gear and weapon attributes for future use and build crafting. 
The three existing Dark Zones in The Division 2 have also been revitalized, returning to simplified rogue mechanics. The focus is on rewarding player-to-player interaction, whether its fighting against each other or helping a fellow player against a tough Rogue player.
Some of the most powerful loot will only be found in the Dark Zones. All loot is contaminated and must be extracted, ensuring for higher risk and reward gameplay interactions at the extraction zones.
In The Division 2 Warlords of New York, the players' level cap will increase from Level 30 to Level 40, but it doesn't stop there. The Division 2 Warlords of New York is also introducing an infinite progression system called SHD levels, and 4 new skills that can be used throughout the game: The Decoy, Shock Trap and two variants of the fan favorite Sticky Bomb Launcher.
Owners of the expansion will also get access to new gear and new weapons, including Exotics.
Arriving March 17: The Division 2 and Warlords of New York on Stadia
The Division 2 and Warlords of New York expansion will launch on Google's new generation gaming platform, Stadia, on March 17. On Stadia, both the game and its expansion will also feature cross-play capabilities with PC, allowing Division Agents playing on Stadia and PC to play together. 
In order to experience cross-play capabilities, players must link their Uplay account with their Stadia account. In addition to cross-play, cross-progression will let players carry their Agent progression across both Stadia and PC.