Part 4 of our quick games to play at home series. #StayHomeGameOn
Have you ever played a game and thought to yourself only if you could get more powerful to defeat a particular boss? Well, possibly a lot of repeat runs later, you can just do that in this one.
From developer Motion Twin, Dead Cells is a rogue-lite, metroidvania inspired, action-platformer. You'll explore a sprawling, ever-changing castle, assuming you're able to fight your way past its keepers in 2D souls-lite combat. No checkpoints. Kill, die, learn, repeat.
Dead Cells, is a breath of fresh air to the platform game world. With the deep and detailed game design and dark humor you find yourself immersed into a never-ending hack-and-slash utopia. 
It is astonishing that with each run you do, you can be totally different to the previous, and with an abundance of weapons like the nutcracker hammer, to the electric whip there are so many ways to play and attack in this game. You can spend many hours playing and still discover new enemies and souls to take, which adds to the addictive appeal.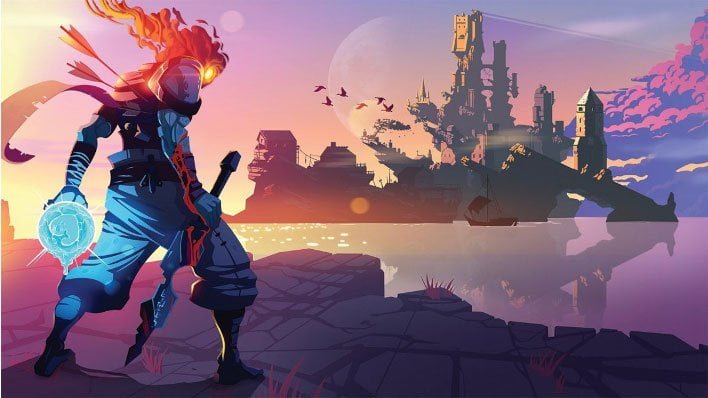 The Foundation
You spawn in the cells of the dungeon, which we still don't know why or to how the prisoner got there in the first place? But nonetheless from the moment you spawn there is a race against time to maximize reward. Yes, there is a timer and if you are fast enough you can gain access to loot doors that have amazing loot if you get there in time.
Now there are many levels to run through, but damn, they are well designed and artistically pleasing to the eye; additionally, there is some level of investigating and research to move forward in the game. 
Once combining timed runs with ever growing knowledge acquired from the previous runs, you will find yourself starting to understand the nuances of the game which starts to evolve the player into a wiser one, knowing the routes to wherever he wants to go. Every weapon, clue, artefact and skill you acquire is evidence that you are delving deeper into the game and understanding it better, which I personally think is super important in any platform game. 
Each run comes with a different layout, enemies and loot, which is the peanut-butter and jelly of the game. You will find yourself entertained and far from bored because you don't feel that sense of repetitiveness, which was done right. When it comes to platform games, the bane or killing point of the game is when a player finds him/herself bored from repetitive design and thankfully this game isn't that at all.  
Respawn
This is simple, each time you push a little further, gain a little more power or a better weapon. When you respawn, you are more powerful than the last time.
The whole point of this game is to risk each level and then possibly die, but that risk pays off a good reward with your next run. Now some of you will be thinking, why do I want to play a game where I die and have to start all over again?
Well it is addicting, because even though I have died so MANY times, I spawn with more excitement because I know that I will destroy everything in my path and become a monolith of power and destruction AND IT FEELS GOOD. I think Motion Twin's put allot of thought into this particular element of the game, and they did a really good job at it. 
Intensity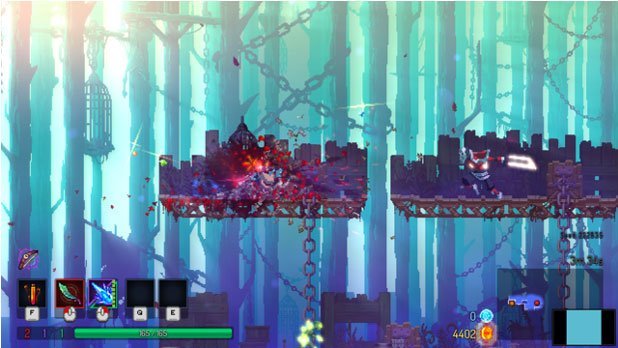 I mentioned each run comes with its changes compared to the last… and I feel I know why. Each run never fails to activate this intense feeling when playing. I am always finding myself with 100% concentration and full throttle effort. The everlasting intensity is what drives the player forward in the game, without the intensity and determination that follows, there won't be much progression through each run. Each time I respawn I know there is the fear of the unknown and when I think I have seen it all, boom a new weapon drops that is either funnier or more awesome than the last! Think about borderlands loot variation, now think of the variation put into a platform game.
Don't feel bad if you have tons of gold and then you die! Weapons, buffs and skills never go away, which is the essence of game progression. After you die many times in hilarious ways, you can be rest assured that not all is lost.
Timing
The importance of speed is unfathomable and Dead Cells really does stand out from the rest when it comes to timed runs. The risk / reward rule is proportionate to how much faster you dodge, jump, and plow through the mobs, which in return, new toys and skills will come your way. The reward far out ways the risk, which makes death not that annoying because when you respawn, you respawn even more of a legend with more tools of destruction.
Verdict
The overall gameplay is smooth and fluid, I didn't find myself annoyed or frustrated over the mechanics which are important to any game fundamentals. The risk and reward factor is definitely a highlight, and very satisfying as well.
The mystery behind the prisoner and the game in whole, is enticing to continue to find out more, with secrets and dark nuances you will find yourself trying to decode the puzzle. The array of perks, weapons, and skill choices adds longevity to gameplay as there are many combinations to try out and suit the players game style.
Thanks to GOG.com for providing us with a copy of the game!