Reviewed on PS4
NBA 2K is one of those established annually released sports-game franchises that brings the heat of a sport like basketball to your living room. It's big, it's confident and fans know exactly what to expect each year. This year we have the very last installment that comes out before next-gen: NBA 2K21.
As someone who actually plays the sport, playing an NBA 2K game for the first-time-ever, I aim to objectively draw comparison with the real deal as well as explain how approachable the game is to newcomers.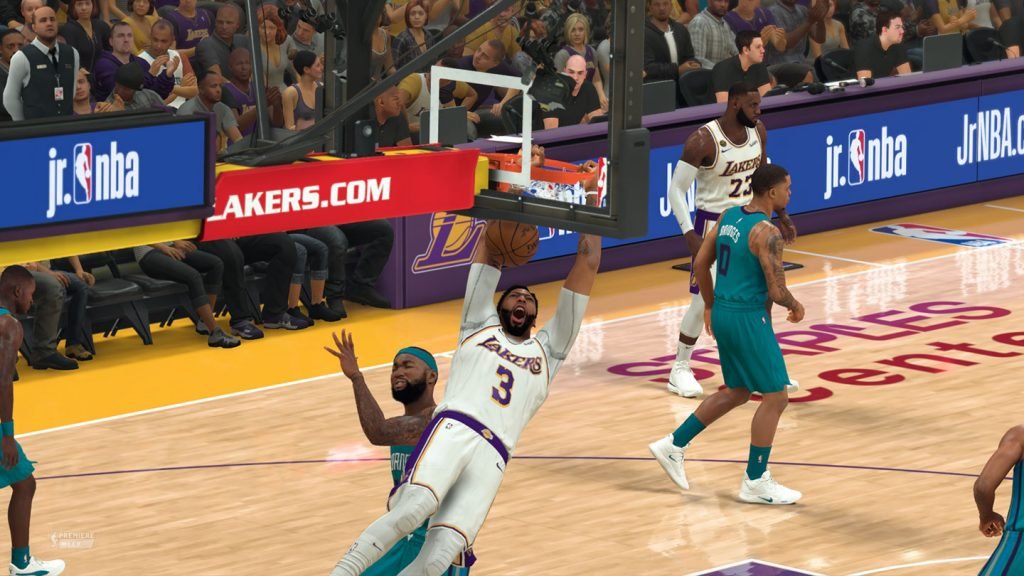 For love of the game
The very first thing I noticed right at the beginning is how visual concepts have rightly captured the whole essence of the NBA. The game puts on a show for you from the start, whether it's the pre-game interviews, fabulous arrival of your favourite NBA stars or even just the overall mood that sets in is just captivating. The game starts before a match even begins, and in this right NBA 2K games have a swagger that's not present in other sports games.
The visuals are always top notch as you'd expect, and with all the energy that's just oozing out at any given time, there was never a dull moment. What blew my mind however was the audio; whether it's reverberation of a basketball bouncing on the hardwood or the satisfying sound of a perfect swish, they are all very accurately recreated here with such unimaginable finesse. It was only while playing 2K21 I realized how much I missed shooting hoops every weekend and following the NBA season.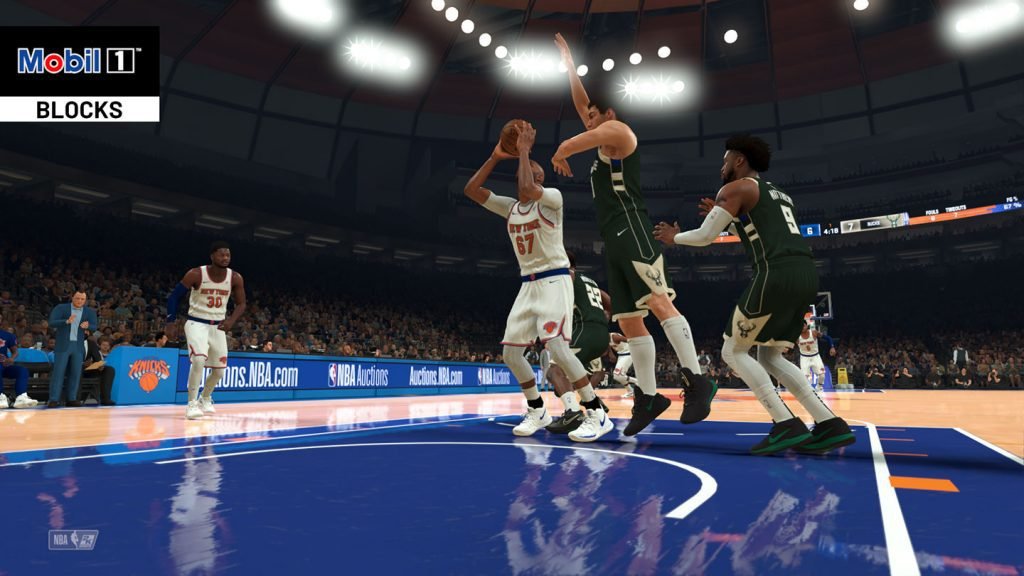 I cannot overlook the fans, because they add so much to the experience at a level that I didn't think was possible yet. Whether you play your home court or not actually makes a difference here.
The audience dynamically adapts to what is happening during the match and this is reflected greatly in their passionate chants and the posters they hold up. They will cheer you on to victory or boo you to provoke mistakes at an opponent's home court.
I absolutely loved this amount of realism, and you can always turn down whatever audio you find distracting if hardcore simulation isn't your thing. I hope to see more involvement from the fans and audiences in future titles. My only complaint with the audio is the repetitive commentary that quickly got stale after a few hours of gameplay, needless to say it was quite energetic. 
The attention-to-detail in this game is truly astounding. There are plenty of references to current events, the previous NBA season, all-time records, memorable old-school league moments and hundreds of other basketball Easter eggs you'll get the joy to discover.
The inclusion of historic teams lets you relive your favourite moments from the past and gives you access to a whole different set of all-time legends. It's pretty evident that the developers have a love for the game, and at times it does feel like a passion project rather than a commercial product.
The road to the NBA
Although a story isn't an integral part of sports games and aren't quite commonplace in sports games (for now), the NBA 2K series was certainly one of the few earlier adopters of it and I think it's safe to say that it has paid off in the end.
This year's MyCareer mode is another step forward towards building a more robust, somewhat-story-driven experience. You're put into the shoes of Junior, the son of a late national basketball hero who switches to basketball from football. He tries to grow apart from his father's shadows by trying to make a name for himself while balancing the legacy and expectations of others, all this while trying to build his own relationships as he progresses.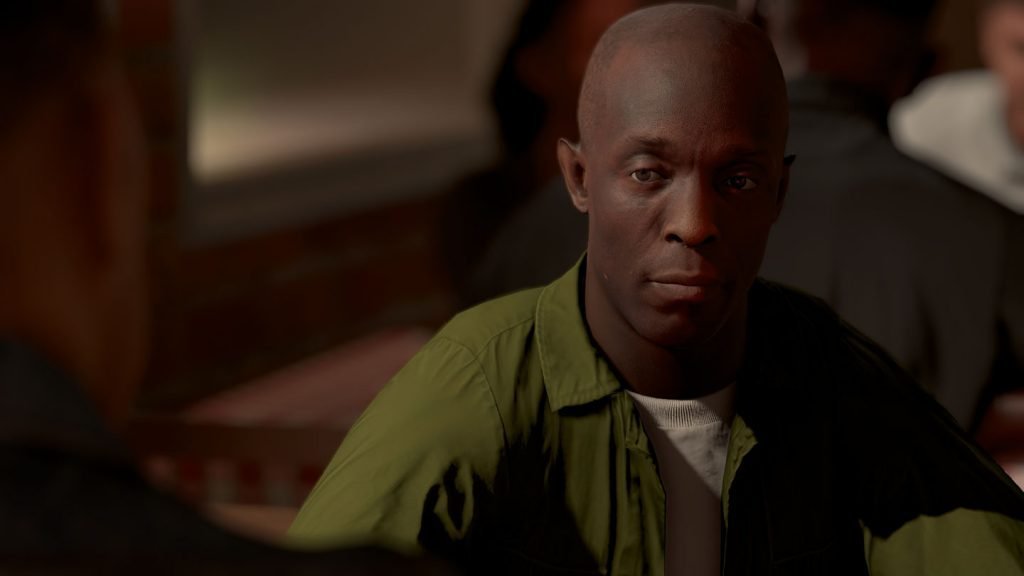 This year, there's more focus on choices that can alter what happens in your version of the story and features an exceptional performance from a star-studded cast including Jesse Williams Djimon Hounsou, Mirelle Enos, Michael K. Williams and cameos from Damian Lillard and Zion Williamson. Apart from Junior's character, some of the supporting characters saw good growth, but certain others were extremely shallow.
The story did spend considerable time outside the court and that helped us understand these characters better and helped the story remain to fresh throughout and I hope to see this trend continue in future games. I wish Junior did have a couple of voice options to choose from instead of being restricted to a single one by default, but generally the voice acting was pretty decent.
2K21 follows the tradition of letting you create your own player or scan your face, helping you personalize the way Junior looks and making his character your own. You can also choose his build type and improve stats by earning in-game currency along the way. In this mode, they've managed to realistically strike a balance between actually being able to earn the currency in-game and opting for the easier route by spending real money.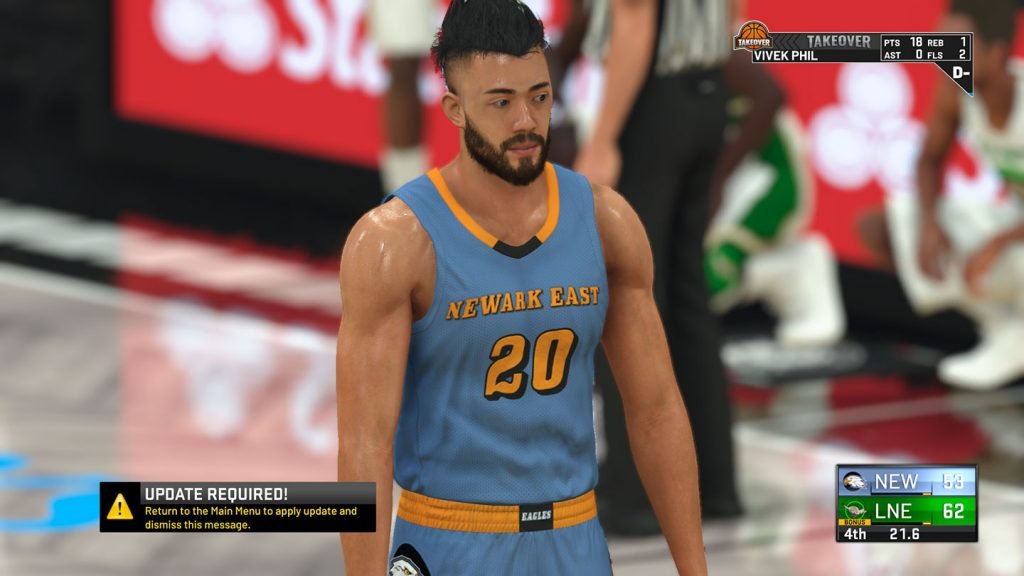 You lead your college team to victory, while making wise choices interacting with others outside court as all this affects your draft prospect; the pressure is absolutely real. The addition of attending the Draft Combine before the day of the draft was a great touch. It's quite a satisfying feeling when your hard work pays off and you finally get drafted, but the journey isn't over there, it has only begun. You can work your way up from being a rookie to the best player in the NBA and 2K21 is the best way to experience it.
Overall MyCareer in 2K21 is not only pretty worthwhile and recommendable on its own, but it also sets a new standard for story modes in sports games and we hope others will soon follow suit.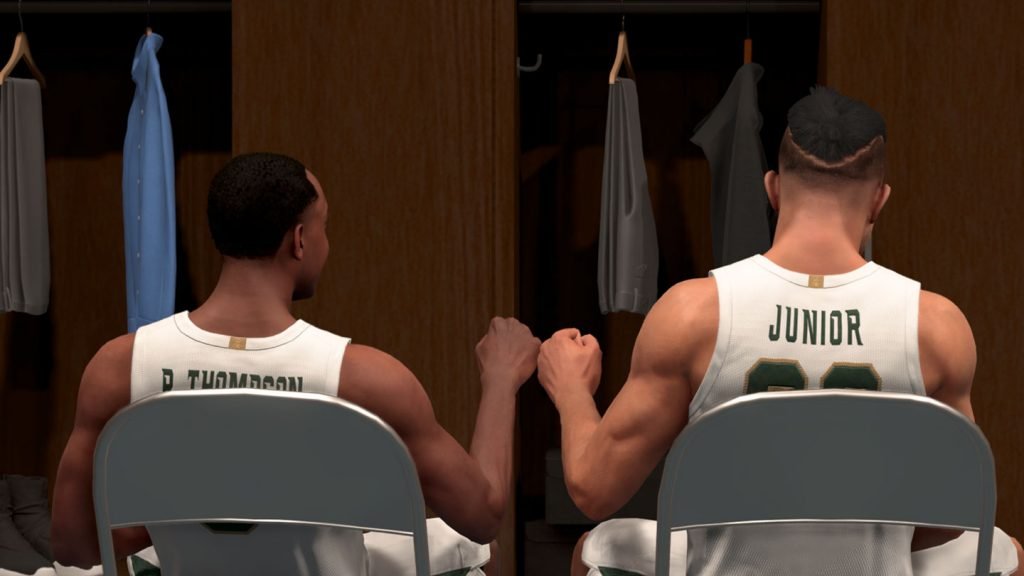 Putting 'em on skates
If I'm being completely honest, I found the gameplay in 2K21 to be extremely difficult at the beginning but that's actually a good thing. 
The gameplay is very multi-dimensional which proposed a steep learning curve. I quickly jumped in after a quick-read through of the controls and lost five back-to-back matches by a large margin. Since the margin of loss didn't reduce with each consecutive game, I went back to the training ground and actually played through the whole tutorial.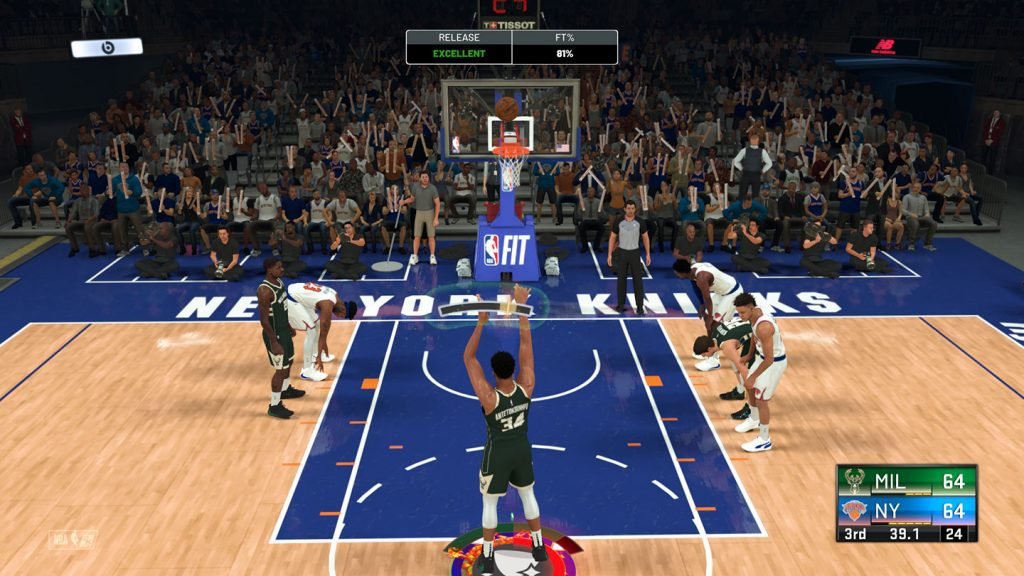 The tutorial covered all the basics and once I took my time to practice them, I was able to get a hang of it after playing a couple of quick games and online matches. Speaking of online play, it understandably took me forever to find another player since the game hasn't been out for too long, but when I did find someone the game was too laggy and unplayable even though I have good signal strength and fast internet speeds. This issue likely won't be present within a month.
Admittedly, the new pro stick shooting system does considerably take some time to get used to, but it is as realistic as it gets to shooting hoops in real life. Mastering it gave me flashbacks to the time when I was struggling with shooting while learning the sport, and I was glad that shooting has such a comprehensive and well-built system instead of just single button.
Your AI teammates are smart and make realistic movements when you have the ball in your hand which helps things run smoothly. On the other hand, defending is also equally solid rendering the gameplay well-rounded.
The game not only featured the visual likenesses of NBA players, but also their style and personality. This is evident with their movements and animations, as well as interviews during half-time or after a match is over.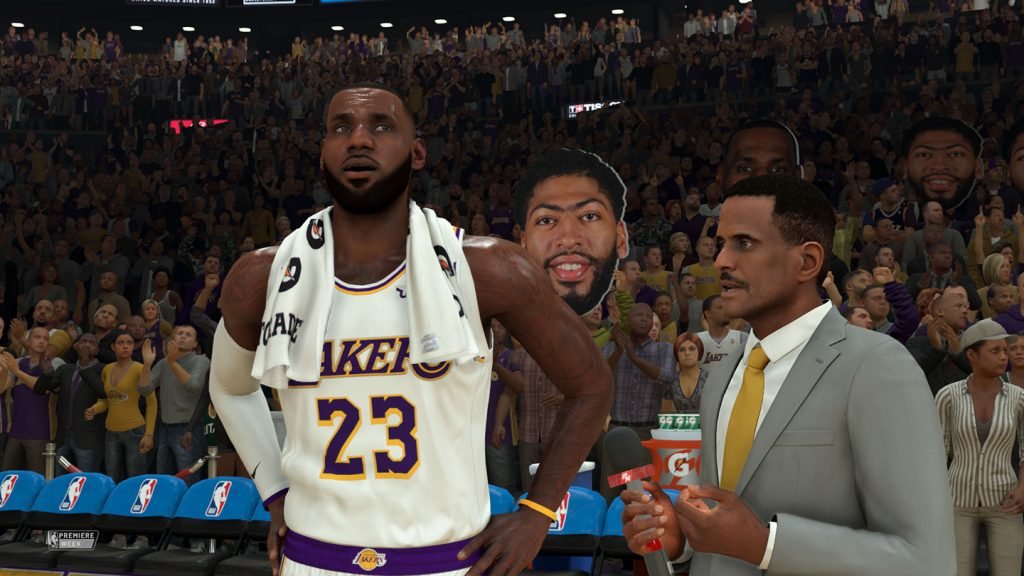 The one aspect of gameplay that I felt needs a lot of work is time-outs. They don't let you change plays and strategies, and instead only allow you to make substitutions. Although the developers have nailed to bring what happens on court during time-outs, they haven't quite brought the behind-the-scenes action to it. Due to this, time-outs feel like a colossal waste of time, especially in MyCareer.
You also cannot make substitutions from the pause menu like you can in FIFA titles, instead you are restricted to time-outs and quick substitutions while the game is going on. This was only a minor grievance and doesn't take away from the overall robust experience.
Ladies' choice
This year 2K brings more WNBA action featuring the female superstars of the league. It felt great to take control of exceptional players like Breanna Stewart and Candace Parker, and the WNBA games are a good change of pace from the NBA.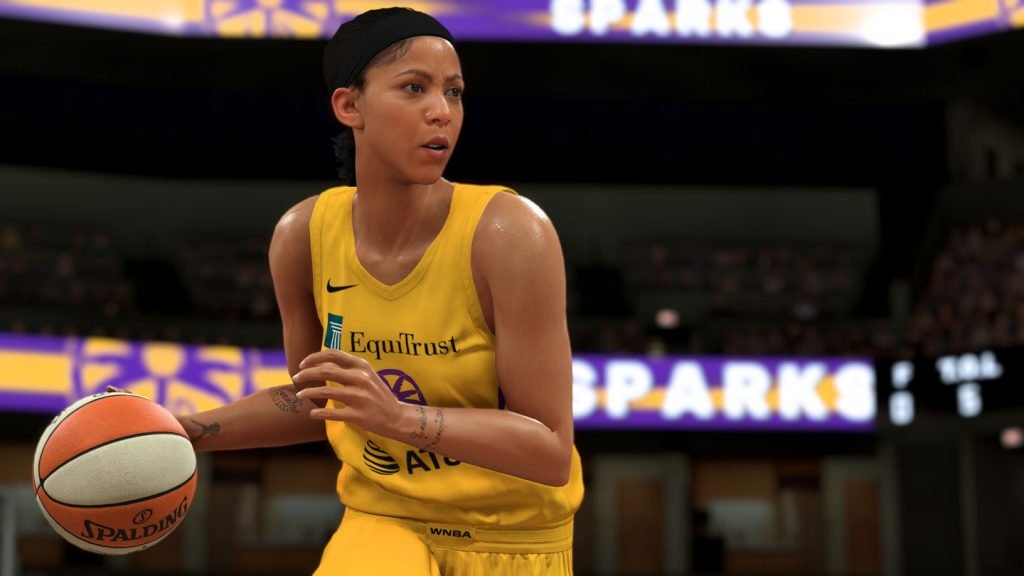 For the first-time ever we get the chance to experience the WNBA and play a season to win the championship, and I had a lot fun adapting to their change of pace and varied playstyles. Moreover, it provides the much-deserved representation needed for these female players, as well as encouragement for the younger females playing the game to achieve their dreams. In my opinion, this is a welcome addition.
One for the team
MyTeam is one of the most, if not the most important modes that players look forward to every year. Since I've already spent a good chunk of my life playing FIFA Ultimate Team, I was really excited to play when I first got hands on the game. Unfortunately, after spending a few hours with it I don't think I'm going to return to it at all.
For starters, progression is frustratingly slow. Rewards seem intentionally blunted and you'll need to play an unrealistic number of matches to earn a moderately decent reward. This is a real problem and enough to drive any player to irritation, but don't worry though because the game comes bundled with a solution: micro-transactions.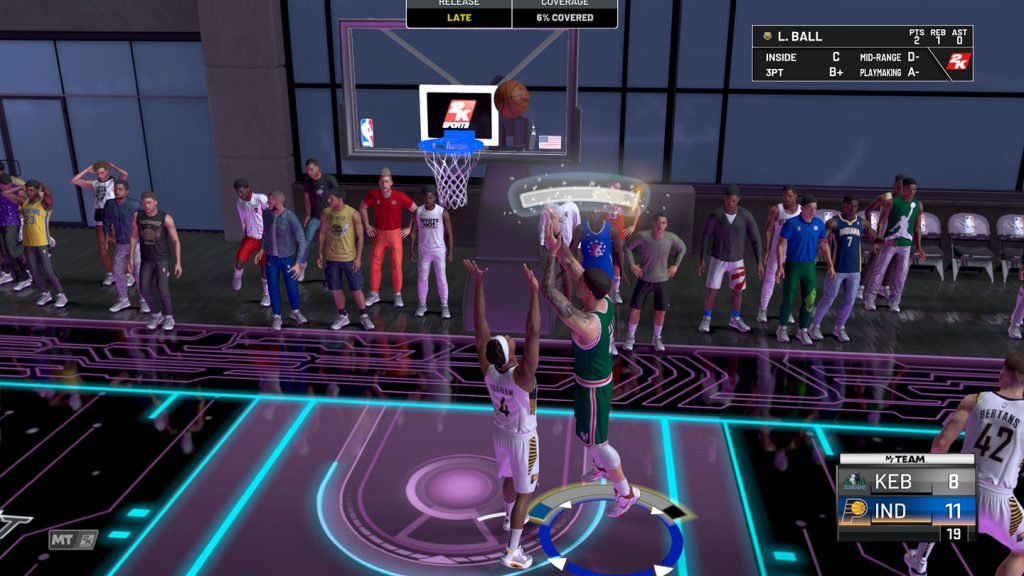 You can purchase more in-game currency through micro-transactions, which you will need to progress at a realistic rate. And a lot of game modes require you to have a player from a particular team or a particular attribute in your team, so that means you really only have access to a limited number of game modes in MyTeam if you plan to play without paying.
MyTeam could've easily been the best mode and strength to this game if it wasn't for this poor method of execution. Luckily there are plenty of other well-realized modes like MyLeague for example, so you'll never run out of having something worthwhile to play.
Remembering the 'Black Mamba'
Kobe Bryant and his daughter Gigi Bryant passing away at the beginning of this year on the 26th of January, 2020 was the most devastating news for a lot of us. One of the most iconic and influential players of all time, Kobe was an inspiration to most of us "basketball kids" in the early 2000s.
So when the Mamba Forever edition was announced for 2K21, I was looking forward to him receiving a proper tribute in the game and it upholding his legacy. Unfortunately, they failed to deliver what us fans were expecting.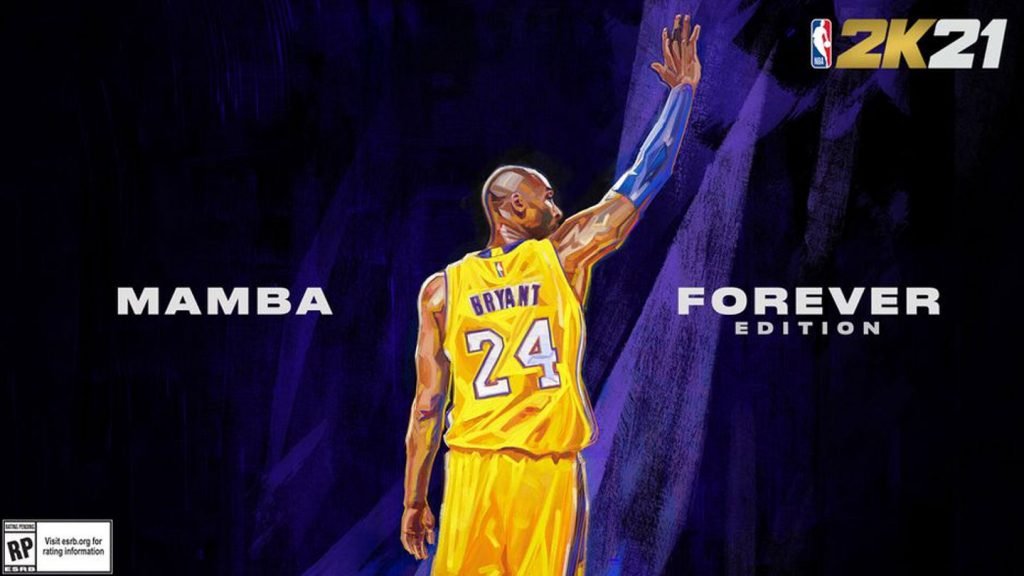 While we were all expecting something similar to 2K11's The Jordan Challenge mode, we got nothing of such. There were no additional game modes featuring The Black Mamba, nor a tribute to him. This $40 extra version of the game only features Bryant on the cover and free upgrade to the next-gen version. Players didn't even get a poster or his picture on the disc art of the game.
Understandably, this led to disappointed fans to and uproar on the internet saying that "Kobe deserved better". According to my speculation, the game was probably halfway through development when this unfortunate event happened. Hence, it makes sense why the developers weren't able to include such a mode in the game.
I hope that next year's game will have a separate mode dedicated to him and will feature him on the cover. This way both the fans and the legend himself will get the tribute that he so clearly deserves.
Verdict
NBA 2K21 brings the NBA experience and delivers authentic, satisfying and solid gameplay besting their own efforts from last year. With expansive modes like MyLeague and breaking boundaries with an engaging story in MyCareer, you'll never run out of things to play.
If you're willing to overlook the flaws of MyTeam and just want to enjoy some smash-mouth basketball with the absence of this year's real-life NBA season, this game will absolutely satisfy your needs.