Razer will bring its global community together for the inaugural RazerCon, a full-day digital event produced by Razer and its network of hardware and software partners. RazerCon 2020 will be held on October 10, 2020 and will be live-streamed across Razer's major social network channels, including Twitch, Facebook, YouTube, and Twitter.
RazerCon attendees can expect to tune-in to a variety of exciting events and activities, from exclusive reveals of new Razer products, to previews of upcoming games. The day will conclude with an online concert featuring performances by fan-favorite EDM and metal acts.
RazerCon 2020 will feature:
Global mixed reality keynote by Razer CEO Min-Liang Tan, hosted against the iconic Singapore skyline
The world's first RGB lighting-reactive livestream
Razer panels held by product managers, showcasing new and unannounced products and discussing design and technology
Exclusive content showcases from multiple game studios such as Romero Games, Perfect World Entertainment, Paradox Interactive and technology partners such as Intel, NVIDIA, and Western Digital
Appearances from gaming celebrities, including an audience meet and greet session with CloakZy and CourageJD, a RazerStreamer panel with PaladinAmber and many more
Concerts by top EDM artists, and metal concert headlined by Sabaton and Herman Li of DragonForce with special guests Tosin Abasi (Animals As Leaders) & Tim Henson (Polyphia)
Viewers will be invited to interact on stream to participate in contests and giveaways for a chance to score attractive prizes such as a brand-new Razer Blade 15, Razer and partner hardware, along with in-game items and beta keys from participating game studios.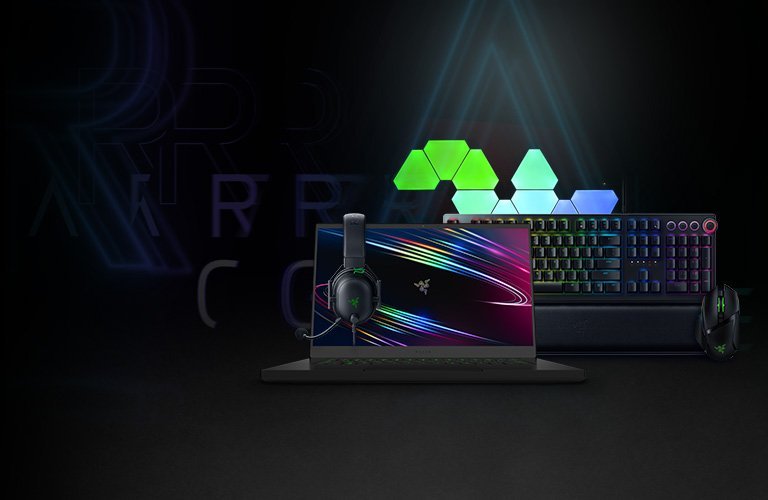 "We have a very passionate and hardcore gaming community that has stuck with us for many years, and the idea of having a major gathering for Razer fans and all gamers out there was brought up countless times," said Min-Liang Tan.
"2020 has been a challenging year for everyone around the world, greatly limiting physical events. We see RazerCon as an opportunity to celebrate gaming and the Razer community while setting a new standard for online events."

Min-Liang Tan, Chief Executive Officer, Razer
Traditional presentations in front of in-person audiences have become a thing of the past in the face of the COVID-19 pandemic. Kicking off RazerCon 2020, Razer's Co-founder and CEO, Min-Liang Tan, will showcase Razer's latest products, services and announcements during a live, virtual keynote presentation set against the iconic Singapore skyline.
The backdrop will be brought to life through immersive mixed-reality technology which incorporates augmented real-time effects, along with live-composited visuals taken from real-world photography and video footage – all this while being streamed live.
The world's first RGB lighting-reactive livestream
RazerCon attendees will be in for an audio-visual treat in the first-ever livestreamed event powered by Razer Chroma RGB lighting (patent pending), a proprietary RGB lighting technology system that features 16.8 million colors to create endless animated lighting effects.
Viewers around the world are encouraged to turn on their Razer hardware during the show and watch their Razer Chroma-enabled devices sync and dance to world-class performances from top EDM artists, and heavy metal bands Sabaton as well as Herman Li from DragonForce, all of which are part of the RazerCon post-event concert.
The concert portion of the online convention will also tout sound enhanced by the audio engineering experts at THX Ltd, which have been responsible for not only implementing THX Spatial Audio to high-end hardware products, but also delivering it to numerous digital events like the Ocean Meets Festival Music Event.
Exclusive showcases from Razer's product teams and global game and technology partners
Beyond getting up close with the latest and greatest Razer products as well as new innovations exclusively revealed during the show, viewers will be treated to exclusive previews of upcoming game titles in a true celebration of everything gaming.
Game titles include Empire of Sin by Romero Games, with a highlight of the title's game pillars introduced by the legendary and award-winning game designer, Brenda Romero, a brand-new look at the wild frontier of the upcoming dungeon crawler Torchlight III from Echtra Games and Perfect World Entertainment, as well as a glimpse into the movie adaptation of Mutant Year Zero, directed by Hasraf 'HaZ' Dulull.
Attendees can also expect content from many other premium partners supporting RazerCon, such as Intel, Microsoft, NVIDIA, Western Digital WD_BLACK, ASRock, Paradox Interactive, Perfect World Entertainment, Capcom, and many more.
Interested fans can register their interest in the event from now and take part in contests and giveaways leading into the event for a chance to win attractive hardware from Razer and supporting partners.
RazerCon 2020 is on 10th October 2020, starting with the Razer CEO Keynote at 9:00AM PST (8:00 PM, in Dubai). For more information, click here.