On the 12th of July, Ubisoft kicked off its first all-digital event, Ubisoft Forward. One of many games the event focused on was its first entry into the battle royale scene, Hyper Scape. A free-to-play fast-paced urban first-person shooter set in the distant future of 2054, where contenders descend upon the virtual city of Neo-Arcadia to engage in action-packed and fast-paced matches to be crowned champion.
The Event
The Hyper Scape showcase started off with a promising story trailer which suggests that Ubisoft is planning to give the game's lore a lot of importance, the trailer was then followed by a short introduction from the game's creative director, J.C. Guyot.
With the announcement that the game is now in open beta, let's see what's new.
Crown Rush Solo, a 100-player free-for-all version of its main Battle Royale mode.
Two new limited time modes: Hack Runner Squad and Turbo Mode Squad.
Open Beta includes one new hack and weapon, Shockwave and Harpy respectively.
All new features to the innovative Crowncast Twitch extension, including Battle Pass progression by watching Hyper Scape live streams on Twitch and the ability for streamers to invite viewers directly into their squad from Twitch chat.
A new Event called Haste that increases the game's speed for all contenders.
A free 30 tier battle pass alongside an in-game shop offering additional customization options.
Just Another Battle Royale?
This is the question that went through my mind when I first saw the game. Rather naively, it seemed like a reskin of every other free-to-play battle royale that has released in the past few years, but look closer and you'll find a surprisingly refreshing take on a genre that has already taken over the industry.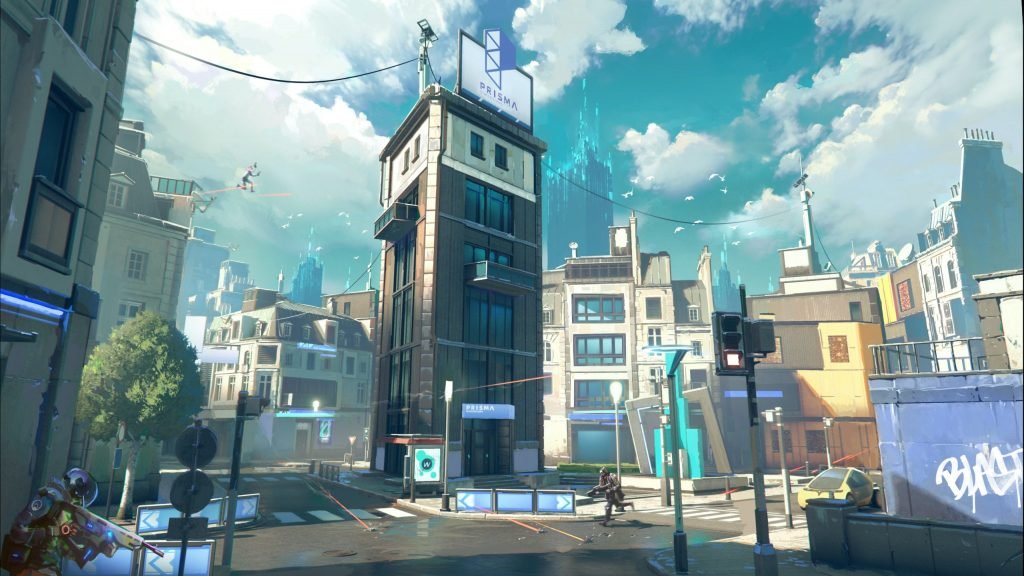 With a lighter tone and an urban art style, the game already feels different, the virtual city Neo-Arcadia is easy on the eyes, features unique districts and brings verticality to the next level. With diverse gameplay elements like hacks (Special Abilities) and fun dynamic weapons, the battle royale already stands out.
What do fans think?
With the game's unique features and noticeable commitment from the team, Ubisoft seems to have struck a chord with battle royale players, with fan-made forums already thriving, players seem to want this game to work out.
Some players have understandably pointed out that aspects of the game including certain weapons require balancing, being in open beta, this is expected, and is sure to be fixed by the Ubisoft team. With praise from casual and pro players alike, Hyper Scape is bound to be a successful game if done right.
Gameplay
Hyper Scape is a fast-paced shooter with elements from both battle royale games and arena shooters. With the game's dynamic gunplay and thrilling verticality, the gameplay is certainly interesting.
Hacks are a big factor in the game, they are lootable special abilities found across the map that grant offensive and defensive capabilities to suit all playstyles, they let you teleport, build walls, turn invisible, and much more. Many of these abilities improve the mobility of players along with the natural verticality of the map which often results in an exciting game of cat-and-mouse with your opponent.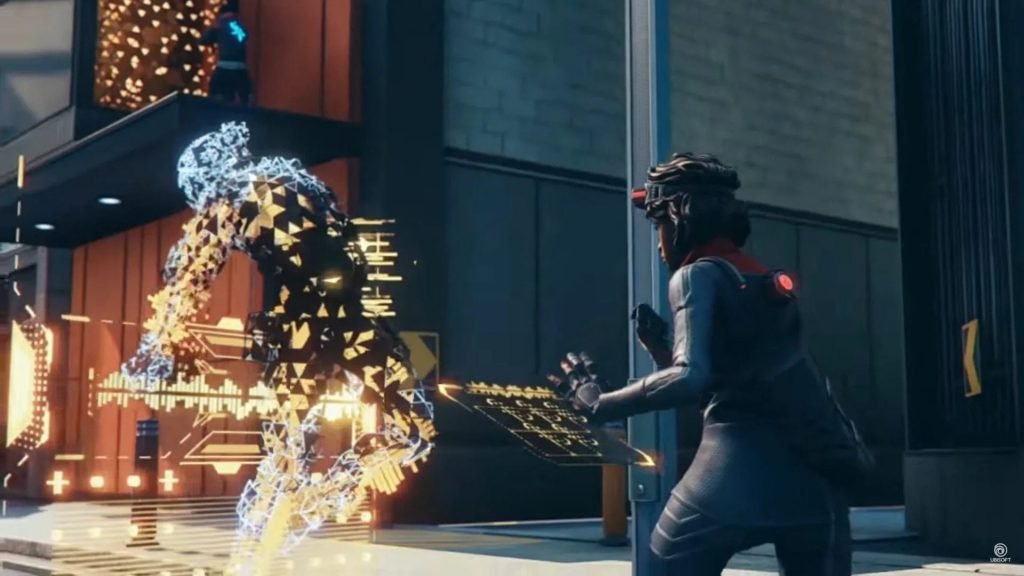 Dying in the game turns you into an Echo, Echoes have no health, are completely invisible and can move around as normal. To be revived you have to wait for your allies to kill an opponent which gives access to a restore point, walking into it lets your ally revive you.
Like other battle royale games, the map gets smaller during the course of the game, in the final moments of the match, the showdown phase begins, where the Hyper Scape crown spawns on the map. Players have two ways of claiming victory, either by picking up and carrying the crown for forty five seconds or by being the last player or squad standing.
What's Next?
With plans to expand the game and its lore, Ubisoft's Hyper Scape is a game to watch out for, with it's amazing verticality, delightful art style and unique gameplay elements, its one of the more surprising releases this year.
Ubisoft has informed that all open beta progress will carry over through future live phases and into the full launch across PC and console later this summer.
If you missed out on the Ubisoft Forward event, read our roundup by clicking here