Cyberpunk 2077 is an upcoming role-playing game developed by CD Projekt Red, the same people who brought us the highly acclaimed The Witcher series, but you already knew that.
Keanu Reeves
Cyberpunk is one of the most anticipated, if not the most anticipated game of 2020. If you're one of the last people in the planet who has never heard of this phenomenon before, watch this 2019 trailer featuring the 'breathtaking' Keanu Reeves.
The legacy of the game has been established much before as a teaser first dropped in 2013; since then it has won over a hundred awards including a 2018 Golden Joystick Award for 'Most Wanted Game' and a Titanium award in 2019 for 'Most Anticipated Game' even before its release! The game has been in development for over eight years and a lot of fans have boarded the hype train throughout the years.
The World of Cyberpunk
Created by the legendary Mike Pondsmith, the game takes place in a fictional dystopian city called Night City, in the state of California and if you haven't guessed already, it is set in the year 2077. Night City is crawling with robotics and skyscrapers, as well as neon lights and an abundance of poverty. The city has been voted the worst place to live in America, as said by the protagonist, V.
It is overrun with corruption and crime and is in reality run by corporations that have no regard for the people. The citizens take initiative to defend themselves as they've lost faith in the government a long time ago. Robotics have advanced to such an extent that even the poor are able to afford cybernetic modifications. Due to the division in the social classes, the rich remain very rich and the poor remain extremely poor.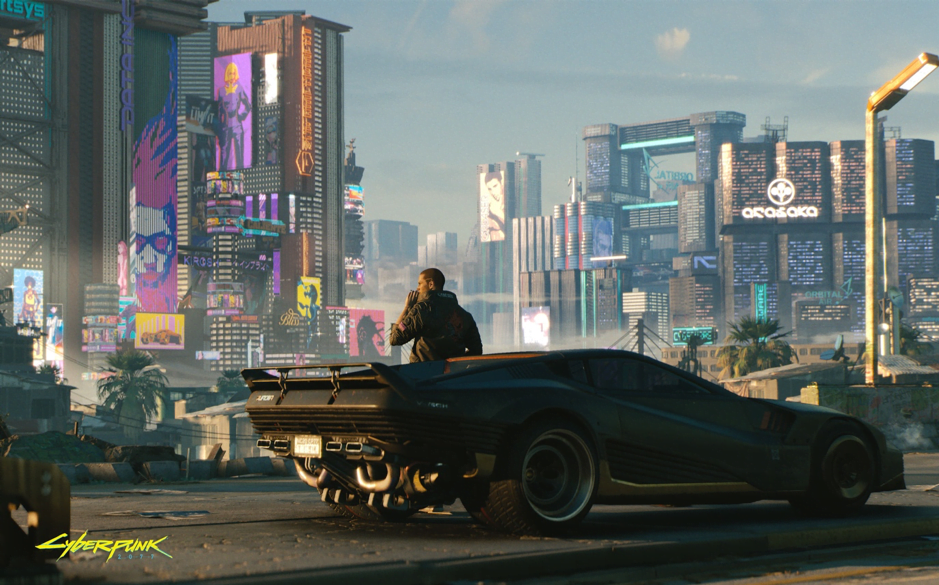 Although Cyberpunk doesn't boast a very large open world like some of the studio's other games, the city has six districts and is expected to be very vertical in nature with semi-destructible environments, as well as have a wide array of side activities such as hacking, boxing and car racing just to name a few that will keep players engaged for hours apart from its deeply engaging, narrative-driven main story.
Character Customization
The protagonist is a mercenary called V, who is completely customizable according to your preferences. The character customization system has sure raised some eyebrows, but it contributes to the overall experience of the game by helping the protagonist feel personal to you.
The game features no fixed class system, this means that you are free to adopt any playstyle that you resonate well with, or a combination of them which creates a hybrid playstyle, whichever you find more comfortable. The game also doesn't feature a traditional morality system akin to the ones we've seen in games like Infamous Second Son, instead this is replaced by a reputation system called 'street cred'. The selectable backstories help you choose your past from three options – Nomad, Street Kid and Corporate. Each upbringing has its own advantages and disadvantages and will affect your skills and how those around you view you.
"…this is important because this unlocks special options at important story junctures."

CD Projekt Red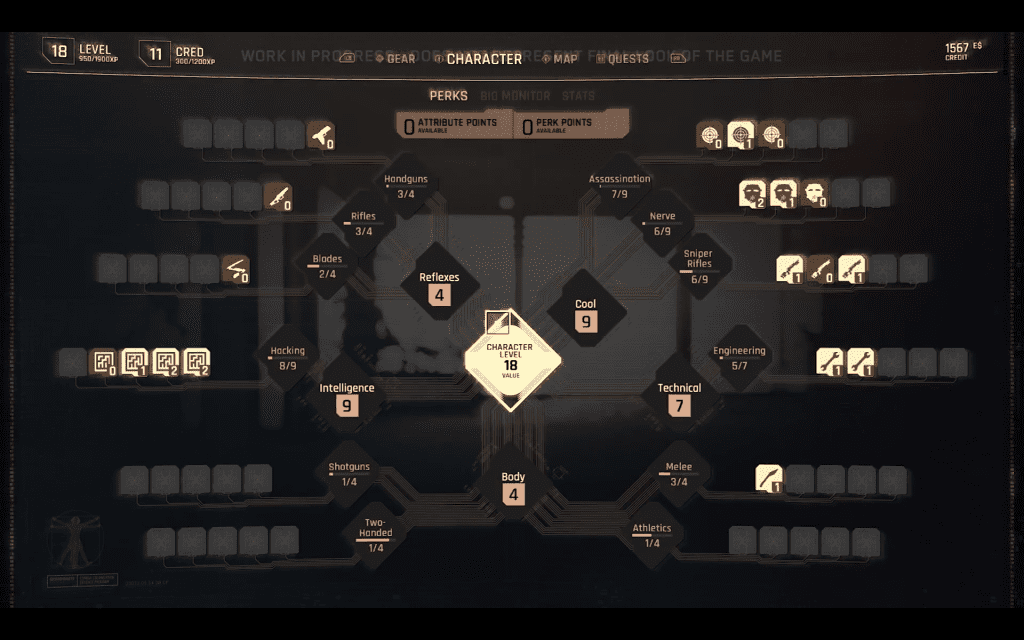 Gameplay Variety
As mentioned earlier, Cyberpunk ditches the traditional fixed-class and morality system in lieu of a more robust hybrid-class and reputation system which makes it more evolved than most modern RPGs.
Interestingly, the game follows a first-person perspective majority of the time except during the driving sequences and scripted cut scenes. The question now arises that since so much emphasis has been put on character customization, is it worth it if the game doesn't follow a third-person perspective? While it was revealed that Cyberpunk would be a first-person only game, it got some mixed reaction from fans. However, CD Projekt Red believes that they've taken a step in the right direction. We are yet to try this game ourselves to see how it plays out, but, we are optimistic that it would be the ideal way to experience this game.
"There are clearly some people who are really strong and passionate [about first-person vs. third-person], but we believe that this is the right choice for this game. Hopefully, when people get the chance to experience it for themselves, they'll understand why we've gone in that direction."

Max Pears, level designer
What is absolutely stunning is the plethora of ways one can approach a situation. The game does provide us with lethal and non-lethal weapons to tackle enemies, but each come with their own challenges. You can go through a level with guns blazing or by performing stealth takedowns, hack through tech and modifications to distract enemies and do all this alone or with a set of loyal comrades beside you, and its entirely up to you.
Granted some games like Watch Dogs or Deus Ex do have some of these similar methods, we've never seen all of these at once and on such a grand scale proving that CD Projekt Red aims both on quantity and quality.
Micro Transactions
Although a few misconceptions led to a slew of articles claiming that Cyberpunk 2077 will have micro-transactions, fortunately, that's not the case. Fabian Dohla confirmed in May 2020, "As we've said before,CyberPunk 2077 is a single-player game with no micro-transactions… The ESRB info is based on the fact that expansions require the base game and are therefore treated as a purchase by the rating board."
CD Projekt Red does plan to add multi-player components to the game eventually after all the planned DLCs roll out, which we can expect to see in 2021 or later. It's too early to comment regarding the game's multi-player.
Release Date, Platforms & Editions
To the dismay of fans everywhere, CD Projekt Red postponed the initial release date in April to the 17th of September, 2020 for the PlayStation 4, Xbox One and PC. This was due to the game taking longer time to develop than expected, their aim is to release the game in the most polished and optimized version possible.
The good news is that the game won't be postponed again due to the pandemic, as Kicinski reassuringly said, "Since mid-March, we have been working from home, while ensuring continuity of all our operations…Our goals haven't changed; first and foremost, we intend to release Cyberpunk 2077 in September. We feel motivated and have the necessary tools at our disposal to meet this goal."
Although their main focus is on the current generation of consoles, those who purchase the game on Xbox One will also be able to play it for free on the Xbox Series X through Microsoft's 'Smart Delivery' program. However, there is no information at this time regarding the PlayStation 5 and Nintendo Switch versions.
You can either pre-order the standard edition (AED 199/PC or AED 249/PS4, Xbox One) or collector's edition (AED 1,049/PS4) of the game. The collector's edition includes:
Collector's Edition box
V in Action Figure 25 cm statue depicting the game's protagonist
Case with game discs
World Compendium
Postcards from Night City
Map of Night City
Stickers
Hardcover art book
Collectible SteelBook®
Quadra V-tech metal keychain
A Guide to Night City sealed in an Evidence Bag
Metal pin set
Embroidered patches
Sticker bomb set
Game soundtrack (digital)
Art booklet featuring a selection of art from the game (digital)
Cyberpunk 2020 sourcebook (digital)
Wallpapers for desktop and mobile (digital)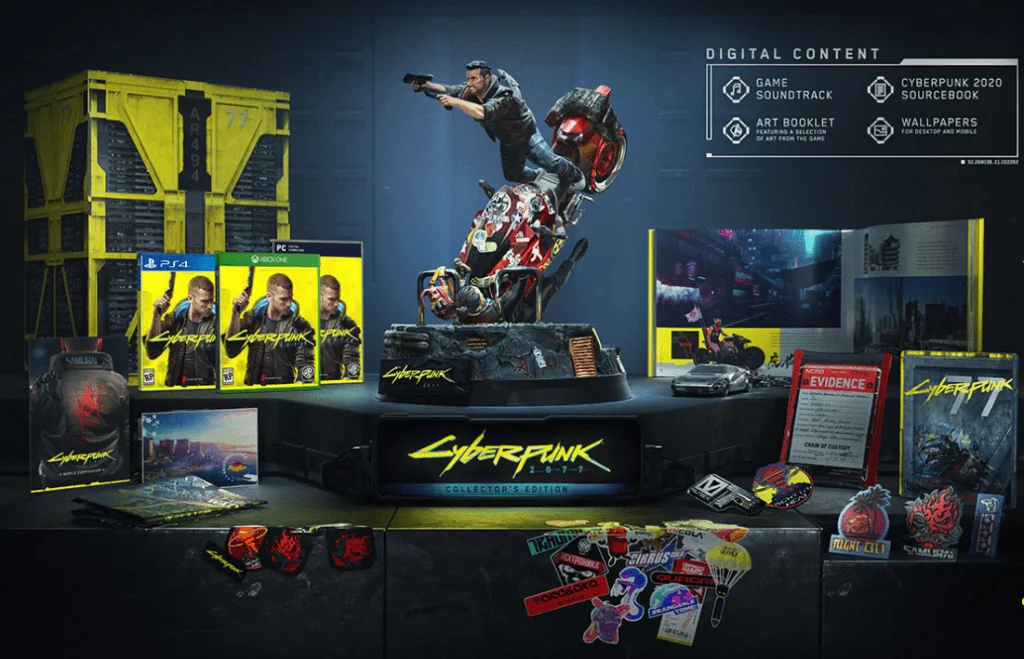 Additionally, you can also purchase the Xbox One Cyberpunk 2077 Limited Edition bundle, controller & accessories.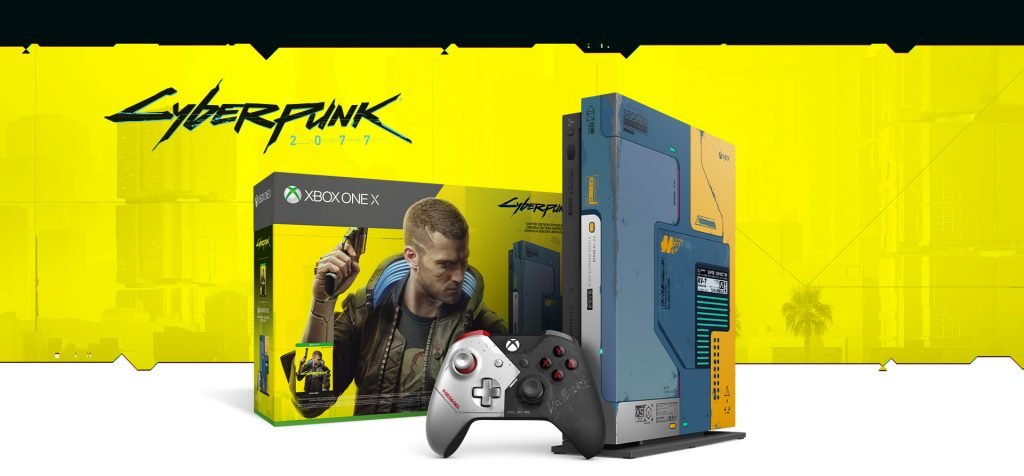 We eagerly wait for this strong 'Game of the Year' contender and hope that Cyberpunk 2077 will exceed all of our expectations, with the legacy that CD Projekt Red has built up over the years we think it most likely will deliver. For more articles on Cyberpunk 2077 click here.
CD Projekt Red Arabia & Middle East Availability
CD Pred has constant stream of updates and information geared towards the ME Market, for up-to date information through social media visit their Facebook Arabia Page over here.
In collaboration with their local distributor Geekay Distribution, CPPR has successfully age rated Cyberpunk 2077 for release in the United Arab Emirates and the Kingdom of Saudi Arabia. The Middle East version of the game will be within the guidelines of the local age rating bodies in both countries.
Cyberpunk 2077 will launch on the 17th of September, 2020 on Xbox One, PS4 and PC, with Stadia at the end of the year.