Reviewed on Playstation 5
The highly anticipated WWE 2K23 has finally arrived, and as a fan of the franchise, I couldn't wait to dive in and see what improvements had been made. With upgraded graphics, revamped gameplay, and new features, WWE 2K23 has a lot to offer both longtime fans and newcomers.
Modes
WWE 2K23 not only lets you enjoy simple matches, but also offers a vast selection of game modes to choose from, each with its own unique features: Showcase, MyGM, MyFACTION, MyRISE, and Universe.
In Showcase Mode, you get to experience the thrill of playing as John Cena's opponents in each match, while he narrates the highlights of his career, offering a more humble and reflective perspective.
MyGM and MyFACTION modes are perfect for those who prefer to explore their strategic side rather than focusing on wrestling. These modes allow you to become a hands-on manager or a stable leader, and are meticulously designed to provide an immersive experience.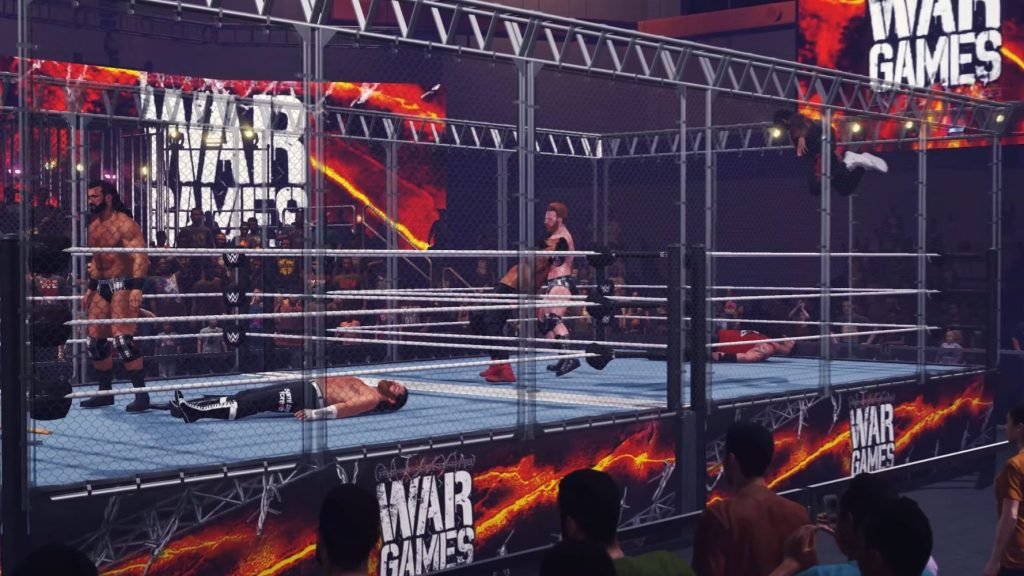 MyRise mode, a story-driven mode, is back this year, taking players on a journey to reach the top of the WWE with their own created superstars. Starting as a meek and self-conscious superstar, players are assigned the nickname "The Lock" by WWE executives. Through pivotal character moments, players can empathize with their created superstar and become motivated to break free from the mold created by WWE executives. With several different conclusions, this mode adds more replayability to the game overall.
In the MyUniverse mode, dedicated fans can take complete charge of their experience, from character customization to feuds, match types, and various other aspects. The Creation Suite offers a plethora of options, including characters, arenas, belts, and even a more granular approach to create your own entrance.
Although microtransactions are necessary to get ahead of online competitors in these modes, WWE 2K23 still offers plenty of fun in single-player affairs, and a wide range of customization options for those who want to create their own fantasy matches on a whim.
Gameplay
WWE 2K23's gameplay is undoubtedly the most significant improvement over its predecessor. The controls have been streamlined, making it easier to execute moves, perform reversals, and counter-attacks.
The game features over 180 WWE Superstars included in the base game. The combat strikes a solid balance between simulation and arcade, with light, heavy and grapple attacks tied to the face buttons, and reversals demanding quick reflexes. The game features a well-designed tutorial that doesn't overstay its welcome, allowing players to learn the basics, tackle them in action, and then dive into the action.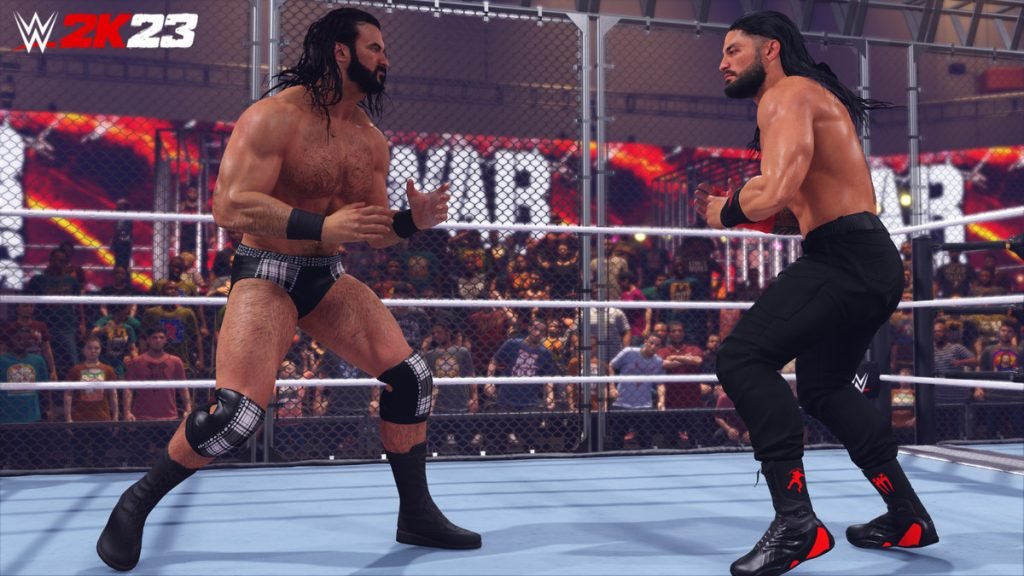 Improvements to free-roaming make it easier to enter and exit the ring, and to climb the ring posts for high-impact attacks. While there are still some minor issues with precise grab controls, the combat improvements in WWE 2K23 are impressive. The action feels impactful, and combos bring a dazzling element to the gameplay. The addition of new animations and move sets provides players with more options to choose from, making matches more varied and dynamic.
WWE 2K23 introduces two major changes to combat: stamina and resilience. Your wrestler's stamina is a far more important resource this time around, and when fully depleted, it will slow you down, lower your defense and prevent you from hitting bigger moves.
The new combat system adds a fun layer of strategy to fights without making them feel bloated, as players must balance building momentum with defending against their opponent's attacks. Overall, WWE 2K23's gameplay strikes an excellent balance between realism and fun, providing players with a satisfying wrestling experience.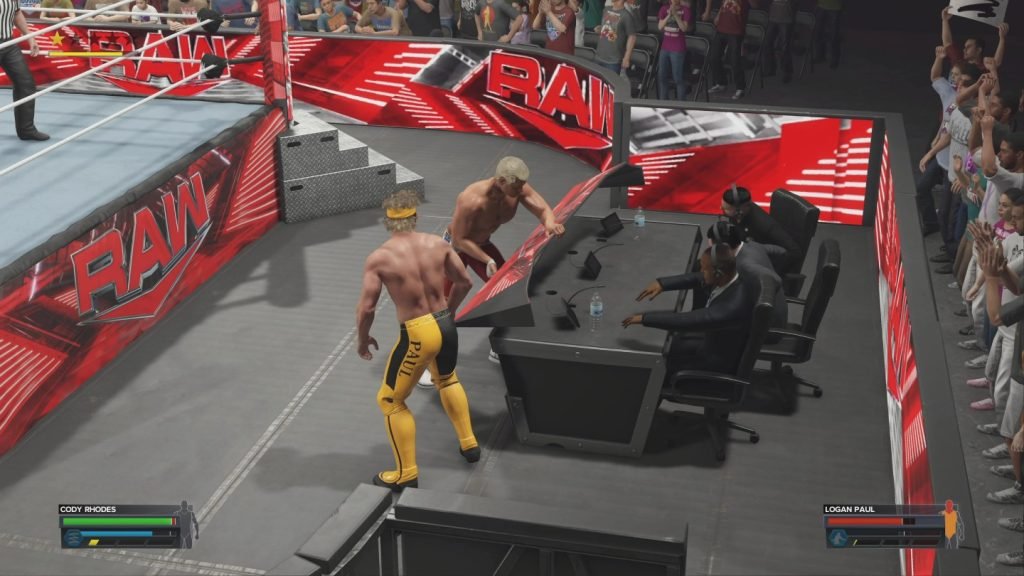 WWE 2K23 offers online and multiplayer modes, and while the online matchmaking can be a bit hit-or-miss, playing locally with friends is a blast. The variety of modes and customization options also help keep things fresh and interesting.
Graphics
WWE 2K23's graphics are a standout feature, with highly detailed character models, lifelike facial expressions and animations, and meticulously recreated costumes and attire for each wrestler. While there are still some notable exceptions and dodgy hair movement, the game boasts a more visually accomplished experience.
The arenas also look fantastic, with lighting and special effects that make matches look and feel like actual WWE events. The graphics help to immerse players in the game's world, making it feel like they are watching a live WWE broadcast.
Music
The game's soundtrack is a great complement to the gameplay, featuring a range of high-energy tracks from rock to hip-hop that provide an adrenaline-fueled backdrop to the action in the ring. The sound design during matches is excellent, especially the sounds from the cheering crowd.
Each wrestler has their own entrance music, adding to the immersion of the game. The sound effects are also well-done, with satisfying thuds and slams that add to the impact of each move.
WWE 2K23 Review Verdict
In conclusion, WWE 2K23 is a significant step forward for the franchise, offering improved graphics, streamlined gameplay, and engaging new features. Despite some minor flaws, the game delivers an excellent wrestling experience that both longtime fans and newcomers will enjoy. If you're a wrestling fan, this is undoubtedly one of the best wrestling games available today.
Although WWE 2K23 is an excellent game overall, it has its flaws. Navigating menus can be frustratingly slow due to long load times, and extended play can make some animations feel repetitive. Nevertheless, these minor issues do not significantly detract from the overall experience.