The Asus ROG Rapture GT-AX11000 Pro is a high-end tri-band WiFi 6 gaming router that promises speeds up to 11,000Mbps. It is designed for gamers who demand the best possible performance and features.
The router is equipped with a 2.5G port, a 10G port, and enhanced hardware to deliver fast and reliable connections. It also features ASUS RangeBoost Plus technology, which extends the range of the router's signal. The router also includes Triple-level game acceleration, which prioritizes gaming traffic for a smoother gaming experience.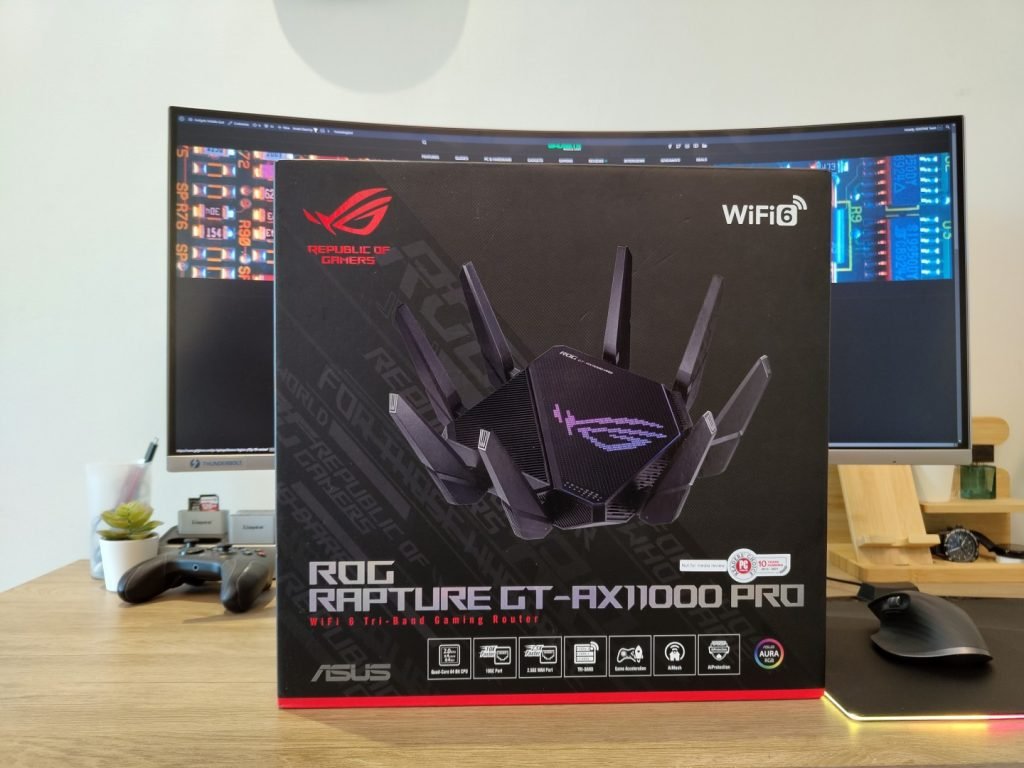 Highlights
Tri-band Wi-Fi 6: The router supports the latest Wi-Fi 6 standard, which provides faster speeds and better performance than previous Wi-Fi standards.
2.5G port: The router has a 2.5G port that can be used for WAN or LAN connections. This port can be used to connect to a high-speed internet connection or to create a high-speed network within your home.
10G port: The router also has a 10G port that can be used for LAN connections. This port can be used to connect high-performance devices, such as NAS devices or high-end gaming PCs.
ASUS RangeBoost Plus: ASUS RangeBoost Plus technology extends the range of the router's signal for better coverage throughout your home.
Triple-level game acceleration: Triple-level game acceleration prioritizes gaming traffic for a smoother gaming experience.
Free network security: The router comes with free network security features that protect your home network from hackers and other threats.
AiMesh support: The router supports AiMesh, which allows you to create a seamless wireless network throughout your home using multiple ASUS routers.
Specifications
Standards
IEEE 802.11ax
IPv4
IPv6
WiFi Speeds
AX6000: 1148+4804 Mbps
2.4GHz AX: 4×4 (Tx/Rx) 1024 QAM 20/40MHz, up to 1148Mbps
5G-1Hz AX: 4×4 (Tx/Rx) 1024 QAM 20/40/80/160MHz, up to 4804Mbps
5G-2Hz AX: 4×4 (Tx/Rx) 1024 QAM 20/40/80/160MHz, up to 4804Mbps
Antenna
External Fixed Antenna x 6
WiFi Technology
OFDMA (Orthogonal Frequency Division Multiple Access)
Beamforming: standard-based and universal
1024-QAM high data rate
20/40/80/160 MHz bandwidth
WiFi Encryption
WPS support, WPA/WPA2/WPA3-Personal, WPA/WPA2-Enterprise
WAN Types
PPPoE, PPTP, L2TP, Automatic IP, Static IP
Processor
2.0 GHz quad-core processor
Memory
256MB NAND Flash 1GB DDR4 RAM
Ports
1x 2.5 Gigabit WAN Port
1x 10 Gigabit WAN/LAN Port
4x Gigabit LAN Ports
1x USB 3.2 Gen 1 Port
1x USB 2.0 Port
Buttons
WPS Button, Reset Button, Power Switch, LED on/off
Power
AC Input : 110V~240V(50~60Hz)
DC Output : 19 V with max. 3.42 A ;19.5 V with max. 3.33 A
Dimensions
242 x 100 x 325 mm (WxDxH) with antenna
242 x 100 x 164 mm (WxDxH) without antenna
Weight
2180 g
View full specifications here.
Packaging
The ROG Rapture GT-AX11000 comes in a ROG-branded black packaging with red accents and showcases the product's main features and specifications, along with enticing product photos. Opening the package, you'll find the router itself, accompanied by detailed installation manuals, warranty card, a power supply, and an RJ-45 cable for seamless connectivity.
Design
The router's design is big, futuristic and distinctive, constructed from high-quality, durable plastic. It is designed to be placed horizontally, with eight dual-band antennas, ensuring optimal signal reception and transmission.
The main unit of the router takes the shape of a flat cuboid, but what sets it apart are the eight thick antennas that fold out, adding to its overall size. It's worth noting that due to its dimensions, the router requires ample space for mounting. Weighing in at 2180g, the GT-AX11000 Pro makes its presence known with its substantial build.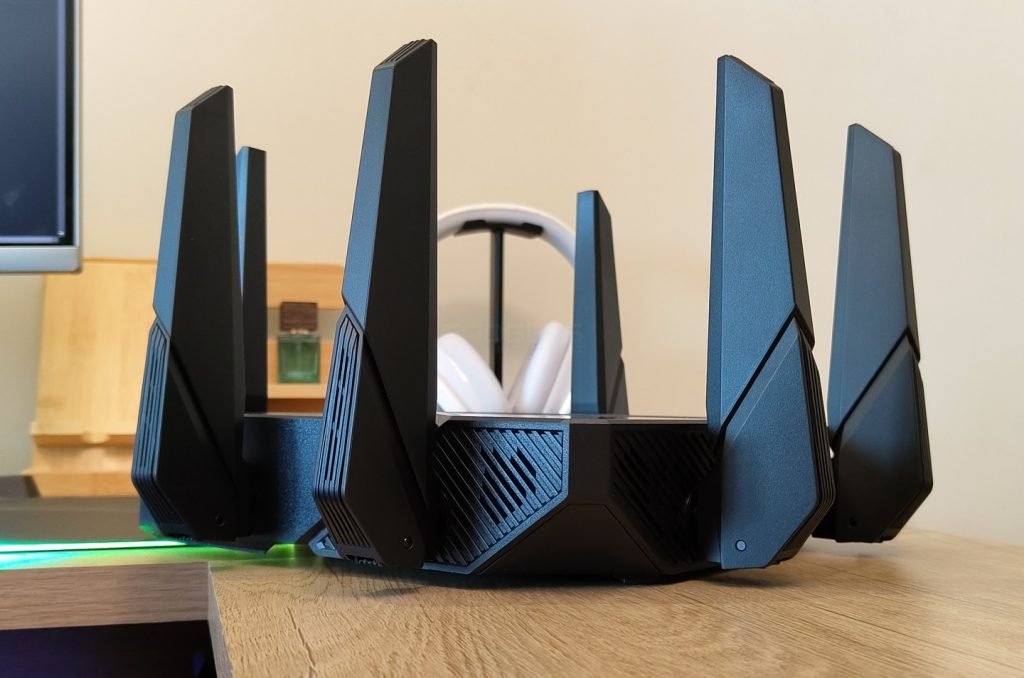 One of the standout design elements of the router is the ROG logo, which is elegantly illuminated by customable LED lighting . Combined with sharp edges and a captivating glossy finish, accented with matte-textures, the router exudes a futuristic aesthetic that specifically caters to gaming enthusiasts.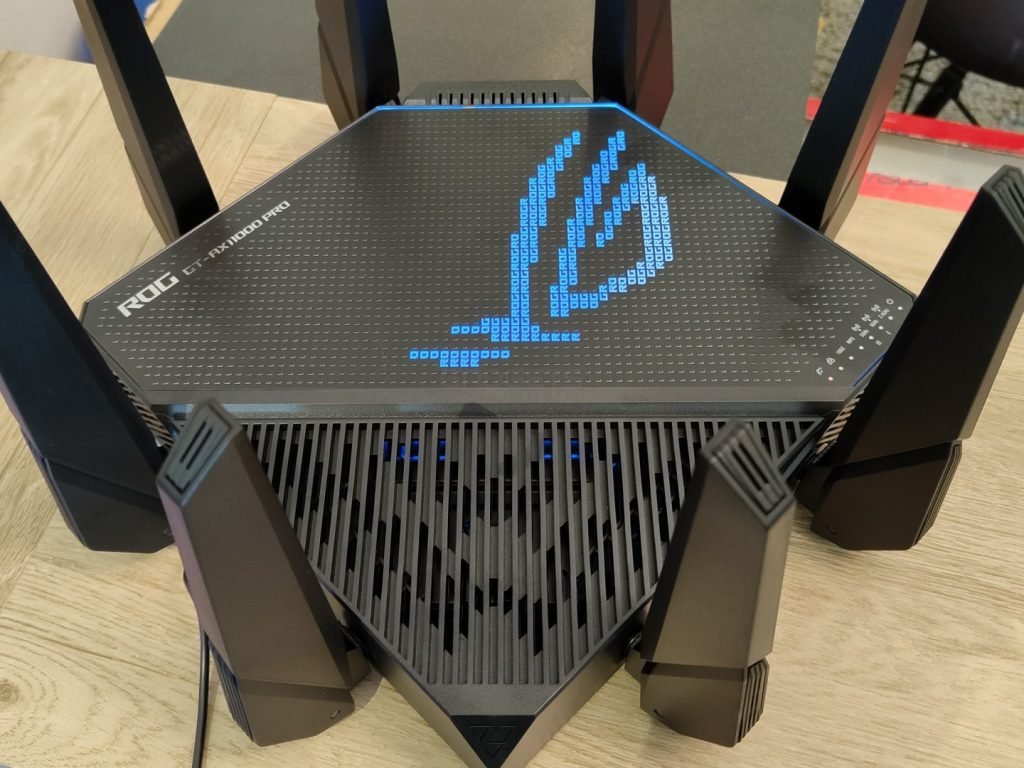 At the front of the router, a series of LEDs provides clear indications for various operations. From WPS and internet connectivity to LAN status, Wi-Fi connectivity, and power status, these LEDs offer a quick visual assessment of the router's current state, allowing for easy monitoring and troubleshooting.
Moving to the back of the router, you'll find a well-arranged collection of ports for convenient access. On the left side, you'll discover a power switch, power supply connector, USB 3.2 Gen 1 port, and a USB 2.0 port. The inclusion of USB ports adds versatility, enabling effortless file sharing over the network using a pen drive or an external disk.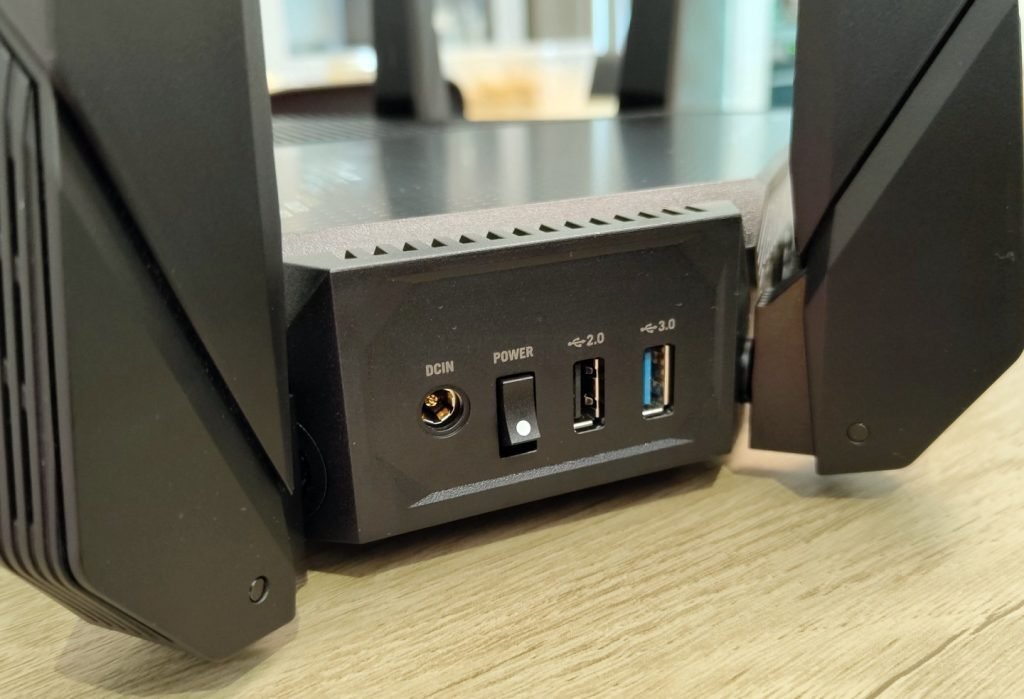 On the right are 4x LAN Gigabit ports, a 2.5 Gigabit WAN port and a 10 Gigabit WAN/LAN Port.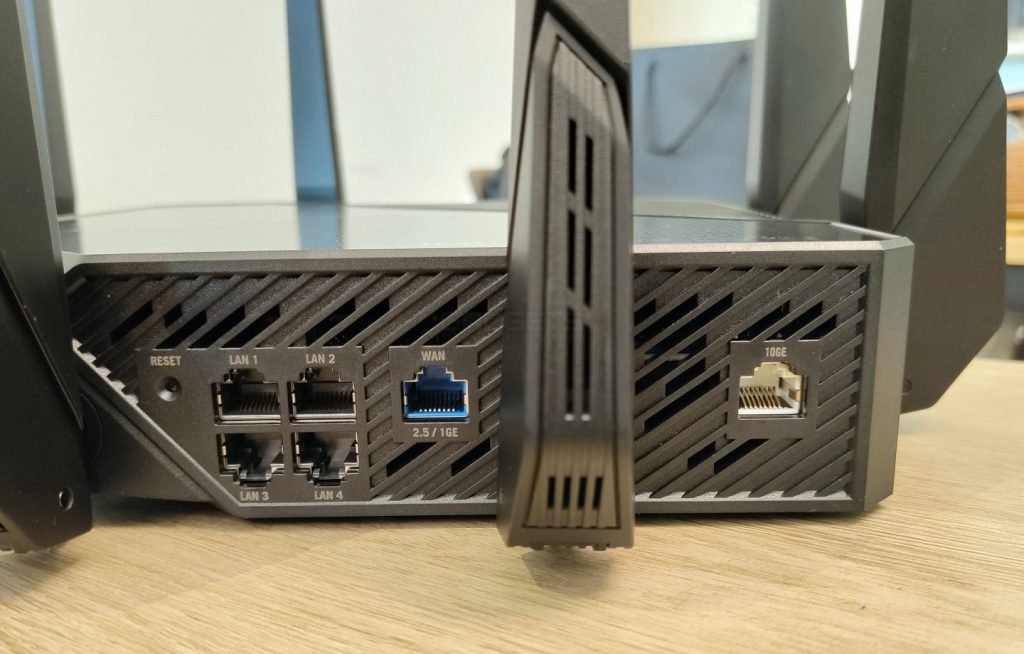 One notable advantage of the TUF Gaming AX6000 is its dedicated gaming ports, which automatically prioritize any wired device connected to them. This eliminates the need for complex configurations—simply connect your gaming PC or console to the special LAN port, and enjoy a fast and stable connection that ensures you remain at the forefront of the queue for seamless gaming experiences.
Software & Setup
The ASUS ROG Rapture GT-AX11000 Pro is equipped with the latest wireless technologies of Wi-Fi 6, ensuring exceptional performance for your gaming and streaming needs. With features like MU-MIMO, OFDMA, 1024QAM, beamforming, and a convenient WPS button, device synchronization becomes seamless and hassle-free.
Setting up the ROG Rapture GT-AX11000 Pro is a breeze, thanks to its user-friendly interface. By accessing router.asus.com, you can quickly configure the router to suit your preferences. The setup process guides you through essential steps, unlocking the extensive range of features this router has to offer.
During the setup, you have the option to customize the names of your wireless connections, making them easily identifiable and manageable. The ROG Rapture GT-AX11000 Pro provides flexibility by allowing you to merge the 2.4 GHz and 5.0 GHz frequency bands into a single SSID. Alternatively, you can keep them separate if desired. In the former case, the router intelligently selects the optimal connection based on signal strength, seamlessly switching between bands as needed.
Bringing together the best of ASUS router technologies, the ROG Rapture GT-AX11000 Pro offers features like ASUS AiMesh and ASUS AiProtection Pro. With AiMesh, you can create a mesh network that expands coverage throughout your home, ensuring a reliable and robust connection. AiProtection Pro serves as a robust network security solution, safeguarding your network against potential threats and providing peace of mind.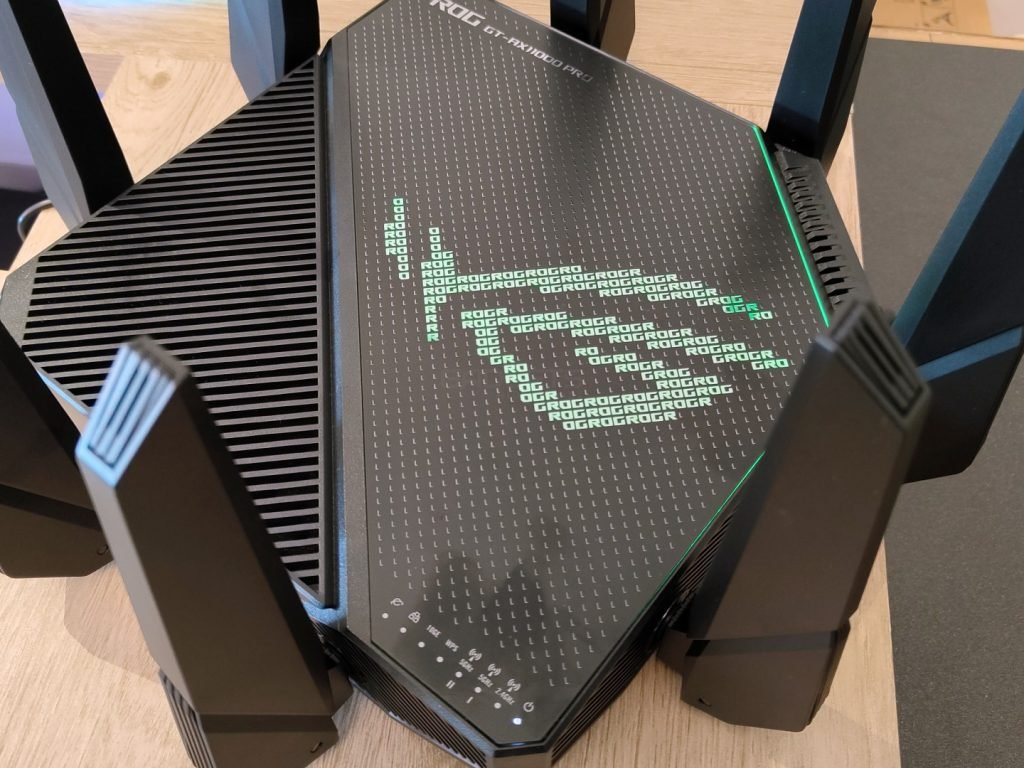 Gamers will appreciate the router's dedicated gaming features. The advanced adaptive QoS (Quality of Service) prioritizes gaming traffic over other data types, ensuring optimal performance for your gaming sessions. Additionally, a dedicated LAN port specifically prioritizes gaming connections, guaranteeing stability and low latency for an uninterrupted gaming experience. The router even supports NVIDIA GeForce Now, enhancing its compatibility with gaming platforms.
The QoS functionality extends beyond gaming, allowing you to fine-tune network performance by tracking and managing network traffic. With the ability to prioritize specific applications such as media streaming, web surfing, and gaming, you can ensure that each receives the necessary bandwidth, reducing latency accordingly. Real-time insights into network load provided by the QoS settings enable you to make informed decisions to optimize performance.
The ROG Rapture GT-AX11000 Pro features RangeBoost Plus, the latest addition to ASUS's collection of wireless network technologies. It incorporates a next-gen Broadcom WiFi chipset and CPU, along with multiple cutting-edge ASUS features, to expand signal range and overall coverage by up to 38%.
Designed with gamers in mind, the ROG Rapture GT-AX11000 Pro offers triple-level game acceleration to enhance your gaming experience. Jitter prevention, lag reduction, and ping improvement technologies optimize game traffic, stabilize connections, and increase network speeds. The first level, Gaming Device and Port Prioritization, allows gamers to connect their gaming devices to the designated gaming port for prioritization. The ROG First utility, Game first V, can also be used in conjunction with the router. The second level, Game Packet Prioritization, utilizes ASUS-exclusive adaptive QoS, Game Boost, to prioritize game packets and handle multiple connected devices and busy traffic. The third level, Game Server Acceleration, leverages WTFast, a network traffic optimization engine, to optimize the route from the router to the game server.
Enabling AiCloud provides the convenience of remotely accessing resources from your router network, no matter where you are, at any time. This feature adds a new level of accessibility and flexibility to your network management.
Lastly, to provide comprehensive network protection, the ROG Rapture GT-AX11000 Pro comes with lifetime free AiProtection Pro. This includes the latest WPA3 security protocol, advanced Parental Controls, and other security features to keep your network safe and secure. The router's mobile app provides a user-friendly interface for monitoring network activities and ensuring a safe online environment, putting the convenience of network management at your fingertips.
Features & Performance
The ASUS ROG Rapture GT-AX11000 Pro boasts an impressive array of features that contribute to its exceptional performance, providing a seamless networking experience. With support for a maximum speed of 11,000Mbps, this router ensures blazing-fast connectivity. Link Aggregation allows you to combine different internet sources into a bandwidth of up to 3.5Gbps, enabling a smooth and uninterrupted online experience. Furthermore, for network-heavy devices like NAS systems, the Rapture can bind two 1Gbps LAN ports, creating a robust 2Gbps connection. The internal quad-core 2.0GHz CPU efficiently manages signal processing, ensuring optimized performance.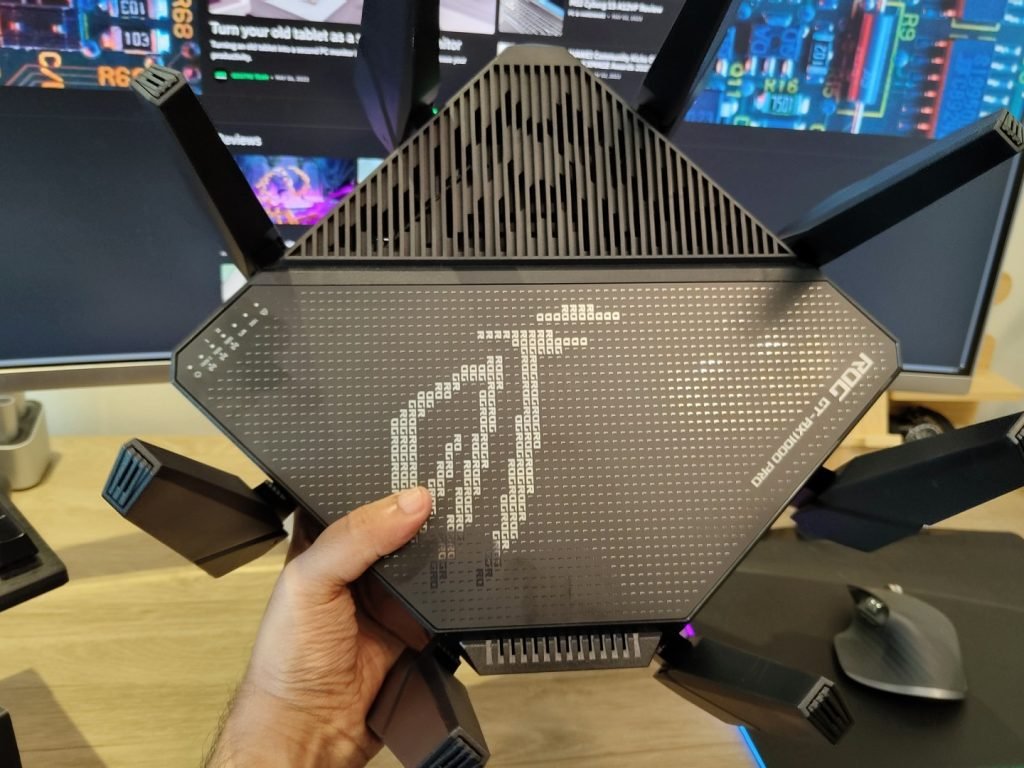 Equipped with beamforming antenna technology and OFDMA, the ROG Rapture GT-AX11000 Pro boasts impressive range and coverage. Its dual-band Wi-Fi 6 capability delivers a total bandwidth of up to 11Gbps when utilizing both the 2.4 GHz and 5 GHz bands. With maximum speeds of up to 1,148Mbps on the 2.4GHz band and up to 4,804Mbps on each of the two 5GHz bands, this router ensures exceptional performance for all devices. The Wi-Fi 6 (802.11ax) standard guarantees compatibility with devices that support both 5 GHz and 2.4 GHz bands, catering to a wide range of devices.
During our testing, the ROG Rapture GT-AX11000 Pro consistently delivered exceptional performance, stability, and ease of use. It provided a fast and reliable network, ensuring seamless connectivity without random disconnections. Even at considerable distances between our devices and the router, we experienced stable connections. The router's unique functions, tailored for gaming optimization, further enhanced our gaming experience. While the range of the router was similar to other Wi-Fi 6 routers in our tests, it is important to note that the range can vary depending on the layout of your home. Nonetheless, we were delighted with the router's stability, range, and its ability to deliver high speeds, surpassing 1Gbps within short distances.
ASUS ROG Rapture GT-AX11000 Pro Review Verdict
The ROG Rapture GT-AX11000 Pro is a heavy-duty router built for gamers who want to keep multiple devices connected and still get incredible gaming performance with up to twelve simultaneous Wi-Fi streams for more video streaming, gaming and browsing.
Although the GT-AX11000 Pro comes with a higher price tag and a massive footprint, its exceptional performance, comprehensive feature set, and reliability make it a worthwhile investment for those who demand the best in gaming and streaming experiences.
In conclusion, the ASUS ROG Rapture GT-AX11000 Pro is a top-of-the-line gaming router that exceeds expectations in every aspect. Its sleek design, powerful performance, and advanced features make it a must-have for serious gamers and tech enthusiasts. Whether you're looking to upgrade your existing wireless network or starting fresh, the GT-AX11000 Pro offers versatility, scalability, and performance.