Initially revealed at E3 2019, Marvel's Avengers was originally planned as a May 2020 release but, was postponed due the pressures of the global pandemic. The game hits the shelves on the 4th of September, 2020 on major platforms including the PlayStation 4, Xbox One, PC and Google Stadia.
The first beta weekend kicked off on August 7 and we've all got a first-look on this ambitious Hulk of a game. A lot of negative reception received for the E3 demo seems to have mitigated after the release of the beta, but that doesn't mean that it doesn't introduce some newer grievances of its own. Here's our deep-dive into everything we've learned from the Marvel's Avengers beta.
The Story
While some players felt disappointed that Crystal Dynamics didn't use the likenesses of the popular film actors for the game, this decision starts to make a lot of sense after you see the trailer showcased at the first War Table event back in June. This is a brand-new Avengers story that does not tie-in with the Marvel Cinematic Universe.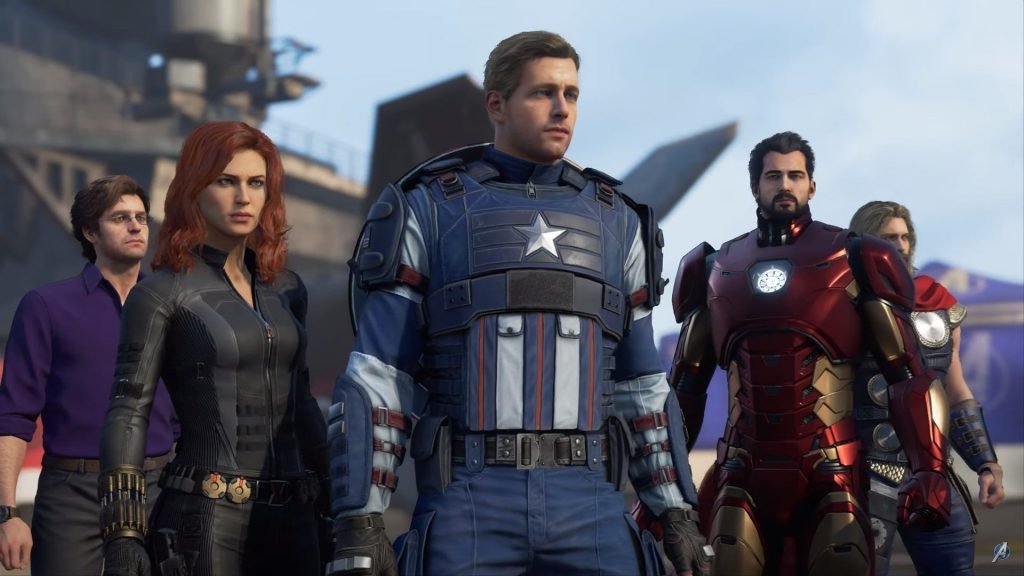 The story begins on A-Day, a commemorative event where the Avengers had planned to unveil their heli-carrier and new headquarters. Unfortunately, the heli-carrier explodes, proliferating the infectious 'Terrigent Mist' across the country resulting in destruction and turmoil. The nation's favourite hero, Captain America dies during the disastrous events that unfolded; the members of the Avengers end up blaming each other and eventually parting.
A scientific organization named Advanced Idea Mechanics (AIM), quickly steps in to protect the nation in the absence of their heroes. They successfully shift public opinion against super-powers and begin their operations under the blanket of developing a vaccine for the inhumane plague. However, local Avengers fan-girl Kamala Khan, is convinced that they have ulterior motives. The game follows the journey of Kamala Khan (Ms. Marvel), as she reunites the Avengers to take down AIM.
Interestingly, the game features an antagonist who may be unfamiliar to modern fans as he's rarely ever been represented in popular media but isn't a stranger to long-time Marvel fans. Mental Organism Designed Only for Killing (M.O.D.O.K) is a long-requested villain by fans, and it's intriguing to see what the developers manage to achieve in probably his first-ever introduction to a lot of new-age Marvel fans.
The Mission Structure
Crystal Dynamics is best known for their successful reboot of the Tomb Raider franchise. These games were mainly single-player with linear mission structures, and although the first game did try to get into the multi-player scene, the subsequent two entries dropped the idea completely due to poor reception. Marvel's Avengers will be a recurrently updated live-service game which begs the question: will it be an ultimate disaster?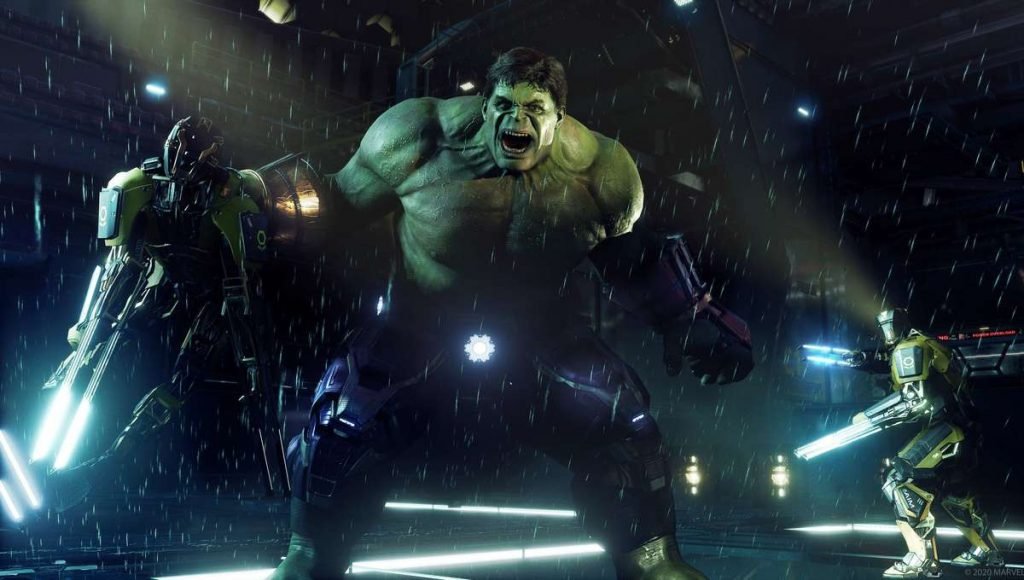 While it is not uncommon for developers to step out of their comfort zones and experiment in different genres with some instances producing surprisingly good results, I wonder whether we really did want an Avengers game with such a chaotic mission structure? It's pretty evident that the game is trying to please every kind of player, featuring single-player missions, RPG elements and the ability to play co-op with your squad, with special emphasis on the latter.
The game initially begins with Hero Missions that restrict you to a particular character in order to introduce the story and characters in a unique manner. These missions are hero-specific and hence would have you encounter situations where the particular character's strengths and skills can be useful. Once you've given all the heroes a shot, you gain access to the heli-carrier and the war table opens up. You can now choose from the main-story missions and side activities such as War Zones, Drop Zones and HARM Rooms and play as the character of your choice.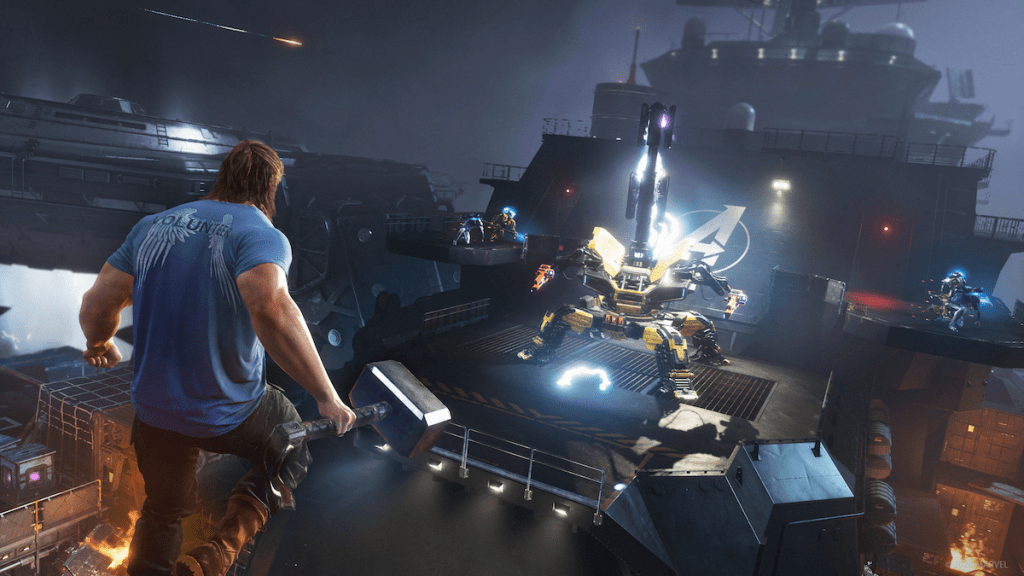 War Zones put you in a large area with a team of four to battle a whole lot of enemies and complete numerous objectives, you'd typically want to play these with a group of friends. There are also points of interest in the area where you can fight additional enemies and solve puzzles, which are completely optional, and a great way to earn some special rewards such collectable comic books for instance.
Drop Zones on other hand, are quick missions that put you in a team of four to complete a single objective. They are focused on providing a daily fix during your work week when you don't have hours to put in but you're still itching to play. You can earn totally awesome gear by completing these.
HARM Rooms are perfect for you to learn how a particular character works and get your grips on them, developing character-specific skills. This mode sees you battling enemies in waves and completing wave-based challenges to unlock special rewards.
The Gameplay
At launch you'll be able to play as Iron Man, Black, Thor, Ms. Marvel and Hulk, most of which we got to experience during the beta. The ensemble cast sports stellar voice talent from the likes of Nolan North, Troy Baker and Laura Bailey, just to name a few. The combat styles vary from melee, ranged and aerial combat and you have the option of approaching a combat situation any way you want. There are multiple skill trees for each character that lets you fine-tailor them according to your playstyle, that means even if two players choose Black Widow in their respective games, one's Black Widow may be completely different from the other's.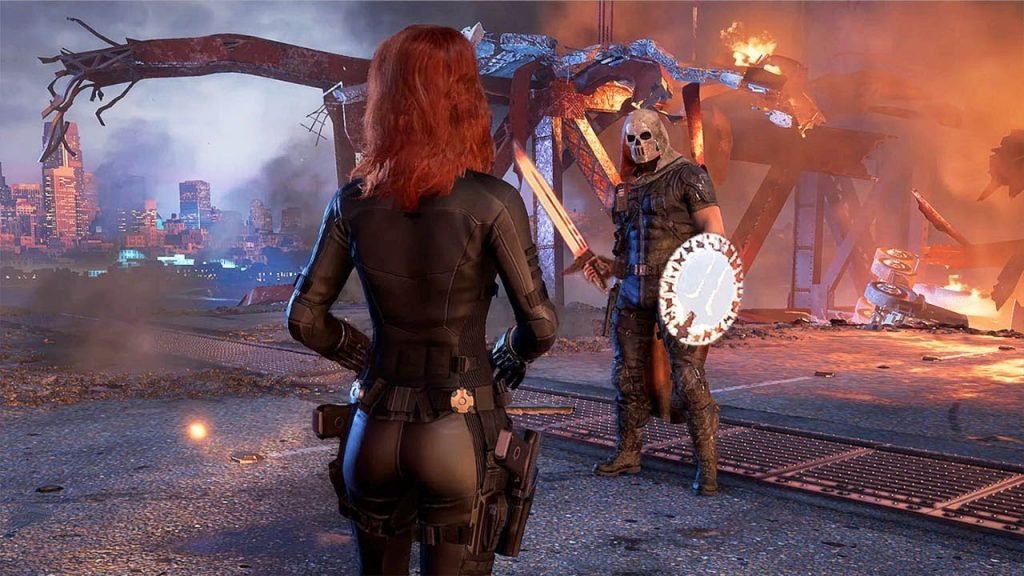 In order to facilitate support for various different playstyles the developers felt the need to get every hero at the same level at the starting to prevent any unfair advantage. That's why all the heroes may feel a bit too similar when you first start playing, and have almost the same set of light and heavy attacks, but this feeling is bound to evolve over time as your character's skills improve. Heroic Moves can be advantageous during combat, with each superhero having access to three that are split up into the categories of Assault, Ultimate, and Support. These moves can turn the odds to your favour during battle if you make good strategic use of them.
However, the beta did suffer from low frame rates whenever the action got too bombastic, even on a PS4 Pro. It's important to note that the game is still in beta and hence the endgame is definitely going to be a lot more optimized and run way more smoothly.
The game also features a dull, convoluted loot and gear system akin to the one in Destiny 2 that lets you switch-up the look of each playable character through cosmetic items. You can modify pieces of equipment to acclimate bonuses and perks alongside invisible stat boosts. There are also numerous cosmetic costumes purchasable via an online store that are a nod to Marvel's legacy and it's reassuring that Crystal Dynamics has promised to never implement pay-to-win mechanics in the game.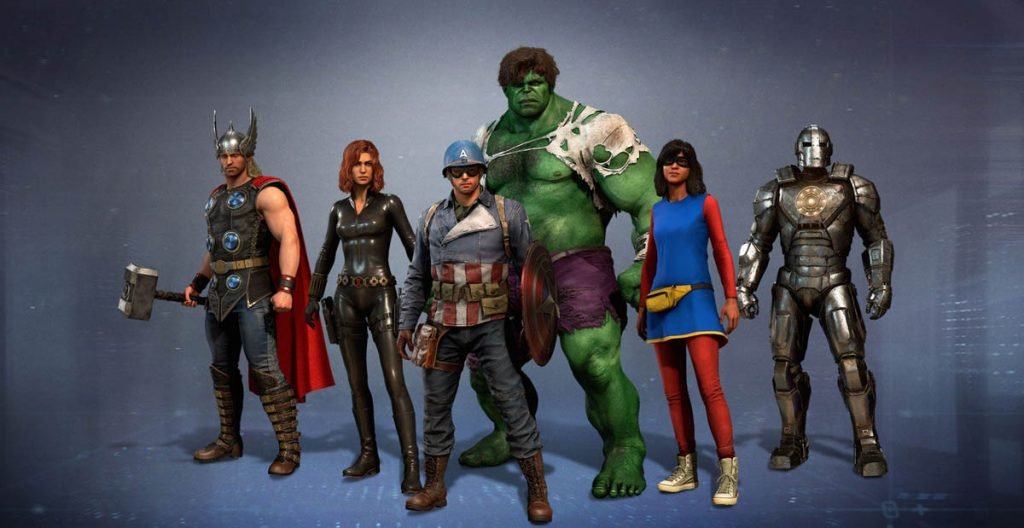 Although the game has a huge focus on co-op play, the game can also be played solo with AI and you might actually want to play it the latter way. If your main character is Thor and you end up playing in a team with an already existing Thor, you'll have to pick a different character and there are only a few choices available at launch. Although the developers have designed each heroe to be unique, you'll easily to find yourself in a group where you can't play as the hero of your choice. Here's what Crystal Dynamics has to say regarding this;
…so we do want to have one Iron Man, one Hawkeye, one Thor, as that kind of team mix. At least at the beginning, I will say it that way. As players come and play and ask for more features, you know, we're gonna respond over time.

Scot Amos, Head of Studio at Crystal Dynamics
This really makes me wonder, if they couldn't provide a solution to this easily plausible and commonly encounterable problem at launch, is the game just going to be a half-baked product at launch? Is the game only going to be in a somewhat solid state after a months-worth of updates?
The Masked Menace Returns
While the beta seemed to be winning players over and convincing more people to pre-order the game, a controversial announcement made last week has resulted in a lot of cancelled pre-orders and players taking their grievances out on the internet. Initially Crystal Dynamics announced that they plan to add heroes post-launch, which will be available to players for absolutely free and that the first post-launch DLC character will be Hawkeye. This got fans really excited and had them rooting for the game and its developers.
However, last week's announcement stated that everyone's favourite web-slinger will join the party in 2021 and will be available for players for free, but exclusively on PlayStation consoles. This news got the public reasonably angry. It's absurd, like if Bandai Namco announced that Jin Kazama will be a free Xbox exclusive character in the next Tekken game.
Spider-Man is already a Sony exclusive character, and already had a quite successful PS4 exclusive (Marvel's Spider-Man) outing back in 2018, so what seems to be the problem? For starters, unlike that game, Marvel's Avengers is a multi-platform game that costs the same across the board. It's bad enough that the beta released early on PlayStation 4, this exclusivity of a beloved character seems like a cocky move that's unfair to consumers. Had this been an exclusive paid DLC or if the PlayStation version of the game was priced at a higher value it would've been considered fair, now it just seems like the players are being punished for their choice of platform and that's unacceptable, as they're forced to pay the same but get access to less content, and I say this as a PS4 owner.
Since this announcement, numerous movements have sprouted on social media platforms such as Twitter and Reddit to boycott the game, and at a time when people are being understandably frugal with their purchases, this is not the kind of PR they'd want to attract.
Beta Timings
Here are the beta schedules for the game across all the different platforms. The beta access begins at 9PM of your local time regardless of where you're living in.
| | | |
| --- | --- | --- |
| Beta Date | Beta Platform | Beta Start Time |
| August 7-9 | PlayStation (Pre-orders ONLY) | 9PM local time on Friday August 7 |
| August 14-16 | Open PS4 Beta/Xbox and PC Pre-orders ONLY | 9PM local time on Friday August 14 |
| August 21-23 | All Platforms Open Beta (PS4, Xbox One, PC) | 9PM local time on August 21 |
If you're a PS4 owner, don't forget that the access to the open beta begins at 9PM tonight as well as, the closed beta for those who pre-ordered the game on Xbox One and PC.
Release Date, Platforms & Editions
The game is set to release shelves on the 4th of September, 2020 on major platforms including the PlayStation 4, Xbox One, PC and Google Stadia. You can pre-order the standard edition (AED 259), deluxe edition (AED 279) or the Earth's Mightiest Edition (AED 999) of the game. The deluxe edition of the game includes the exclusive Obsidian Outfit pack for your Avengers and 72-hour early access to play the game first, 3 days early.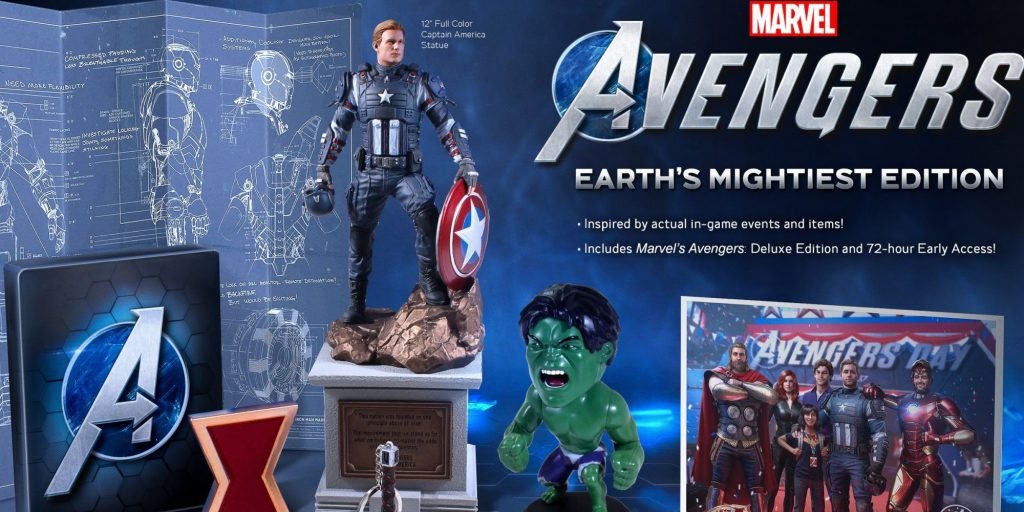 The Earth's Mightiest Edition includes the following perks:
Marvel's Avengers: Deluxe Edition
Exciting 72-hour early access to the game, meaning you can play as early as September 1st
Exclusive Steelbook
Iron Man Prototype Armour Blueprints
Black Widow Belt Buckle
12-inch Captain America Statue
Mjolnir Keychain
6-inch Hulk Bobblehead
An honorary Avenger Pin
5 x 7 cm Avengers Day Group Photo
Players who purchase the game on the PS4 or Xbox One will get free upgrades to the next-gen version. This free upgrade takes advantage of the next-gen system's enhanced power and capabilities. On the PS5 two graphical modes will be available – one which boosts the frame rate to 60FPS alongside a dynamic 4K resolution while the other takes the visuals even beyond that.
The game doesn't support cross-play across the different platforms but, you'll be able to play with your friends from the previous generation and carry over your progress to the new system if you upgrade.
To pre-order the game, click here.
Let us know your thoughts regarding the beta and Spider-Man's exclusivity in the comments. For more on Marvel's Avengers, consider subscribing to our newsletter.