Sony has finally revealed the pricing & availability for the PS5 across the world. Yesterday evening at the Playstation 5 showcase, Sony fought back after Microsoft's earlier reveal for pricing of its Xbox duo consoles.
As expected, Sony matched the Xbox Series X's pricing with the physical version coming in at $499/£449. You can watch the showcase below if you missed it
Two Playstation 5 Consoles
Digital ($399) & Physical Disc Version ($499)
As everything is now officially revealed, let's take a look at the two consoles Sony is offering. First, we have the Digital only edition which is priced at a very competitive $399.99 with identical specs as the physical version, just without a 4K Bluray Disc Drive.
Due to more content being consumed digitally, this console might become the more popular one, also given how since the beginning of this year, Sony's Playstation store has been aggressive with it's 'back to back' focus on never-ending sales to entice users to buy games.
The digital version of PS5 will come with a custom 825GB SSD hard drive at launch and this size will remain the same for the physical disc version as well. As per the Playstation Blog and an important distinction for people getting confused about how the two consoles differ, this snippet below should shed more light on it.
"Whichever PS5 you choose, you'll enjoy the same breathtaking, next-gen gaming experiences. Both PS5 models use the same custom processor with integrated CPU and GPU for high-fidelity visuals, including 4K graphics and ray-tracing support, as well as the same ultra-high-speed SSD with integrated I/O for lightning-fast loading. PS5's 3D audio and the DualSense Wireless Controller will also provide the same heightened sense of immersion on all PS5s.
Accessories Confirmed & Pricing
DualSense™ Wireless Controller (standalone) – US$69.99/CAD$89.99/¥6,980/€69.99 (RRP)
PULSE 3D™ wireless headset – with 3D audio support and dual noise-canceling microphones US$99.99/CAD$129.99/¥9,980/€99.99 (RRP)
HD Camera – with dual 1080p lenses for gamers to broadcast themselves along with their epic gameplay moments US$59.99/CAD$79.99/¥5,980/€59.99 (RRP)
Media Remote – to navigate movies and streaming services with ease US$29.99/CAD$39.99/¥2,980/€29.99 (RRP)
DualSense™ Charging Station – to conveniently charge two DualSense Wireless Controllers US$29.99/CAD$39.99/¥2,980/€29.99 (RRP)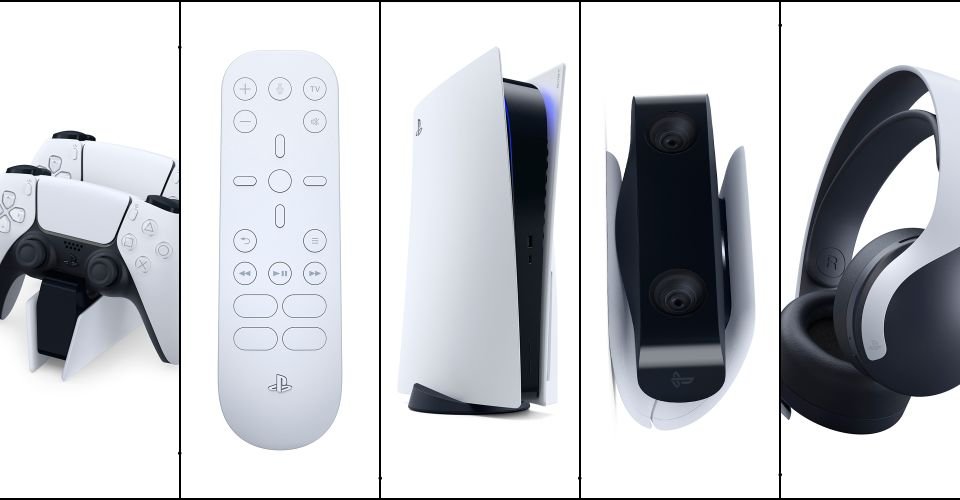 Introducing A New Killer Feature: PlayStation Plus Collection For The PS5
The PS4 is still the second best selling console of all time, so Sony seems to have found a very exciting way to lure PS4 gamer's to transition to next-gen. The new Playstation Plus collection for the PS5 will enable owners of the new console to play some of the biggest, most entertaining, and impactful games for free on the PS5 from Day 1!
As of writing the list is as follows :
Batman: Arkham Knight
Battlefield 1
Bloodborne
Days Gone
Detroit: Become Human
Fallout 4
Final Fantasy XV
God of War
inFAMOUS: Second Son
The Last Guardian
The Last of Us Remastered
Mortal Kombat X
Persona 5
Ratchet & Clank
Resident Evil 7: biohazard
Monster Hunter: World
Uncharted 4: A Thief's End
Until Dawn
Games confirmed for PS5 At Launch
Astro's Playroom (Japan Studio) – pre-installed on PS5
Demon's Souls (Bluepoint Games / Japan Studio) – US$69.99
Destruction All-Stars (Lucid Games / XDEV) – US$69.99
Marvel's Spider-Man: Miles Morales (Insomniac Games) – US$49.99
Marvel's Spider-Man: Miles Morales Ultimate Edition (Insomniac Games) – US$69.99
Sackboy A Big Adventure (Sumo Digital / XDEV) – US$59.99/
PS5 Showcase Verdict
From games such as Demon Soul's remake by Blue Point Game (now being confirmed as a PS5 only exclusive) to Final Fantasy XVI with it's beautiful light reflection and visuals, the showcase was a bedazzling treat for gamers. The most exciting part was the Spiderman Morales sequence and actual gameplay which looked right out of a big-budget Hollywood movie, simply mesmerizing.
Talking of gameplay videos, the new Call Of Duty Black Ops Cold War featured some really amazing set pieces, new and improvised melee kill sequences, and once again, over-the-top high production value chase and explosive sections, it all looked so good giving us some insight into next-gen graphics.
Finally, the most important point was matching the PS5's pricing for the physical disk version, to the Xbox Series X.
Whether Sony will sell at a loss or if it was something not planned before, the pricing of $499 is an excellent price point for the power inside the futuristic next-gen console.
We now know the pricing for the Middle East, but let us know what you think of the PS5 showcase in the comments below. Will you be pre-ordering it or as some have pointed out, they will wait for bundles or the black version? Keep your eyes peeled, as we will be adding the gameplay trailers from all the games showcased at the event!