Sony has already confirmed that the PlayStation 5 is real and will boast serious specs including 8-core processors and zippy SSDs.
Here's everything we know about the Sony Playstation 5 specs so far, and what we hope will be revealed the closer we get to launch during Holiday 2020. To make things interesting, the Xbox Series X is coming also in Holiday 2020, and know we even know what it looks like.
TLDR
The short version is that the PS5's CPU and GPU are AMD chips that will be able to support 3D audio, 8K graphics, and ray tracing – a feature currently found on Nvidia's RTX GPUs. The CPU will be an eight-core chip based on the Ryzen line and use Zen 2 microarchitecture. The GPU will be based on the Radeon Navi line.
CPU – the PS5 CPU will be an AMD chip based on Ryzen. 8x cores; 7nm Zen 2.
GPU and ray tracing – the PS5 GPU will be a custom AMD Navi GPU, that supports ray tracing at a hardware level
Audio – the PS5 will have 3D Audio that Mark Cerny believes will be "dramatically different" to PS4 audio.
Storage – PS5 will have an SSD (solid state drive). Sony says its version uses the new PCIe 4.0 connection. Cerny gave the example of a 0.8 second loading time, compared to 15 seconds, when tested on Marvel's Spider-Man.
Resolution support – the PS5 will have up to 8K support, presumably including full 4k.
4K Bluray player will be available, with the PS5 reading 100GB optical discs.
PS5 SPECS
In a recent Wired article, PS5 architect Mark Cerny (the man also responsible for leading work on the PS4) gave us a trove of information about the upcoming Sony Playstation 5 specs.
The console will be powered by a CPU based on AMD's third-generation, eight-core Ryzen processor, as well as a custom GPU based on the AMD Radeon Navi line. That graphics card will allow the PS5 to deliver ray tracing, which is an ultra-realistic lighting technology that was first made popular by Nvidia's RTX cards. As noted by TFT Central, the PS5 could even support Nvidia G-Sync, thanks to Nvidia opening up the technology to AMD GPUs.
And according to a translated tweet from known hardware leaker Komachi Ensaka, the PS5's fast 2-GHz GPU could double the power of the Xbox One X, and deliver comparable performance to Nvidia's RTX 2080.
The PS5 will finally get an SSD. To show how much faster games will run on an SSD, Cerny played a part of Marvel's Spider-Man that typically takes 15 seconds to load, and loaded it in under a second. Sony also said later that the PS5 will deliver "dramatically increased graphics rendering speeds, achieved through the employment of further improved computational power and a customized ultra-fast, broadband SSD." According to leaker PSErebus, the PS5 will come with a 2TB SSD.
The PS5 will benefit from simplified data management due to its SSD, and this will allow players to have more control over installing and removing games. This will allow players to install (or remove) only certain parts of a game. So instead of installing the full game, you could choose to just install the single-player mode and then do multiplayer later – or vice versa.
Physical games for the PS5 will use 100GB optical disks, inserted into an optical drive that doubles as a 4K Blu-Ray player and the next-generation hardware will boast a completely revamped UI.
Speaking about the new UI to Wired, Cerny said "Multiplayer game servers will provide the console with the set of joinable activities in real time. Single-player games will provide information like what missions you could do and what rewards you might receive for completing them – and all of those choices will be visible in the UI. As a player you just jump right into whatever you like."
Additionally, the PS5's CPU will enable 3D audio, which will allow for more immersive experiences. And according to PlayStation CEO Jim Ryan in an interview with CNET, the PS5 will support resolutions of up 4K at 120Hz, along with 8K at 60Hz.
In September 2019, Ryan noted on the PlayStation blog that the PS5 will have the ability to "suspend gameplay with much lower power consumption than PS4," which he says would save close to the average electricity use of 1,000 US homes if one million users were to enable the feature.
A Sony patent discovered by gaming analyst Daniel Ahmad suggests that Sony is working on an AI voice assistant dubbed PlayStation Assist, which would allow you to get in-game help in real time by simply asking questions with your voice.
In a statement sent out following the Corporate Strategy Meeting, Sony said the "two keywords for the future direction of PlayStation are 'immersive' and 'seamless'", with the 'immersive' experience "created by dramatically increased graphics rendering speeds, achieved through the employment of further improved computational power and a customized ultra-fast, broadband SSD".
PS5 CONTROLLER
In October 2019, Sony provided Wired with an exclusive look at the next DualShock, which is reportedly very similar in design to the DualShock 4. The new controller appears to have some sort of microphone (perhaps for the system's rumored voice assistant) and will sport haptic feedback for more immersive rumble.
The PS5 controller will also feature adaptive triggers which Sony says have "been incorporated into the trigger buttons (L2/R2)". These adaptive triggers will allow developers to program the resistance of the triggers to simulate actions more accurately.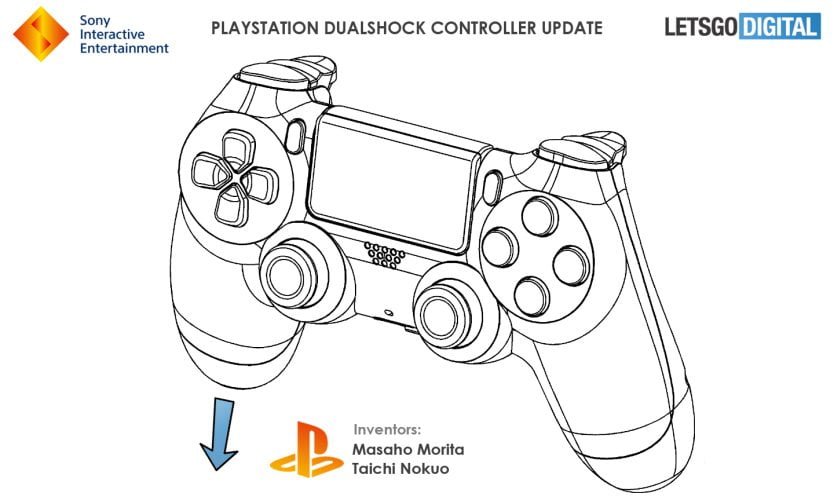 In demonstrations for Wired, Sony showed off how the controller could make you feel the difference between track and dirt in a racing game, or the difference between trudging through sand and gliding on ice in a platformer. The new DualShock will also have adaptive triggers, which will allow you to better feel the tactile sensation of things such as firing a bow and arrow or driving off-road.
A new PS5 controller patent update also seems to have another new feature to its design and the game company added it at the last-minute to the patent for the controller. It seems to be something of a new input that the previous controllers did not have.
This new patent essentially states that the PS5 controller will have a selection of new buttons on its back. It will have two big buttons and two smaller buttons that will be divided into pairs, making it so that both the left and right sides of the controller will have a big button and a small button.
The large button moves up and down, apparently. The smaller button can be controlled by pressing it. The larger one can extend the handles, the report notes, allowing you to customize the length of the handles to better fit your hands for improved grip during gameplay.
The smaller button packs a pressure sensor that will be able to tell how hard you press it and trigger an appropriate action on the screen. It'll be interesting to see how this feature plays out as it should allow players to make their controllers sit perfectly in their hands, no matter what size they are.
PS5 DESIGN
We haven't actually gotten an official look at the PlayStation 5 yet but, if several leaked specs are to be believed, Sony's next-generation console will sport a very different look to its predecessors.
A Sony patent discovered in August 2019 could give us a clue about the PS5's potential design. The patent images show what looks like a chunky game console, complete with a slew of USB ports, a disc drive, and a unique V-shaped chassis that could help keep the system cool.
The folks at LetsGoDigital mocked up their own PS5 render based on the patent images, proving how the odd shape could actually turn out to be an attractive game console.
The folks at Gizmodo were sent images of the alleged PS5 dev kit, which are reportedly identical to the patent images that have been circulating for months. What's more, the report claims that both the PS5 and Xbox Series X (formerly Xbox Project Scarlett) will pack integrated cameras for hassle-free livestreaming.
In late November, a Twitter user posted images of what appear to be the PS5 dev kit out in the wild, complete with the same large V-shaped design we've seen in previous renders and leaks. However, it's worth noting that developer hardware tends to look very different from the final product, and it seems very unlikely that the huge boxes shown in these images are retail PS5 units.
PS5 UI
Sony confirmed to Wired that the PS5 UI is getting "completely revamped" from what we know and love of the PS4's version. The idea is to give you instant access to what single-player missions you could do, or what multiplayer matches you could join without even having to boot up the game.
"Even though it will be fairly fast to boot games, we don't want the player to have to boot the game, see what's up, boot the game, see what's up", says Cerny. "Multiplayer game servers will provide the console with the set of joinable activities in real time. Single-player games will provide information like what missions you could do and what rewards you might receive for completing them—and all of those choices will be visible in the UI. As a player you just jump right into whatever you like."
Additionally, another leak from 2019 reveals that Sony apparently wants to make the PS5 more accessible for stream set-ups, with the console including an in-built camera that can capture 4K footage with the click of a button, organically reacting to the lighting of your room to make sure the picture is always top quality. Perhaps the hardware's new and improved user interface could also reflect this pivot, with more buttons dedicated to sharing your gameplay with the wider world.
PS5 FEATURES: VR, CLOUD GAMING & MORE
We already know that the PS5 will support the PlayStation VR headset, and could usher in a new version of the popular virtual reality accessory, possibly labeled PSVR 2. A new patent seems to indicate that the cameras on the PSVR 2 are going to replace the PlayStation Camera that came with the original PSVR. In theory, it should make your movements more accurate. On top of that, the cameras in the front of the headset will allow you to see what's going on around you, so everything will seem transparent. The patent also indicates that the PSVR 2 might even be wireless as well.
But here's where things really get interesting: in May 2019, Sony and Microsoft announced a surprise partnership in which the two companies will share resources to further their own cloud gaming, AI and enterprise products. Does this mean the PS5 will have an improved version of PlayStation Now, or an entirely new cloud platform to compete with Google Stadia? We'll have to wait and see.
In a statement sent out following the Corporate Strategy Meeting, Sony also reinforced the importance of its cloud-gaming plans with Playstation Now, and somewhat surprisingly doubled down on its underused Remote Play feature, saying the "evolution" of this would in the future "provide a seamless game experience anytime, anywhere".
Remote Play is already available as part of the PS4 package, enabling you to stream a game direct from the console to a computer, smartphone, tablet or PS Vita handheld console. But Sony says that going forward it will be "leveraging the latest computing, streaming, cloud, and 5G technologies" to allow it, and the performance of PlayStation Now, to improve.
PS5 BACKWARDS COMPATIBILITY
In the Wired interview, Sony confirmed that the PS5 will play PS4 games as well as support the current PlayStation VR headset. If that's not enough, Sony has confirmed the PS5's 'incredibly powerful' backwards compatibility will let you play online with PS4 players.
There's no word on PS3, PS2 or older games as yet, but no doubt PlayStation Now will be making the move to PS5 too.
However, according to a US patent filed by Sony Interactive Entertainment and spotted by GearNuke, there is reason to believe the PS5 will offer games from the entire PlayStation generation. The patent, called "Remastering by emulation," appears to indicate a new method of implementing high-resolution art assets into legacy software "on the fly."
This patent isn't the only sign we have that backward compatibility for older PlayStation games is on its way, either. A more recently discovered Japanese patent describes a technique that enables Sony hardware to "determine whether an application is a legacy application or not," and was actually authored by PS5 lead architect Mark Cerny. Moreover, the patent examines the potential for putting imitation legacy chipsets inside newer hardware. In doing so, Sony could avoid the obstructive hurdles that often thwart emulation efforts
PS5 GAMES TO EXPECT
While the PS5 has yet to be confirmed, it's never to early to speculate which titles may land on Sony's next gen system. First-party title Ghosts of Tsushima has yet to get a release date, meaning we could see it hit PS4 and PS5 at once. And while we're speculating, don't be shocked to see sequels to PS4 megahits God of War, Horizon: Zero Dawn and Spider-Man on the PS5.
We now know that the long awaited The Last of Us: Part II is coming to PS4 on May 29, 2020. And while PS4 games will work on PS5, we wouldn't be surprised to see some sort of enhanced edition for the new console, much like Sony delivered with The Last of Us: Remastered on PS4.
As far as third-party games, Bethesda already confirmed that its upcoming Starfield game is a "next-generation" experience. We also wouldn't be shocked to see The Elder Scrolls VI and Cyberpunk 2077 land on Sony's next-generation hardware. And expect new Madden, NBA 2K and FIFA titles around the PS5's launch window.
Renowned remake studio Bluepoint Games (Shadow of the Colossus) told Wired in October that its "working on a big one" in regards to its upcoming PS5 game.
According to GamesRadar, Ubisoft confirmed in a conference call that upcoming titles such as Watch Dogs Legion, Gods and Monsters and Rainbow Six Quarantine will be optimized for PS5 and Xbox Scarlett.
PS5 RELEASE DATE
In an interview with Wired, Sony Interactive Entertainment CEO Jim Ryan confirmed that the PS5 is scheduled to launch in Holiday 2020. This will put the PlayStation 5 in direct competition with Microsoft's Xbox Series X (formerly Xbox Project Scarlett), which is releasing during the same period.
PS5 PRO
Sony may also release a PS5 Pro at the same time the PS5 comes out. Considering how much power Sony seems to be bragging about, we're curious to see how much stronger the Pro model actually will be. This comes from Japanese journalist Zenji Nishikawa, as spotted by Wccftech, who said on a livestream that both consoles will launch in Holiday 2020.